Shandong Loyal Industrial Co.,Ltd. has more than 20 years of experience in food machinery. It is a manufacturer specializing in the production of snack dial and microwave systems.
Shandong Loyal's Fried Snack Production Line can produce a variety of types and flavors of fried snacks.
Fried Snack Production Line is a fully automated food machinery specializing in the production of fried snacks.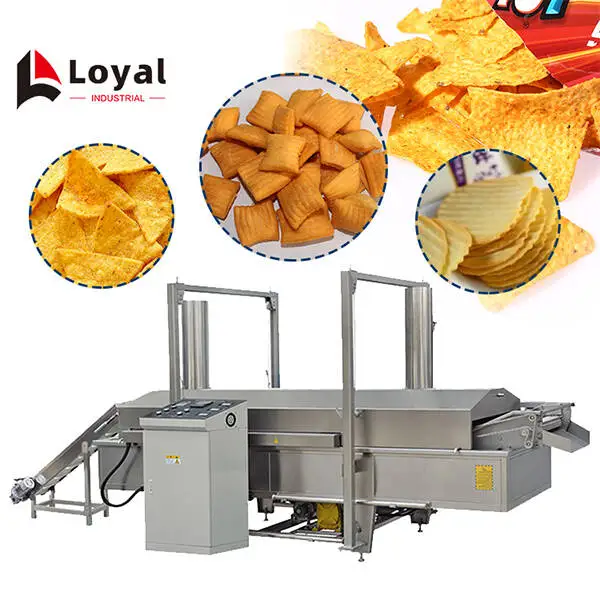 Detail Introduction
LOYAL high-quality high-performance equipment!
If you want to carry out the business about snacks, Fried Snack Production Line is undoubtedly a machine worth buying, which can help you and make your business prosperous.
Of course, while we provide you with high-quality machines, we can also guarantee that Loyal Food Machinery is the best quality and most favorable price equipment in the same equipment. Get a quote now.
Fried Snack Production Line
Fried Snack Production Line is now the most popular automatic snacks equipment that is most popular in manufacturers. It is cut into different shapes by a special mechanism, and is fried and seasoned by a fryer and drum seasoning machine to produce crispy and delicious snack food.
Production process:
Mixer → Twin Screw Host → Tayer Tuning Machine → Multi-Function Plant → Big Elevator → Three-layer Electric Oven → Automatic Seasoning Line
1. Mixer. Use a food-grade stainless steel material to mix the material and other materials together. Add a certain amount of water that is well mixed.
2. Rolling machine: flatten the material by squeezing and puffing, flatten the dough with a roller, and cut the dough flat and close to the body. By changing the mold to adjust the thickness and shape of the material, snack foods of different shapes and sizes are produced.
3. Cutting machine. Cut the semi-finished product produced by the roller, print. The cutting machine has two functions of delivery and traction cutting. It is generally used to cut a small food such as a long tube, such as a salad, fries, tubular, puffed, or extruded semicircle.
4. Hoist: Lift the product to reach the fryer.
5. Fryer: Used for fried food, with oil filter, fuel tank. It can be gas or electric heating.
6. Flavor: The seasoning machine is the machine to adjust the taste, flavor, and seasoning injector. There are octagonal tubes, cylinders, lifting single drum, double drum seasoning line, and spray the essence in the drum after frying.
7. Packaging machine: Two packaging machines for you to choose from. Select the appropriate packaging machine through different packages.
More explanation
SHANDONG LOYAL's Fried Snack Production Line is the most advanced food machinery. In addition to producing multiple types of snacks in addition to replacement molds. It can still meet your continuous work, the ideal equipment for fully automatic production of high-quality food.
Of course, if you have other needs, our Loyal has a series of food equipment for you, such as biscuits, nutrition batches, etc. We guarantee that all equipment has passed quality and safety testing, ensuring the security and operability of the equipment.
Our Fried Snack Production Line equipment is made of food-grade stainless steel materials and advanced technology, domestic and foreign advanced technology, which gives more unique shapes and taste colors to food, making it more profitable.
At Loyal, we guarantee that the snack production line's operating performance, product quality, and process taste have reached the advanced level of the same industry. It is an ideal choice for many snack manufacturers. Of course, you don't have to worry about prices, and we can provide you with the highest cost-effective equipment.
Choosing LOYAL means that you have chosen success. We have fully absorbed the advanced technology at home and abroad, and learn from each other's strengths. After years of research and development, with years of industry experience, LOYAL Fried Snack Production Line has become a leader in the industry and one of the professional food manufacturers.
At the same time, we have not given up our efforts, which has been actively upgrading our products, making equipment design more rationalized, easy to operate, meets more intelligent, innovative equipment requirements, and achieves more customers' satisfaction.
Loyal has been producing fried snack equipment under strict quality monitoring, more than limited to equipment innovation and automation. We are more clear than anyone, and the quality and security of the equipment are important.
Because of this, we have been actively responding when you ask for demand and details, ensuring that you are satisfied, and therefore received praise and recognition from many manufacturers at home and abroad.
If you plan to start a food business, LOYAL can help you develop your business and make better profits. In addition to the company's experience in the field of food machinery, we can also customize the market practice experience that meets your needs and a complete management system. If you have any food production problems, we are happy to help you solve them and provide you with assistance.
At the same time, after purchasing our fried snack equipment, it provides transportation in the after-sales, and the technical personnel is assigned to install and debug equipment for your free installation. We provide you with technical guidance, free food formula. Make sure you produce qualified products.
After many years of food experience and insight into the market, no matter any problems encountered in your food business, our solutions will definitely be able to solve you, and we are always ready to serve you.
Choosing LOYAL's food machinery will definitely make you shine on the road of the food industry, make you famous in the market, use high-quality and preferentially priced equipment to obtain the highest benefits for you, and create your own food industry business!
If you have questions about any of our machines and services, you can contact us at any time. Giving you the most satisfactory answer in the shortest time has always been our aim at LOYAL.
Fried Snack Production Line: Complete Purchase Guide
Do you want to carry out the food business? How much do you know about fried food equipment?
Here's this guide will take you to understand each issue for the Fried Snack Production Line.
Fried Snack Production Line is a professional production of fully automatic machinery for producing oil-fried snacks.
1. how fried snack production line works
Fried Snack Production Line usually uses the extrusion of the non-standard spiral system of the puffed machine, and the gas in the material is discharged and quickly filled with material.
The material is subjected to force to produce backflow, which increases the pressure in the machine, and then at the same time, the mechanical energy is converted into heat energy through the friction of the material in the machine, so that the material becomes a gel state with flowing properties. When the material is squeezed to the outlet, the pressure changes from high pressure to normal pressure instantaneously, and from high temperature to normal temperature instantaneously, causing water to evaporate from the tissue structure quickly. With the friction between the stacking and the machine chamber, the materials are fully mixed, squeezed, heated, glued, and gelatinized to produce organizational changes. The original structure is destroyed, and numerous microporous structures are formed inside and then through the cutting device; the puffed food is formed after cutting and cooling.
2. Benefits of Fried Snack Production Line
1. Fried Snack Production Line can use different heat sources depending on your local situation. You can use electricity, coal, heat transfer oil, or gas as thermal energy heating.
2. The cover and belt of the Fried Snack Production Line can be automatically lifted and are easy to clean. Equipment is simple, safe, and easy to maintain.
3. Fried Snack Production Line's automatic fryer with oil circulation system can maintain the life of the oil and save the cost of frying processing.
4 Fully automatic fryers use the upper and lower two-layer mesh drive, and the product is sandwiched between the double network bands to avoid the product floating. The messenger has used an inverter step-less speed. The frying time can be adjusted.
5. Fried Snack Production Line is widely used, and different types of fried snacks can be produced by replacing the mold. It can be used for french fries, fried chicken, french fries, fried nuts, fried desserts, fried meat, fried fish, etc.
3. how Much Fried Snack Production Line Cost
The cost of fried snack equipment will vary according to the size of the machine and the level of automation.
As we all know, the larger the machine, the more food it produces, the higher the cost.
Of course, in addition to the size of the machine, other factors such as production speed and production performance also play an important role. Inevitably, the better the machine, the higher the amount you have to pay, which is inevitable.
Of course, we must assure it that our equipment will be the best price you have seen in the same machine.
4.how to verify Quality of Fried Snack Production Line
Before you carry food business, you must purchase fried equipment that meets the country's predetermined quality standards. Ensure the durability of the machine, the factory's security, and the safety of the workers.
Quality standards you need to pay attention to:
International Standards Organization (ISO) certification meets international manufacturing standards.
Current Good Production Norms (CGMP) will ensure that your machine meets the current product specifications.
It includes all the latest and most advanced technologies.
CE ensures all electrical component's security of the fried snacks equipment.
Food and Drug Administration (FDA) ensures high-quality hygiene and safety of food.
The quality system you use to declare the quality of your machine will vary from region to region.
5.Limitation of Fried Snack Production Line
All machines have great advantages, but everything has two sides. When choosing frying equipment, you may encounter some limitations, including:
1. In the early stage of your food business, the cost you need to invest will be very high, and you will spend a lot of money in advance in the process of buying the machine.
2. In addition, if the machine manufacturer you choose does not provide you with after-sales service, you will spend money to find someone to install the equipment, including food formula.
3. Of course, if the manufacturer you choose is not a regular manufacturer, you can't ensure the machine's safety, and you will not meet the quality standards, then you will face a huge explosion risk.
6.industries Using Fried Snack Production Line
The fried snack equipment is mainly used to produce snacks. A fully automatic snack equipment can completely do the largest profitability in the food industry. You don't have to worry about whether the production of snack products is popular. We have a variety of snack recipes to provide you with all your needs.
7.Fried Snack Production Line Maintenance Process
After using the machine, you need to maintain and clean the equipment , which can prevent food taste smells and extend the service life of the equipment.
1. After the machine is working normally every day, it is necessary to cut off the power to clean it in time.
2. After the machine runs for more than the maximum time, it is necessary to check the machine parts, whether grease and gear oil should be added to the bearings, gearboxes, and other places to reduce the wear and tear of the machine parts.
3. When there is a minor failure of the machine, it is necessary to adjust actively, do not wait until the little problem becomes a significant problem, or even affect the use of the adjustment.
8. how to Troubleshoot Fried Snack Production Line
1. When it is found that the machine fails, stop working immediately. You must start other operations in a state where the machine is completely closed.
2. After the machine is completely cooled, you can inspect the fault. Please follow the supplier cleaning manual, remove or replace damaged parts.
3. At the same time, you need to use cleaners that do not affect the machine components, and carefully clean the rinsing parts and then dry it.
4. If the problem has not been resolved, please contact the professionals immediately to repair it.
9.Types of Fried Snack Production Line in the Market
Many types of snack machines appearing on the market are roughly classified as smart or semi-smart.
Semi-automatic fried snacks equipment requires multiple workers' help and operation. The machine cannot complete the production process entirely, and it is necessary to operate manually.
Automatic fried snacks equipment can automatically perform all production procedures. If you choose this machine, it will save you a lot of manpower and labor.
10.Are the snacks produced by Fried Snack Production Line delicious?
The formula of all snacks of Loyal is through long-term trials and verification, ensuring that the local taste is met, and the snack production line also ensures food health and safety.
Of course, all of our snacks do not add any additives that harm your health. Most raw materials are common potato starch, corn starch, flour, sugar, salt, oil, etc.
There are many kinds of french fries, fine crisp angles. Various types of snacks can be produced just by changing the mold of the equipment, such as complex three-dimensional crisp corners, small fish, and other products.
11.Can one device produce a variety of snacks?
Of course, it can.
When you produce different kinds of food, you must clean the machine in time to prevent different food residues from the taste.
Recently popular snack flavors include: original flavor, Thai-style bay leaf chicken, chives, Korean kimchi, braised pork, pineapple and sour pork, seafood, bacon, etc.
You can also develop more delicious foods independently, get more profit.
12.Parts of Fried Snack Production Line.
Mixing machine → Spiral upper machine → twin screw dial → shaping cutting machine → conveyor → hoist-survey-batch drop-down fritter-hoist-weighing-double-cylinder rotating star anise seasoning machine.
Details of the equipment can be more than a few more. You can produce more shapes of products by changing the mold or changing the mechanical sequence.
The fried snack production line is based on electrical energy and is designed according to the thermodynamic principle and food requirements.
Different specifications of machinery frying time, temperature, and speed can be automated. The frying process is simple and safe, easy to clean and maintain, saves fuel consumption and energy. Moreover, the food color produced by this equipment is bright, the taste is excellent, and the taste is tempting.
13.Is the snack equipment environmental protection?
Reducing food waste is conducive to environmental protection.
The fried snack equipment solves the problem of a large amount of volatilization of the traditional fryer overheating. Oil hydrothermal mixing technology allows water under the oil layer to produce a small amount of steam and replenish the oil's moisture through the oil layer so that the oil will not volatilize.
And the intermediate heating technology can adjust the electrical control device at will according to the needs to control the upper and lower temperature. It prolongs oil's shelf life, reduces waste, saves oil compared to traditional oil presses, and reduces air pollution, allowing operators to avoid oil fume and protecting the factory environment.
14.Future of Fried Snack Production Line
From ancient times, people have never stopped the pursuit of food. Nowadays, the snack food industry is showing a blossoming scene. Snacks are a product suitable for all ages. No one, men, women, young or old, can refuse. It has become a necessity of life.
Therefore, the food industry is now a hot industry. If you want to carry out the food industry business, try the fried snack equipment.
Of course, the food industry's success has won the favor of most users with small size, lightweight, exquisite, simple, and considerable operational technology.
15.Why choose Loyal Fried Snack Production Line?
LOYAL guarantees you the quality of food machinery and provides you with comprehensive after-sales service.
When we design the machine for you, we fully consider your site conditions and public engineering conditions to ensure the quality of the equipment.
Secondly, after installation, we will help you debug it normally.
At the same time, our equipment is maintained for one year. And the equipment damaged by non-human factors during the warranty period is responsible for free maintenance. And the equipment is damaged by human factors. Our company is timely maintenance and charges cost.
Choose Loyal to make your food industry!