Shandong Loyal Industrial Co., Ltd. is a machinery and equipment manufacturer with many years of production experience, a modern team focusing on the research and development, design, and manufacture of food, chemical, pharmaceutical, and pesticide packaging machinery in one. We are developing more and more with our own advantages, standing firm in the machinery industry and enjoying a good reputation.
Our food packaging line is a new generation of packaging machinery, based on our previous experience, carefully built by our professional R & D staff, the parts used are the most advanced in the world. The quality of the machinery is reliable, excellent performance, very suitable for the use of large and medium-sized enterprises.
Once the product was launched, it was purchased by many customers and received good feedback. At present, our food packaging machines are sold worldwide and are not only very popular in China, but also widely used by customers all over the world in foreign countries.
The food packaging machine is very versatile and can be used for the packaging of various products. Our machine can complete the whole process from packaging forming, vacuum sealing, cutting to final output. The whole line is highly automated and very easy and convenient to operate.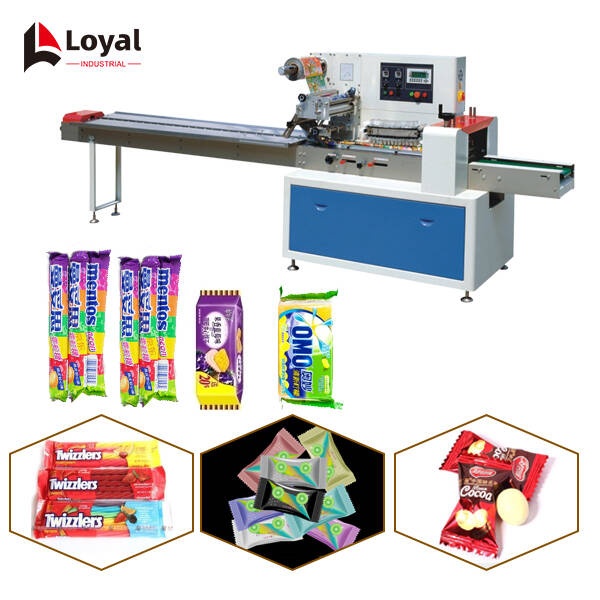 Food Packaging Line Recommend Products
Food Packaging Line Detail Introduction
It offers an unparalleled combination of convenience and retail presentation, enabling processors and retailers to provide their customers with the freshest, highest quality products. With innovative technology, it helps increase your capacity, reduce costs, and make your products fresher and more appealing.
Details of food packaging equipment:
Packaging material: Simply roll the film on/off. The machine will form the food container and then seal the film together.
Photosensor: A photoPhotosensor dedicated to printed film is installed to detect film position correctly and seal it properly.
Minimum film consumption: Only about thirty millimeters of film waste at the edge of the film.
Film scrap device: The wheels will collect the film scrap together, and the customer can easily remove it from the wheels.
Conveyor output: The machine will send completed packages gently on a conveyor belt, and then they will move to other systems.
Separate packing chamber: In this chamber, the machine will be vacuumed/inflated/sealed.
Touch Screen: This machine is controlled by PLC+Touch Screen. Chinese / Saudi / Spanish / Russian / English is optional.
Interchangeable molds: It is easy to change molds for different package sizes, and the same machine can support up to three different molds.
Vacuum pump: Our vacuum pump is imported, and the quality is very reliable.
More description
The whole machine of this food packaging line is made of stainless steel, beautiful in appearance, sturdy and durable, which can ensure food safety and hygiene, and the packaged products meet the food safety and hygiene standards. Therefore, consumers can eat them without any harm to their bodies.
The food packaging equipment is suitable for various products such as fish, meat, rice, eggs, cheese, sweet corn, dates, cut fruits/vegetables, tofu, sausages, and other products. It is a multi-functional food packaging machine, which fully meets the requirements of food packaging.
The products packed with this machine still retain the original flavor, and the nutrients are not lost during the packing process. Because of the strict process and good performance of the machine, the packing can achieve perfect results and greatly extend the shelf life.
Shandong Loyal Industrial Co., Ltd. is a trustworthy machinery manufacturer. Our equipment can withstand the test of time and bring you considerable economic benefits while saving costs. You can trust us unconditionally, and we will provide you with the best equipment.
With a high-quality design, manufacturing, and management team and many years of professional manufacturing experience, we believe that we can provide you with efficient, economical, and reasonable planning solutions and high-quality products, and perfect after-sales service. Your satisfaction is our pursuit.
If you are interested in cooperating with us and buying our equipment, we will also provide you with the most favorable price, which is very reasonable in terms of price, you do not have to worry, not only the quality of the equipment is guaranteed, the price will also make you satisfied.
In addition, our service is also very in place. We will provide a series of pre-sale, sale, after-sales services to ensure that you do not have to worry. If you need it, contact us quickly, and we look forward to working with you.
Food packaging line complete buying guide:
Nowadays, the food industry is in full swing, and various food machines have come into being, and food packaging lines are also developing more and more perfectly. Do you need a food packaging machine, or are you interested in learning more about food packaging lines? This guide will provide you with a detailed introduction to the food packaging line.
1、Introduction of food packaging line
A food packaging line is advanced packaging machinery and equipment integrated with a production line, a machine, and equipment that can complete the whole process alone. It is a piece of equipment that is composed together after integrating the functions of different equipment. It has a high degree of automation.
The production line is suitable for vacuum packaging, sealing and labeling, carton opening, boxing, sealing, packing, palletizing, winding, and other automatic back-end packaging of dairy products, soy products, snack foods, nuts, meat, fruits, and vegetables. It is very simple to use and has many advantages.
2、Benefits of food packaging line
(1) Using a frequency conversion speed regulator, the sealing knife is opened automatically to save material when the machine is closed.
(2) Advanced design concept and machine parts, reasonable structure, simple operation, very easy to use.
(3) Single-chip control system, in the process of use, can reduce the occurrence of failure.
(4) Economical and efficient, each package uses only the necessary amount of film to seal, which is less than other traditional packaging materials.
(5) Double motors, inverter and PLC controller, flexible bag length setting and cutting, saving time and film.
(6) Highly sensitive photoelectric color-coded tracking system, digital input of cutting position, making sealing and cutting more accurate.
3、Limitation of food packaging line
Any equipment is not perfect. Although the food production line has many advantages, there are inevitably some shortcomings. For example, because the parts used in the equipment are very advanced, compared to the previous equipment, the cost is high, in the price is naturally a little high, but also reasonable.
In addition, the equipment is designed with more machine parts. Although the automation is high and the operation is simple, great attention should be paid to the fact that each machine should be checked before use to avoid unnecessary trouble and malfunction during use and reduce the efficiency of production.
4、How Food packaging line Works
The automatic food packaging production line is composed of a sorting unit, a conveying unit, a material positioning, and a packaging machine identification system. The system flexibly sorts and conveys materials and arranges the materials in a queue. The conveying unit distributes the products to the preset receiving unit and puts the products into the packaging in an orderly, smooth, and non-destructive manner through the servo sorting tailstock unit. At this point, the machine completes the packaging.
5、Parts of Food packaging line
Food packaging line mainly consists of three major parts: automatic packaging machine, transmission storage device, and control system, among which, the automatic packaging machine is the most basic process equipment of the packaging line, transmission storage device is the necessary auxiliary device, they rely on the automatic control system to complete the defined work cycle and achieve the predetermined quantity and quality.
6、Support Equipment to buy with Food packaging line
The supporting equipment used with the packaging machine is the date encoder, conveyor belt, filling device, automatic feeding system, labeling machine, etc. Each piece of equipment has its own specific function, and you can choose to buy the corresponding supporting equipment according to your needs.
7、Types of Food packaging line in the Market
The automatic food packaging production line can be divided into series, parallel, and hybrid automatic packaging production lines according to the characteristics of the arrangement form. According to the features of the connection between the packaging machines, it can be divided into rigid, flexible, and semi-flexible automatic packaging production lines.
(1) Rigid packaging line: If the items in the production line after the completion of the previous process that is sent by the conveyor to the following process, without any intermediate device to make it cache in the packaging machine, then, when a machine failure and stop, will cause the whole line to stop, this is called rigid packaging line.
(2) Flexible packaging line: If the items are stored in the intermediate storage device after completing one process on the line and sent to the following process as needed, then when one machine breaks down and stops, it will not affect the normal work of other machines, this is called a flexible packaging line.
(3) Semi-flexible automatic packaging line: This type of line does not set up storage devices between all mechanical equipment and has both flexible and rigid characteristics.
8、Industries using Food packaging line
The food packaging line is quite a wide range of applications, in the granular, flake, strip, powder, and other items in the packaging process are automatic granular packaging machine equipment. Such as tea, solid drinks, cookies, rice, potato chips, shrimp fries, pet food, peanuts, coffee, milk powder, and other food packaging can be packaged with a food packaging line.
9、How to Troubleshoot Food packaging line
Equipment used for a long time, there will inevitably be some failures. In order to solve these problems, customers need to learn more about the common failures of packaging machines and their solutions.
(1) motor problems, the packaging machine may appear on (under) motor does not turn, the motor does not turn (packaging will be cut into small pieces, and the phenomenon of bag pulling), the motor does not turn (there will be any sealing, Note: the stuck knife will also appear motor does not turn). If you encounter this kind of problem, you can usually repair the motor.
(2) The electromagnet does not pull in. The solution is first to check whether there is a problem inside or outside the host, and then check the electromagnet fuse to check whether the electromagnet is energized, and remove the mechanical jam. Check the internal power supply when everything is normal.
(3) packaging equipment should focus on the annual summer and winter before the fuel run system, hydraulic system, cooling system, starting system, and other components of the test and repair. When the packaging equipment needs to be discontinued for a while due to seasonal factors, it should be cleaned, capacitated, matched, and preserved.
(4) The top cover of the vacuum machine cannot be sucked closed. It may be caused by the customer's operation error, and the wire is connected backward. This situation is very easy to solve, just reconnect it. However, it is best for operators not to make such low-level mistakes, which can cause serious damage to the equipment.
10、Food packaging line Maintenance Process
The maintenance of equipment is a critical work. The equipment is not durable even if it is not maintained. Therefore, it is necessary to maintain the equipment in daily life to extend the life of the equipment.
(1) Regular inspection
Before each use of equipment, we must do a good job of checking the equipment, check whether all parts of the machine are in normal condition, pay attention to avoid the loosening of screws. At the same time, the electrical part of the food packaging machine should pay attention to waterproof, moisture-proof, anti-corrosion, and other work to avoid external touching. At the same time, workers should also regularly check the electrical control box and terminals to ensure the safety of electricity to prevent electrical failure.
(2) Regular lubrication
Equipment with a long time, the efficiency of the components will be reduced, food packaging machine which relies on the repeated operation of each component week after week. Therefore, regularly add lubricating oil to each component, the food packaging machine at each gear mesh, with seat bearing oiling hole and each moving part filled with oil lubrication, to avoid wear and tear.
(3) Regular cleaning
Equipment cleaning is also a job that should not be ignored. After each use of equipment, promptly clean all parts of the equipment, check whether there is material residue, for the residual material clean up, facilitate the cleanliness of the machine, and extend its service life better. At the same time, because the food packaging machine will be used to package some powdered food, the dust content in the environment is more, workers should often remove the dust in the electrical control box to avoid dust into the food packaging machine inside the line aging.
11、How to Verify Quality of Food packaging line
How to check the quality of food packaging machinery and equipment can see whether it has CE, SGS, ISO, or other certifications. Generally speaking, good equipment has multiple certifications, which is the standard for testing equipment quality. Our food packaging machine has passed many certifications, and the quality is very reliable. You can buy it with confidence.
12、Food packaging line Validation Documents
Validation documents generally have installation confirmation (IQ), operation confirmation (OQ), and performance confirmation (PQ). Equipment validation includes validation master plan, equipment validation plan, development of validation program, training validation program, implementation of validation program, validation report, validation summary, validation archiving a series of procedures.
13、How much Food packaging line Cost
Because of the different types of the food packaging line, different performances, there is a specific difference in price, generally ranging from several tens of thousands to hundreds of thousands. The price is very reasonable, if you buy a food packaging machine from us, we will provide you with the most favorable price, the more you buy, the greater the discount, will certainly make you satisfied.
14、Future of Food packaging line
As a large industry, the food industry is developing more and more rapidly, and its development prospects are very broad, which also drives the development of related industries. Product level on a new level, there is a trend of scale, complete sets, automation, high technology content of the equipment more and more.
After continuous development, food packaging machinery has become one of the top ten industries in the machinery industry, providing a favorable guarantee for the rapid development of my country's packaging industry. It has met the needs of the domestic market, and some products are also exported. There are sales everywhere, and the future of food packaging machinery will also be better and brighter.
15、About Shandong Loyal Industrial Co.
Shandong Loyal Industrial Co., Ltd. is dedicated to the development and innovation of food machinery, and has been engaged in the machinery manufacturing industry for many years with rich experience. We mainly deal with packaging and its auxiliary machines for food and non-food industries, including various automatic and multi-functional vertical filling and sealing machines, conveyors, packaging machines, and so on.
We have obtained a CE certificate and many national patent certificates. Due to our high quality, our machines have been exported to many countries all over the world, such as the USA, New Zealand, Malaysia, Thailand, Indonesia, Vietnam, India, Bangladesh, Holland, Egypt, Pakistan, etc. Our machines have been unanimously approved by customers at home and abroad.
The quality of our machines is very reliable, and the performance is excellent. The price is also very reasonable. In addition, we also have excellent and considerate service, and customer satisfaction is our pursuit. Believe us, choose us, and you will really experience the benefits of the equipment brought to you, feel our best service.
16、Our services
(1) Warranty
a. Twelve months warranty for the whole machine, excluding silicone panels, films, heating elements, and other easy-to-wear parts.
b. Special overseas engineering services are not included in the warranty.
c. Other items or service requirements can be negotiated.
(2) Information
a. We provide information about packaging and machinery before offering special prices.
b. We have several after-sales services, including online guidance, engineering services, installation, commissioning services, etc.
(3) Design
a. We can provide packaging design service according to customers' requirements.
b. We can customize machine functions, appearance, and special requirements within a reasonable range.
c. We can make certain designs of packaging according to the requirements.
17、Our advantages
(1) Personalized design
We have a team of engineers to design every machine detail to satisfy our customers. In addition, we can apply other third-party equipment to make better food packaging lines.
(2) Top safety
Safety is our main concern in machine design. In order to ensure the safety of workers and machines, many sensors are installed under the lid, inside the door, and on other removable parts to ensure the machine can stop automatically when the lid and door are opened.
(3) Highly automated
The machine is fully automated from packaging forming to final product output. It can be fully controlled by a 10" PLC touch screen so that the machine can be operated easily and conveniently at a glance.
The food packaging production line is an advanced machine and equipment. High-quality equipment can meet any of your requirements, not only brings convenience for manufacturers but also saves a lot of manpower and material resources, no matter how to say, food packaging production line is a machine worth buying.
Food packaging production equipment is the biggest contribution made by people in the packaging machinery industry, replacing the tedious process of previous machines and equipment. Its excellent performance and unique design make production more fast and convenient, proving that people's lives are getting richer and richer.
We guarantee that all machines maintain good quality and efficient performance for one year, and provide lifetime maintenance services. We can design and produce food packaging production lines according to customers' specific requirements to meet their production. If you have any need in this regard, feel free to contact us, we will be happy to serve you.