Kurkure is a special kind of puffed food with a very crispy texture and a wide range of flavours for all ages.
LOYAL company has a complete team of professional engineers, production workers, sales personnel and after-sales service technicians. Our machines are sold and exported to most countries in the world, and we cooperate with customers all over the world.
Kurkure making machine is the latest development of Shandong Loyal Industrial Co.,Ltd. specially developed for making Kurkure.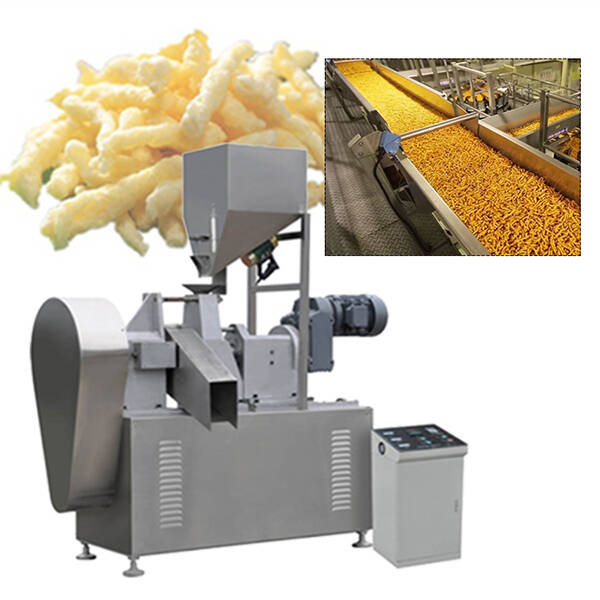 Kurkure Production Line Recommend Products
Kurkure Production Line Detail Introduction
Shandong Loyal Intelligent Machinery Co., Ltd. is a specialist manufacturer of food machinery with years of experience. From humble beginnings, we have always been in the leading position of the manufacturer of food processing lines. Over the past years' development, we have become the market leader and operate a national and international-wide network serving large and small-scale companies in the food machinery manufacturing industry with a favorable reputation among our customers.
Our various types of equipment is sold worldwide, and we are at all times well trusted by both our national and international clients from more than 80 countries, for instance, Brazil, Britain, Australia, Pakistan, New Zealand, Myanmar, etc. We are proud of many successful food processing production lines that we have developed and continue to establish a sustainable long-term partnership with a broad range of customer base.
Our Kurkure production line is of excellent quality with a high level of performance efficiency while maintaining a reasonable price. We can ensure that a bigger discount is offered for a larger order size. Feel free to contact us for a quotation if you are intrigued. We would be more than pleased to answer any questions you may have; we take customer satisfaction seriously. Our goal is to facilitate our clients to obtain considerable profits with minimal costs.
We are determined to provide you with ultimate service no matter which type of machine you are seeking for. We are here to resolve all your concerns and problematic situations; fulfilling your needs and gaining customer contentment are our primary objectives.
The devices of our Kurkure Food Production line:
Mixer → spiral conveyor → extruder →deep-frying machine → hoist → seasoning roller → cooling machine → packaging machine
Mixer: mixing ingredients evenly with fast speed and no leakage. There are two types of machines for you to choose from, one is the vertical model, and the other is the horizontal model, both of which are made of stainless steel or carbon steel.
Conveyor: sending mixed ingredients to the extruder.
Extruder: extruding the ingredients into desired shape and size by kurkure.
Deep-frying machine: its electric belt and cover lifting device makes it have an advantage of continuous production, and we have several types, such as electric, steam, gas, diesel heating type.
Seasoning machine: mixing the oil and spices on the surface of materials and using roller type and oil atomizing spray system for continuous automatic operation.
Cooling machine: the almost-finished materials are cooled by the cooling machine after seasoning.
Packaging machine: after a series of processes is the final packaging. You can either choose automatic packaging or manual packaging.
More Description
Kurkure is a special puff snack that is very crispy and comes in a variety of flavors suitable for all ages. This latest newly developed machinery by SHANDONG LOYAL INTELLIGENT MACHINERY CO., LTD is believed to be the most ideal choice for manufacturing Kurkure.
The production line adopts double-/single-spiral extrusion technology in replacement of the traditional producing process. The more advanced production line includes mixing, steaming/boiling, extruding, molding, and other processes. There is no need for a traditional boiler, and the process is rather simple while with high efficiency and low pollution. The ingredients can be rice flour, cornflour, wheat flour, or their mixture.
By simply changing the mold, forming, or cutting machine, the machine can produce a variety of shapes, such as bar, square-fin-like, diamond, wave-like, pillow or bell shape, etc. The product is tasty and not greasy, and loved by all ages.
Our company brings expertise to the organization; we have an excellent team, including specialist engineers, workers, sales personnel, and after-sales service technicians. Our machines are sold domestically and worldwide and exported to the majority of countries in the world. Over the years, we have been cooperating with customers all over the world.
Innovation is a driving force of our company with a healthy appetite for growth, we continue to invest in new machinery capabilities and technology to bring innovative new machinery to market for our customers and consumers. With rich experience in the food machinery industry and the endless efforts devoted by our professional experts, we can provide healthier and better options to our loyal consumers, together with the most appropriate and complete solution to ensure that your investment can get the maximum return.
Our equipment has passed CE, SGS, BV certificates, which approved that our equipment is very reliable in quality. In addition, we have considerable honors given by the Chinese government, and we will provide the machine with the best performance yet at an affordable price for you.
If you have any needs, please contact us as now. If you have any questions, contact us at any time, our staff will patiently answer all your questions.
Kurkure Line: Complete buying guide
Kurkure is a popular snack with positive prospects in the future.
Whether you want to gain profit with it, or you are a food processing factory in need of purchasing Kurkure machine, this guide probably ia able to offer you a lot of insights.
1. The introduction of the Kurkure Production line:
The Kurkure machine is a new type of equipment for extrusion and puff snacks. Corn grits are the main ingredients; they get extruded and twisted into curly shapes utilizing two rotary plates. The production line is highly automatic from raw materials configuration, extrusion, frying or baking, spraying, seasoning to ending products all at once.
Kurkure is loved by consumers because of its crispy texture and rich in nutrition. By changing different molds, the Kurkure machine can also produce different shapes of filled food, sandwich biscuits, nutritious breakfast, corn chips, and other puffed foods. Different lengths of products can be customized according to customer requirements.
2、Benefits of Kurkure Production Line
(1) It adopts frequency conversion speed regulation with a high degree of automation, so it has stable performance and high efficiency.
(2) Its European rectangular barrel body makes it easy to optimize the reflux refrigeration channel to make up temperature differences in different small areas.
(3) After initiation of treatment, the spiral material are made of 38CrMoALA or wear-resistant alloy bushing.
(4) Long service life; the screw is made of alloy steel and the special process makes it work continuously under high wear and high-pressure conditions.
(5) The forced lubrication system can prolong the use time of the extruder.
(6) Automatic temperature control system controls temperature more precisely and has more accurate parameters.
(7) Using screw length difference to meet different technological requirements.
(8) Wide range of usage, different modes can be chosen to produce different products of different shapes.
3、Limitation of Kurkure Production Line
Although our Kurkure production line has many advantages, there are indeed several limitations. Compared with the previous equipment, the cost is higher. Therefore, more investment in the production line is expected due to more advanced machine components and technology.
In addition, there is a serious need to carry out regular inspections and maintenance on the production. This is due to the fact that there are a number of components and machinery parts are involved that require attentive operating focus to prevent the occurrence of potential malfunctions. Besides, unnecessary resources and energy waste, as well as security risks, can happen when operating incorrectly.
4、How Kurkure Production Line Works
Corn grits are used as the main ingredients. Adding water in the flour mixer and then putting them into the rotary extruder. In the extruder, the corn grits and other materials are heated, and the moisture content is reduced due to the overheating and pressure of the screw. After that, they are passed through a mold and cut to the desired length with a cutter. Consequently, Kurkure is fried in cooking oil, then cooled for further seasoning, the spices are sprayed on the surface for a better taste, and lastly, it will be packaged.
5、Parts of Kurkure Production Line
Process flow:
Mixing machine -- spiral conveyor -- single-spiral extruder -- cutting machine -- baking oven -- cooling conveyor -- packaging machine
(1) Mixing machine
Corn grits are mixed with water to prepare the dough for making Kurkure.
(2)Rotary mold extruder
The Kurkure is extruded from the mold after the corn grits being steamed. Compression and friction would generate a lot of heat; it helps the rotating mold twist and curls the Kurkure before extrusion, providing a homogeneous product.
(3) Automatic frying machine
Frying Kurkure in hot cooking oil. Deep frying evenly can make the food crispy and delicious.
(4) Cooling conveyor
Cooling the fried Kurkure and lower its temperature before packaging.
(5) Automatic seasoning system
The desired seasonings are added to the deep-fried and cooled Kurkure to give it a unique flavor.
(6) Automatic packaging machine
Kurkure is packaged into a finely-print bag and then gets automatically gas rinsed.
6、Supporting Equipment to buy with Kurkure Production Line
Kurkure Snack machine forms the highest quality extrusion container. It can produce Kurkure, Niknaks, Cheetos, Cheese tacos,etc. The extruder is used for extruding and molding, other equipment can be offered according to customers' requirements, such as oven or fryer, seasoning system, etc. You can certainly purchase a whole production line, and other related supporting equipment will be provided according to your needs.
7、Industries using Kurkure Production Line
Kurkure production machine has been widely used in the food industry, and the ingredients ranging from rice flour, cornflour, flour, etc., to all types of mixed flour. Different shapes are able to be produced by changing the mold, shaping machine or cutting machine. Various shapes such as strips, square flakes with knots, rhombus flakes, wave flakes, tray-shaped and square-shaped, diamond-shaped, horn-shaped etc.
Our equipment is also capable of producing kurkure, rice crackers, crispy corners and other foods, with various colors and crispy tastes, and less greasy.
8、Types of Kurkure Production Line in the Market
There are different types of Kurkure machines on the market currently. The categories can be divided into small-, medium-, and large-model according to the model; and the types can be divided into semi-automatic and fully-automatic according to the degree of automation; Also there are single-spiral extruders and double-spiral extruders, and multi-spiral extruder. In general, the most commonly used ones are fully-automatic and double-spiral extruders.
9、How to troubleshoot Kurkure Production Line
Potential problems would inevitably occur during the production process. How do we effectively solve those problems when they occur? In this instruction guide, typical malfunctions of the equipment and related solutions can be found.
(1) Instability of material extrusion: Making sure to clear the material of the hopper outlet. And, it is essential to check the main motor and control system, adjust the heating power or to check the contact and installation of the thermocouple and to see whether the thermocouple is damaged, replace it if necessary.
(2) The current of the main motor fluctuates greatly: check whether the heaters in each section are damaged and whether the wiring of the heaters in each section is connected correctly or is firm, otherwise check the motor bearings, add lubricants or change the bearings.
(3) There is dirt in the extrusion products: replace the material, clean the screw. If there is a little dirt ,you can simply use the screw cleaner; if it's serious, It should be removed from the screw and be cleaned manually.
(4) The main motor does not function or stops suddenly when starting : Check the power connection of the main motor and the temperature of each section; then look for the relevant records to confirm the preheating and heating time, and also check whether there is damage or bad connection of each heater.
(5) If the main motor rotates, but the screw does not rotate: adjust the center distance between the two belt wheels and tension pulley ,then check the security key to find out what causes the cutting, and change the screw.
(6) The screw has a speed display but it cannot squeeze out any materials: add materials into the feed hopper, remove the dirt of hopper opening, if there are any hard objects into the extruder, the machine must be stopped and detach the screw. Then check whether the driven pulley works. If it is normal and "no feeding" or hard objects are blocked in it, the screw may be broken. Now stop the machine immediately, remove the screw and replace it, check the screw water cooling system, and add more water.
10、Kurkure Production Line Maintenance Process
Two types of equipment maintenance methods are recommended, First one is the daily maintenance, and the other is the regular maintenance. These two types of maintenance are equivalently necessary and required to run an effective machine.
(1) Daily maintenance: it's just routine work that does not take up the working hours of the equipment, is usually completed before operation. Focusing on machine cleaning, lubricating the moving parts,and fastening the loose thread parts. You also need to check and adjust the motor, Instruments, working parts, and pipelines, etc.
(2) Regular maintenance: generally, the machine is shut down after the continuous operation of the extruder for 2500-5000h. The machine needs to be disassembled, inspected, measured, and checked the wear of the main parts; then change the parts that have reached the specified wear limit, and repair the damaged parts.
11、How to Verify Quality of Kurkure Production Line
There are many means to check the equipment quality, and the most common one is to see the number of certificates it has required. IOS9001, MIC, CE, SGS certificates are qualified enough to show that the equipment is very reliable with high quality. Our machine has passed all the mentioned certificates. Thus, the quality of our machine is up to a supreme standard and to be well-trusted.
12、Kurkure Production Line Validation Documents
The equipment verification includes a series of procedures, such as, overall verification plan, equipment verification plan, development of verification scheme, training verification scheme, implementation of verification scheme, verification report, verification summary, archiving the verification. And files generally include installation qualification (IQ), operation qualification (OQ), and performance qualification (PQ).
(1) Installation qualification (IQ) : after the installation of the equipment, it is essential to perform various system inspections of the equipment and document the technical data.
(2) Operation qualification(OQ) : various operation tests and documentation for equipment or system meeting the set requirements.
(3) Performance confirmation (PQ) : the trial production test and documentation to prove that the equipment or system achieves the designed performance. In terms of the production process, it can also refer to the simulated production test.
13、How much Kurkure Production Line Cost
The price of the Kurkure production machine is around tens of thousands to hundreds of thousands yuan. The price is varying base on its performance, model, type, and so on. You can choose the right equipment according to your needs and then get a quotation from us, our price is very reasonable; one more thing, if you buy more, you will get more discounts.
14、Future of Kurkure Production Line
The Kurkure is a special tasty puff snack, with crunchy texture. It is fried in cooking oil or baked in the oven, then cooled before seasoning. Spices are coated on the surface for a unique taste.It is loved by consumers for its delicious taste, rich in nutrition, which has a very promising development.
Kurkure is very popular among all ages; the Kurkure snacks got the chance to advance continuously. The machine has been upgraded many times and constantly improved, and currently is very popular in the market. The machine is widely used in the food processing industry, and it is considered to maintain its prosperous position on the market in the future.
15、The Introduction of Shandong Loyal Intelligent Machinery Co., Ltd.
As a company with resplendent qualifications, we are developing steadily in the food machinery industry. Besides, we are powerfully equipped with an effective team of experts with profound experience in the machinery industry, together with an international trading team with extraordinary business capabilities and team spirit. Having a robust and united team enables us to provide our clients with the food processing machinery of the most superior quality. Moreover, having a competent team of experienced experts and excellent engineers allows us to offer professional services, delivery, and installation to our valued clients. Furthermore, we are also able to provide our customers with OEM machines based on individual requirements.We not only strive to continuously research extrusion technology but also, constantly explore food technology to benefit our customers and produce creative food.
After years of research and development, our single- and twin-screw extrusion technology has been widely used in the production of the following products: puffed snacks, filled snacks, breakfast cereal/cornflakes, structured soy protein/fibrin/vegetarian meat, Kurkure, breadcrumbs, nutritious rice/artificial rice, and pet food. We have more than 20 production lines, different functions and capacities can be chosen, and we also provide customized services for your special requirements.
Ever since the establishment of the company, our products have been sold to all over the world. And we have cooperated with many countries. with solid strength, high-quality products, and considerate services, we have won the trust and support of many customers.
The rapid development of our company can be seen and we have more and more business partners. We are delighted to see all the fruits and we will strive to do better.
16、Our goal
(1) Our goal is to ensure your satisfaction and enjoyment doing business with us.
(2) If you are not happy with your purchase in any way, please allow us to resolve all the problems. We know your concerns and frustrations and will do our best to resolve these problems.
(3) Any unsatisfied purchase, we would like to replace it or refund it within the date of delivery.
(4) For any replacement or refund, we require the product to be in original condition, the box and all accessories must be intact, and the buyer is responsible for paying the shipping fee.
17、Why choose us?
(1) We provide Kurkure formula, installation, commissioning, and special training service from our professional engineers for you. And any problems can be solved, we also offer long-term machine maintenance.
(2) Professional maintenance and service for your machine are offered, The warranty for machines and its parts is 1 year, while the maintenance for spare parts and other accessories is long-term.
(3) We have a perfect product after-sale quality tracking system, and establish a sound product quality tracking report, and give professional analysis and timely feedback for each customer.
(4) Design and supply non-standard products according to customers' requirements.
(5) For the sake of global customers, we provide consulting services of equipment technology, raw materials, packaging, and other all-round consulting services, in this way you have nothing to worry about.
18. Our services
(1) Free presale, in-sale, and after-sale consultation service for you.
(2) Free project planning and services design .
(3) Free debugging of the equipment till it works normally.
(4) Free management for long-distance transportation of the equipment .
(5) Free training for equipment maintenance and on-site operation.
(6) Providing new production technology and formula for free.
(7) Providing one-year complete warranty and lifelong maintenance services.
Shandong Loyal has a complete manufacturing program to provide equipment and devices for customers in food processing machinery and related industries. We provide individual equipment projects or complete plant layout and production lines, which are customized to meet customers' requirements because their satisfaction is our pursuit.
From feeding, extruding, molding, cutting, oil spraying to finished products, everything is completed automatically. The visual automatic temperature control system makes the control more direct, ensuring the parameter is more accurate. The production line has many advantages, such as space-saving, flexible configuration, easy to operate, strong adaptability, which is well-acknowledged in the industry.
Our manufacturing process of every single equipment and non-standard equipment project progress is under strict quality control, and all the equipment parts will be strictly audited. We inspect every part of the equipment and from designing, procurement to production we give priority to every detail. You can give all your trust to buy our equipment, contact us now!