Kurkure is a special kind of puffed food with a very crispy texture and a wide range of flavours for all ages.
LOYAL company has a complete team of professional engineers, production workers, sales personnel and after-sales service technicians. Our machines are sold and exported to most countries in the world, and we cooperate with customers all over the world.
Kurkure making machine is the latest development of Shandong Loyal Industrial Co.,Ltd. specially developed for making Kurkure.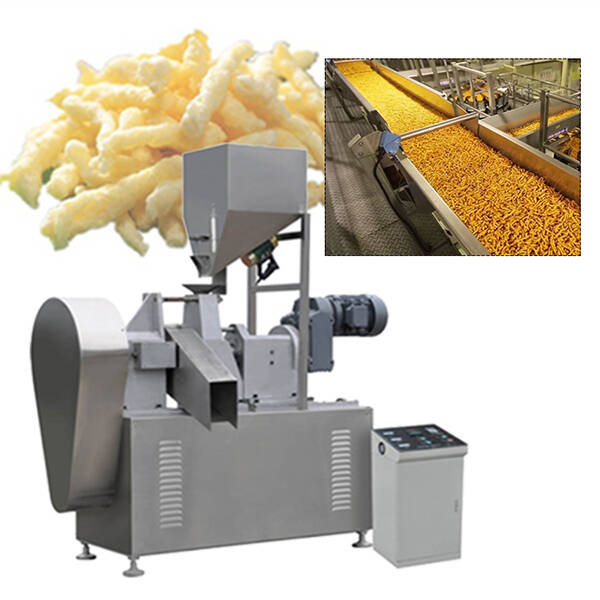 Detail Introduction
Shandong Loyal Industrial Co.,Ltd. is a professional food machinery manufacturer with many years of manufacturing experience and has been in the forefront of the times since it has been engaged in this industry, and after years of development, it has now become a leader in the food machinery manufacturing industry and enjoys a high reputation.
Our equipment has been sold all over the world and is not only trusted by our customers at home, but also has many customers abroad. We have customers in countries such as Brazil, UK, Australia, Pakistan, New Zealand, Myanmar, etc. After using our equipment, they are willing to have a long-term relationship with us.
Our Kurkure lines are very good in terms of performance and quality, and the prices are very reasonable, and the more you buy the better the discount, so if you need one, contact us for a quote and we will provide you with a satisfactory answer. We will provide you with a satisfactory answer. We will bring you considerable economic benefits while saving you money.
We will also provide you with the best quality service. No matter what type of machine you buy from us, you will enjoy our attentive service that will solve all your problems. Your satisfaction is our pursuit.
List of equipment for Kurkure food production lines:
Mixer → Screw conveyor → Extruder → Fryer → Elevator → Flavouring drum → Cooler → Packaging machine
Mixer: uniform mixing of raw materials, fast speed and no leakage. Vertical and horizontal options available. Materials are stainless steel and carbon steel.
Conveyor: The raw material is mixed and sent to the extruder by the conveyor.
Extruder: extrudes the raw material and forms it into the desired shape and size for kurkure.
Fryers: electric belt and top lifting device, advantages of continuous production, electric, steam, gas and diesel heating types.
Seasoning machine: mixing of oil and spices on the surface of the raw material, with a roller and oil atomisation spraying system, continuous automatic operation.
Cooling machine: the food is seasoned and then cooled by the cooling machine.
Packaging machine: Once the series of processes are complete is the final packaging process, which can be either automatic or manual.
Further description:
Kurkure is a special kind of puffed food with a very crispy texture and a wide range of flavours for all ages. Kurkure making machine is the latest development of Shandong Loyal Industrial Co.,Ltd. specially developed for making Kurkure.
The line uses twin/single screw extrusion technology to replace the traditional cooking process, including mixing, cooking, extruding and forming, without boiler, with simple process, high efficiency and low pollution. The raw material can be rice flour, maize flour, wheat flour alone or mixed.
Simply change the mould, forming or cutting machine and the shapes can be as varied as bars, square ribbed slices, diamond shaped slices, wavy slices, pillow and trumpet shapes. The finished product is delicious and not greasy, and is very popular with young and old alike.
Our company has a complete team of professional engineers, production workers, sales staff and after-sales service technicians. Our machines are sold and exported to most of the countries in the world, and we have cooperated with customers all over the world.
We are constantly improving our machines and upgrading our technology to meet the needs of all our customers. With our extensive experience in the food machinery industry and the diligent search of our professional experts, we will provide the most suitable and complete solutions to facilitate the maximum return on your investment.
Our equipment is CE, SGS and BV certified, which shows that our equipment is very reliable in terms of quality. In addition, we have many accolades from the Chinese government and we will provide you with the best performing machines at reasonable prices.
If you have a need in this area, then contact us quickly, any questions you have can contact us at any time, our staff will be patient for you to answer one by one, welcome to visit.
Kurkure production line: the complete buying guide
Kurkure is very popular as a food product and its future is very promising. Do you want to gain interest in this area or are you a food processing plant and need a Kurkure making machine? Take a look at this guide together, it will be of great help to you.
1. Introduction to the Kurkure production line:
Kurkure making machine is a new type of extruded and puffed small food production equipment, using maize grits as the main raw material, through two turntables to extrude and twist the maize grits into curly shapes. The production line is highly automated from raw material configuration, extrusion and puffing, frying or baking, spraying and flavouring to the finished product in a single operation.
Kurkure is loved by consumers for its crispy, nutritious and delicious taste. By changing different moulds, the Kurkure maker can also produce different shapes of sandwich snacks, sandwich biscuits, nutritious breakfast, cornflakes and other puffed foods, which can be switched to different lengths according to customer requirements.
2、Benefits of Kurkure Production Line
(1) Stable performance, frequency conversion speed control, high degree of automation and stable pre-forming.
(2) The barrel is a European style rectangular barrel with optimised configuration of reflux cooling channels for different small area temperature differences.
(3) Screw material can be 38CrMoALA, triggered by treatment, or wear-resistant alloy bushings.
(4) Long service life, the screw is made of alloy steel and special technology, and can work continuously under high wear and high pressure conditions.
(5) The forced lubrication system also extends the life of the extruder.
(6) Automatic temperature control system, more direct temperature control and more accurate parameters.
(7) The screw length difference rate is adopted to meet different process requirements.
(8) Wide range of use, choose different modes to produce different products of different shapes.
3、Limitation of Kurkure Production Line
The Kurkure production line has many advantages, but of course it is not perfect and there are definitely some shortcomings. For example, in terms of cost, the machine parts used are more advanced compared to previous equipment, so the cost is higher and the investor has to spend more money.
In addition, although the equipment is highly automated, because of the large number of machine parts involved, when using it, it is easy for some faults to occur if care is not taken, and timely inspection and maintenance is required. It is also possible to cause some waste of resources and energy, and even safety hazards.
4、How Kurkure Production Line Works
The line is mainly made of corn grits, which are added to the flour mixer with water and fed into the rotary die head extruder. In the extruder, the meal is heated and the moisture content is reduced due to the superheat and pressure of the screw. The meal is passed through the die and cut to the desired length by the cutting knife. The kurkure is fried in cooking oil, then cooled and seasoned, the seasoning is sprayed on the kurkure to improve its flavour and finally packaged.
5、Parts of Kurkure Production Line
Process flow.
Mixer --- Screw conveyor --- Single screw extruder --- Cutting machine --- Baking oven --- Cooling conveyor --- Packaging machine
(1) Mixer
Mixes the maize grits with water to prepare the flour for the Kurkure.
(2) Rotary die extruder
The maize flour is steamed and the Kurkure is extruded from the die. Compression and friction generate a lot of heat and the rotating die twists and curls the meal before extrusion to provide a uniformly textured product.
(3) Automatic Fryer
Frying Kurkure in hot cooking oil, uniform frying gives the food a crispy and tasty taste.
(4) Cooling conveyor
Cools the fried Kurkure and reduces the temperature before packing.
(5) Automatic flavouring system
Adding the required flavouring to the fried and cooled Kurkure to give it a different flavour.
(6) Automatic packaging machine
Packs the Kurkure into beautifully printed bags and automatically gas flushes them.
6、Support Equipment to buy with Kurkure Production Line
The Kurkure snack machine forms extruded barrel clips of the highest quality from maize grits to produce kurkure, niknaks, cheetos, cheese tacos, etc. The extruder is used for extrusion and moulding. Other accessories will be allocated according to the customer's requirements, such as ovens or fryers, flavouring systems, etc. You can buy a whole production line and the relevant ancillary equipment will be supplied according to your needs.
7、Industries using Kurkure Production Line
Kurkure processing machines are widely used in the food industry, either as a single material such as rice flour, maize flour or flour or as a mixture of these. By changing the moulds and forming and cutting machines, the shapes can be changed: strips, corrugated square flakes, diamond-shaped flakes, wavy flakes, pillow-shaped and horn-shaped, producing Kurkure, potpourri and sharp-edged crisps in a variety of colours and with a crisp, non-greasy taste.
8、Types of Kurkure Production Line in the Market
Kurkure processing equipment is available in a wide range of sizes, including small, medium and large, semi-automatic and fully automatic, single-screw and twin-screw extruders, depending on their performance. Multi-screw extruders are also available but are very rare, the most commonly used being fully automatic and twin-screw extruders.
9、How to Troubleshoot Kurkure Production Line
It is inevitable that some problems will occur during the use of the equipment. How can they be solved when some problems arise? Here's a look at the common faults and solutions for the equipment.
(1) Unstable extruded material: clear the "bridge" at the lower hopper, check the main motor and control system, adjust the heating power or check the contact and installation of the thermocouple and whether the thermocouple is damaged, replace the thermocouple if necessary.
(2) The main motor current fluctuates greatly: check whether each section of the heater is damaged, check whether the wiring of each section of the heater is correct or firm, check the motor bearing, add lubricant or replace the bearing.
(3) extruded products have dirt: replace the material, clean up the screw, less dirt can direct extrusion cleaning ues screw cleaning agent, the screw can be unloaded to clean by manual when meet the large dirt.
(4) start the main motor, the main motor does not move or momentarily stop: check the main motor power supply wiring, check the temperature display of each section and find the relevant records, confirm the preheating temperature rise time, check whether each heater is damaged or wired poorly.
(5) the main motor rotation, but the screw does not rotate: adjust the centre distance of the two pulleys, tensioning belt check the safety key, analyze the cause of the cut off, replace the screw.
(6) the screw has a speed display but can not squeeze material: add material to the hopper, to exclude the phenomenon of foreign objects at the mouth of the hopper, if confirm that there are hard objects into the extruder, should stop the removal of the screw, to exclude the blockage of hard objects, check whether the driven pulley rotation, if the rotation is normal and exclude the "no material" or "hard objects blockage", then the screw may be twisted off, should immediately stop, remove the screw and replace it, check the screw cooling water system, increase the screw cooling water.
10、Kurkure Production Line Maintenance Process
The maintenance process of the equipment is generally divided into daily maintenance and regular maintenance, the two maintenance processes complement each other and are indispensable.
(1) Daily maintenance: regular routine work, does not account for equipment running hours, usually completed during the drive. The focus is on cleaning the machine, lubricating the moving parts, tightening the easy to loosen the threaded parts, timely inspection, adjustment of the motor, control instruments, the work parts and pipelines, etc.
(2) Regular maintenance: generally in the extruder after continuous operation 2500-5000h machine shutdown, the machine needs to be disassembled to check, measure, identify the wear and tear of the main parts, replace the parts that have reached the specified wear limit, repair the damaged parts.
11、How to Verify Quality of Kurkure Production Line
The first and foremost way to check the quality of the equipment is to see which certifications it has undergone, generally through the IOS9001 certification, MIC certification, CE certification, SGS certification, etc. are sufficient to indicate that the equipment has a very reliable quality, our machines have passed many certifications, the quality of the machine is worthy of your trust.
12、Kurkure Production Line Validation Documents
Equipment validation includes a series of procedures including a validation master plan, equipment validation plan, development of a validation programme, training on the validation programme, implementation of the validation programme, validation report, validation summary and validation archiving. The validation documents are generally Installation Confirmation (IQ), Operational Confirmation (OQ) and Performance Confirmation (PQ).
(1) Installation confirmation (IQ): Various system checks and documentation of technical data of the equipment after installation.
(2) Operational Confirmation (OQ): Various operational tests and documentation to prove that the equipment or system meets the set requirements.
(3) Performance confirmation (PQ): Trial production tests and documentation to prove that the equipment or system meets the design performance, also referred to as mock-up production tests in the case of production processes.
13、How much Kurkure Production Line Cost
Kurkure making machines generally cost between tens to hundreds of thousands of dollars, as they vary in performance, model and type. You can choose the right equipment for your needs and get a quote from us, our prices are very reasonable and we offer some discounts if you buy in large quantities.
14、Future of Kurkure Production Line
Kurkure is a special extruded snack, very crunchy and tasty, fried in cooking oil or baked in the oven and then seasoned before cooling, the seasoning is sprayed on the surface to achieve a different taste good, it is very popular with consumers due to its delicious taste and nutritional value.
As Kurkure is very popular, the Kurkure snack machine is also developing more and more. As the equipment for producing Kurkure, it has undergone many modifications and constant improvement, and is now very popular in the market, commonly used in the food processing industry, and its future development will be even better.
15、Shandong Loyal Industrial Co.,Ltd.
Shandong Loyal Industrial Co.,Ltd. is a professional manufacturer and demonstrator of advanced and efficient extruded food machinery in the machinery field. The company has brought together a team of experts with extensive experience in the machinery industry to strive to continuously research not only extrusion technology, but also to explore food processes for the benefit of our customers producing creative food products.
After years of research and development, our single and twin screw extrusion technology has been widely used to produce the following products: puffed snacks, sandwich snacks, breakfast cereals/corn flakes, organised soy protein/fibre protein/vegetarian meat, kurkure, bread crumbs, nutritional rice/artificial rice, pet food and more than twenty other production lines with a choice of different functions and capacities, and we can also provide customisation services for special requirements.
Since the establishment of our company, our products have been sold all over the world, and we have cooperated with many countries. We have won the trust and support of our customers with our strong strength, high quality products and considerate service, and our company is developing more and more, and we have more and more business partners, for this reason, we feel very gratified, and we will try harder to do better.
16. Our goals
(1) Our goal is to ensure that you are a satisfied customer and happy doing business with us.
(2) If you are not satisfied with your purchase in any way, please give us the opportunity to resolve any issues you may have, we understand the concerns and frustrations you may have and will do our best to resolve them.
(3) If you are not satisfied with your purchase, we will be happy to exchange or refund your purchase within the delivery date.
(4) For any exchange or refund, we require that the product must be in its original condition, including the box and all accessories, and the buyer is responsible for return shipping costs.
17. Why choose us
(1) Provide production recipe, installation, commissioning, operator training services, professional engineers to provide machine installation, training, enterprise staff to solve problems, long time machine maintenance.
(2) Professional machine maintenance and service, 1 year warranty for machines and parts, long-term maintenance service for spare parts and components.
(3) Perfect after-sales product quality tracking system, for each customer to establish a perfect product quality tracking report, professional analysis, timely feedback.
(4) Design and supply of non-standard products according to customer requirements.
(5) For the sake of global customers, we provide a full range of consulting services on equipment technology, raw materials, packaging, etc., truly allowing customers to worry-free.
18. Our services
(1) Free pre-sales, in-sales and after-sales advisory services.
(2) Free project planning and design services.
(3) Free commissioning of equipment until everything is normal.
(4) Free management of long-distance transportation of equipment.
(5) Free training on equipment maintenance and personal operation.
(6) Free new production processes and recipes.
(7) Provide one year complete warranty and lifetime maintenance service.
Shandong Loyal Industrial Co.,Ltd. has a well-established manufacturing program to provide equipment and systems for customers in the food processing machinery and related industries. We can provide individual equipment items or complete plant layouts and production lines that are customised to meet the requirements of our customers, whose satisfaction is our pursuit.
Our kurkure production line is automated from feeding, extruding, forming, cutting, oiling to the finished product in one step. The visualised automatic temperature control system makes temperature control more intuitive and parameters more precise. The line has a small footprint, flexible configuration, easy operation and adaptability, and has many advantages that are well received by the industry.
We implement strict quality control on the manufacturing process of each piece of equipment and the progress of non-standard equipment items, the spare parts used in the equipment are strictly audited, and every part of each piece of equipment is fully inspected, from design, procurement to production, focusing on every detail, you can rest assured that you can buy our equipment, contact us soon.