As a professional Microwave Equipment Manufacturer, we can provide you with small, medium, and large Microwave Sterilization Machines.
Microwave sterilization is the process of sterilizing materials with Microwave Sterilization Technology, which inactivates or kills micro-organisms such as bacteria and insects in the material, ensuring that the material does not contain more bacteria than necessary within certain shelf life.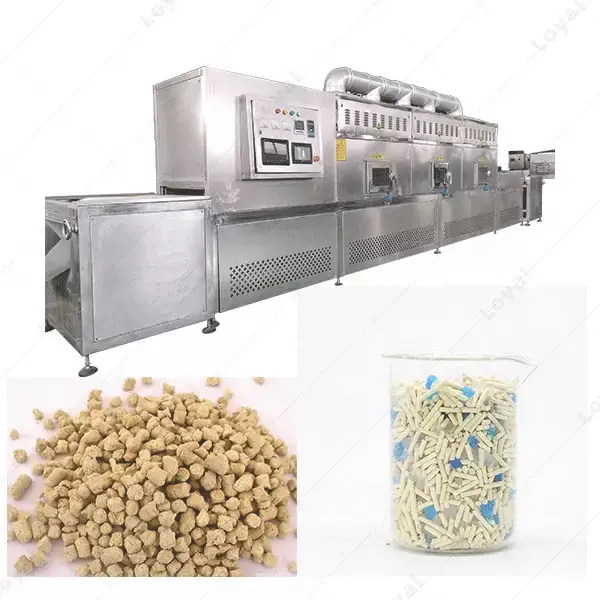 Microwave Sterilization Equipment Recommend Products
Microwave Sterilization Equipment Detail Introduction
LOYAL Microwave Oven Serialization is one of the world's leading sterilization machines, developed by a team of industrial microwave sterilization system engineers with over ten years experience in microwave sterilization machines, and now holds several patents for Microwave Sterilization Technology.
In addition, LOYAL can provide you with detailed procedures and methods for the microwave technology process free of charge. At the same time, Industrial Microwave Oven can help you to develop Sterilization Technology in the Microwave Processing industry and to make your project a success in the industrial microwave industry by saving the cost of controlling the Microwave Oven Price while ensuring the quality of the equipment.
The Microwave Sterilisation Process is one of the most important solutions for the sterilization and preservation of food products, which are susceptible to contamination and deterioration during production, storage, transport, and distribution. Conventional techniques such as heat, drying, freezing, and preservatives are often used to sterilize and preserve food, but often conventional sterilization methods can affect the original flavor and nutritional content of the food. The Food Sterilizer Machine is, therefore a promising high-tech technology that can change this disadvantage.
LOYAL not only offers you Microwave equipment with excellent performance but also customized equipment for your specific needs, and we offer a comprehensive after-sales service to solve your different problems and questions regarding Microwave ovens.
What are the advantages of the Food Sterilizer Machine?
1.Microwave Sterilisation Equipment has the advantages of fast heating, uniform heating, high energy efficiency, environmental protection, safety, and small footprint compared to conventional equipment.
2. Microwave Technology allows the material to be heated up in a short period of time and the overall effect of Microwave Oven is energy efficient as there is no heat transfer, so heat loss is almost zero.
3. Microwaves are very penetrating so that the sterilizer can heat both the inside and outside of the material at the same time with no difference in heat. As a result, the material is heated uniformly, and the original properties of the material are maintained.
4. Due to the combined thermal and biological effects of the microwave electric field, the normal growth and development of bacteria in the material is inhibited and dies, and the Microwave Sterilization Processing Machine sterilizes the material completely without new growth of bacteria.
The Microwave Sterilization Processing Machine has a manual setting system and is fully automatic and easy to operate in an assembly line; the Microwave Oven is mainly made of stainless steel plates which are strong and robust and have an attractive appearance. The small footprint allows for a significant increase in space.
The increasing sophistication of Microwave Technology and the growing demand for industrial sterilization make an investment in Microwave Sterilization Equipment a sensible choice. Choosing the right Microwave Sterilization Machine can be more profitable for you.
LOYAL is a high-tech company specializing in developing, producing, selling, and service of automated equipment and Microwave Sterilization Processes. We have established long-term cooperation with Brazil, Japan, Singapore, Nigeria, Pakistan, and other countries.
2021 Customer Order Microwave Oven Sterilization Maker Form:
Dealed Customer Have Plant Of Microwave Sterilization Equipment

1
Singapore 500kg/h Automatic Electric Industrial Sterilization Machine
2
Vietnam 200-300kg/h China Ce Manufactory Industrial Microwave Oven
3
1t/h Full Automatic Food Sterilizer Machine Turkey
4
600kg/h Professional Microwave Sterilization Processing Machine For Sale In Sri Lanka
Dealed Customers Who Repurchase Of Sterilization Machine At 2021

1
Japan 800kg/hhigh Quality Sterilization Machine Technology
2
America 300-500kg/h Easy Operation Microwave Oven
3
700kg/h Best Price Microwave Sterilization Processing Machine In France Factory
4
Russia 1-2t/h Energy Saving Fresh Pasta Production Line
Below you will find detailed answers to some of the most frequently asked questions about microwave sterilization equipment.
1. What are the advantages of microwave sterilization equipment?
Microwave sterilization equipment is a direct interaction between high-frequency microwaves and the sterilized material. The permeability of microwave energy allows the material to be heated inside and outside at the same time, thus achieving rapid and uniform sterilization and reducing the sterilization time to a few hours.
The microwave sterilization processing line sterilizes the material without destroying the shape, size, and nutrition of the material, overcoming the traditional heat sterilization phenomenon of external heat and internal cold.
In addition, the Microwave sterilization Production Line offers a 30% energy saving, a minimal footprint, easy control of the advanced process, and, compared to traditional methods, the Microwave sterilization manufacturing line is ready to use with no thermal inertia. The Microwave sterilization manufacturing line is ready to use, has no thermal inertia, and is flexible and easy to operate, making it ideal for use in Microwave sterilization process plants.
2. How are microwaves used in sterilization?
The microwave sterilization process is the result of the combined effect of the thermal and biological effects of electromagnetic fields.
The biological effect of microwave heating on bacteria is that the microwave electric field changes the potential distribution of the cell membrane cross-section, affecting the concentration of electrons and ions around the cell membrane and changing the permeability of the cell membrane, resulting in malnutrition and structural disorders that prevent the bacteria from growing and dying. The microwave heating in food processing can sterilize the food while preserving the nutrients in the food, resulting in food that is more acceptable to consumers.
3. Can I sterilize food in a microwave?
Research has shown that sterilization machines are very effective at killing fungi, viruses, aerobic and anaerobic bacteria in microwave sterilization machines. Microwave sterilization processing machines are very versatile and are used on a permanent basis in some sterilization plant lines.
You can use the food sterilizer machine to process different types of food such as vegetables, fruit, rice, snack foods, puffed foods, etc. You can also sterilize some metal instruments and other materials with the same excellent sterilization effect.
4. Can bacteria survive in a microwave?
Microwave sterilization machine can play a sterilization role has a very good sterilization effect; the test shows that microwave food processing can be in 1 minute to kill all E. coli; 6 minutes to kill Salmonella, Shigella, Staphylococcus, and Salmonella typhimurium.
However, microwave oven sterilization does not meet medical standards, but for Sterilisation manufacturers and home sterilisation, microwave oven sterilization is still very effective and the sterilized food can be eaten with confidence, and the safety and health of the food is greatly guaranteed. The safety and health of the food are greatly guaranteed.
5. Does microwave have radiation?
After all, the microwave sterilization processing machine relies on the penetration of microwave radiation to sterilize food, but you don't have to worry about that.
The Microwave Oven does not pose any harm to humans. Microwaves are a band of electromagnetic waves with wavelengths between 1 meter and 1 millimeter and frequencies in the range of 300 megahertz to 300 gigahertz, and only high-intensity microwave radiation, i.e., a power density of 10 milliwatts per square centimeter or more, can cause harm to humans. The sterilization machines on the market have been strictly tested by the relevant authorities and will not affect the quality of the food processed but are not harmful to the human body.
6. Why should you never microwave water?
Microwave oven sterilization can sterilize a wide range of food products such as vegetables, fruit, and meat, but you should never use a microwave sterilization machine to sterilize water.
The main reason for this is that when water is heated in a sterilization machine, the inner surface of the glass that holds the water is so smooth that there are almost no crystals to act as nuclei, and the Microwave Oven itself does not heat up when sterilization is carried out. As there is no crystal nucleus, no bubbles are generated in the water; even if the water has exceeded the boiling point, it cannot boil. In this case, when the industrial microwave oven is slightly shaken, it will disturb the water inside the container, and the resulting flow will act as a sort of crystal nucleus, causing the water to suddenly boil and spill, thus scalding the operator.
7. How do I maintain my microwave sterilizer machine?
Food sterilizer machine on thousands of electrical components of any failure will affect the normal use of microwave sterilization processing machine, so Microwave sterilization manufacturers in the use of microwave sterilization equipment to do a good job of routine maintenance, can be carried out through the following aspects.
1. sterilization machines should be managed by a dedicated person, and the manager should have extensive operating experience.
2. Regular maintenance, from time to time check the operation of an industrial microwave oven, and do a good job of Microwave Oven inspection and maintenance records.
3. Do a major overhaul of the food sterilizer machine once a year and deal with minor faults in a timely manner.
4. Clean and dust frequently to ensure that the Microwave sterilization manufacturing line is neat and clean.
8. What types of microwave sterilization equipment are available on the market?
There are two main types of microwave oven sterilization on the market today, namely fully automatic sterilization machines and semi-automatic sterilization machines, both of which are very different in terms of price and performance. The fully automatic industrial microwave oven is more powerful and more automated, but also more expensive, while the semi-automatic microwave Oven is slightly less power while still keeping the price low.
However, the higher the microwave oven price, the better.
The decision to purchase a microwave oven will depend on your actual needs. If you need a large output, you can buy a fully automatic food sterilizer machine, while if you need a smaller output, semi-automatic microwave sterilization equipment is more suitable. If you are not sure how to choose, contact us, and we will customize the Microwave sterilization Processing Machine to suit your needs!
9. Future of Microwave sterilization equipment
Due to the increasing economic standards of modern consumers, the requirements of the sterilization plant line are becoming more and more stringent, and at the same time, microwave oven sterilization has become more demanding. With many years of experience in the microwave sterilization industry and a full understanding of microwave heating in food processing, we believe that in the future, microwave sterilization machines will develop in the following directions The development of:
1. Adapt to the requirements of high-temperature short-time sterilization processes.
2. To fully improve the heat transfer efficiency of the sterilization machine and to improve the utilization of heat and water in order to save energy.
3. To achieve a machine for multiple uses.
4. To achieve temperature, time, heating, cooling and backpressure operation of the automatic microcomputer control.