With years of experience, Shandong Loyal Intelligent Machinery Co., Ltd. has helped many customers in the food industry achieve success, gaining high praise at home and abroad.
As an expert in food machinery manufacturing, Loyal has exported its feed production line to many foreign countries and is well-trusted by customers.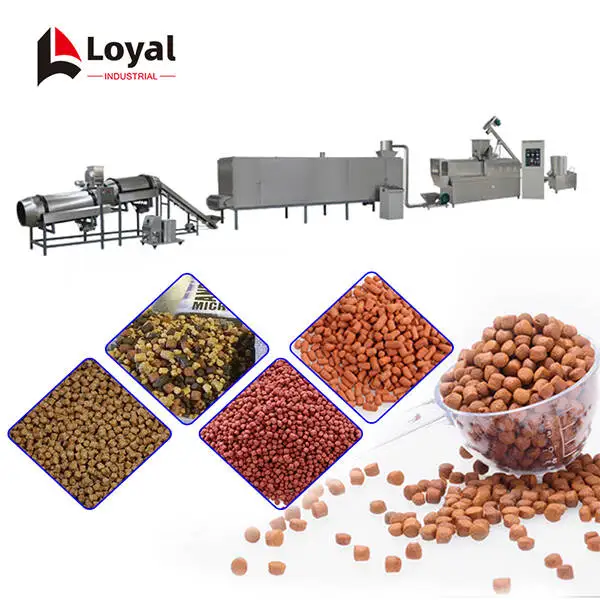 Feed Production Line Recommend Products
Feed Production Line Detail Introduction
Loyal Feed Production Line mainly produces all kinds of animal feed and pet feed.
Our feed production line will provide you with the right machinery based on your needs. It is definitely the most ideal device for you, with high quality and the best price.
Feed Production Line
The Loyal Feed Production Line is composed of the following devices :
Material crushing → conveying → material extruding by twin-screw feeding extruder → shifting → conveying → drying equipment (electric furnace, gas fuel oil furnace or steam furnace) → oil filling → double drum seasoning system → cooling conveyor → packaging machine
The process of feed production equipment:
1. Raw material preparation:
The raw materials of meat, fish meal, cornmeal, and other materials for the production of feed are transported to the feed factory. Then they are transported to the cleaning machine to remove impurities and dust and stored in the storeroom.
2. Grinding:
Some raw materials need to be ground to a certain targeted powder by a grinder before processing. And different animals are suited to different levels of fruity feed.
3. The ingredients:
According to the feed formula, quantitative weighing is necessary to determine a variety of feed ingredients. The machine is controlled by the central control panel with high precision, and it's very easy to operate, so the data got is very precise with little error.
4.Mixing
The ingredients are mixed in a mixer, and the mixing time depends on the feed formulation and feed composition.
5. Granulating:
Add the mixed feed to the pelletizer, and followed by several steps:
a. Firstly, pouring the mixed ingredients into the feeder, then put them into the granulator but control the speed.
b. The dry mixture and added steam are mixed in a mixer and then transported to the granulation chamber by gravity or forced feeding system.
c. In the pelletizing chamber, the mixed material will be pushed through the pelletizer mold to become its target.
6, cooling and screening:
The produced feed is hot and needs to be sent to the conveyor cooler, and after cooling, it becomes firm and durable. while the pellets flow directly into the screwdriver.
7. Packing:
The finished feed needs to be packaged before it can be marketed.
More description.
Loyal Feed Production Equipment has adopted comprehensive advanced technology from home and abroad. Through continuous research and innovation, it now is able to have continuous production and meet the needs of different animals for feed nutrients.It is absolutely the ideal equipment for you.
All of our feed equipment can produce different kinds of feed and food by changing the formula and mold; It is really versatile and has been favored by manufacturers.
Our Feed Production Line device is made of food-grade stainless steel with high quality. It adopts cutting-edge technology;and is fully automated with high production performance and exceptional look, saving you a lot of manpower.
In Loyal, we ensure that we provide you with the most advanced, automated equipment, which will reduce your production costs. It means that we provide you with the highest-quality feed equipment at the best price.
Choose Royal, get the first-class high-quality feed production machinery. With years of innovation and market research, we have become one of the most professional and reliable feed machine manufacturers.
To benefit more enterprises, our engineers have done repeated experiments. Finally, in the premise of ensuring the quality of feed production equipment, our machinery effectively control the production cost, offering manufacturers the most favorable price. So in the fierce competition in the market, manufacturers still have strong competitiveness.
At the same time, we have been constantly innovating and upgrading equipment. And Royal has committed to continuous improvement on the current equipment to meet more feed needs and hear from customers. Choose us, choose a smooth feed industry.
Shandong Loyal manufacturer has rich experience in development and produces Feed Production Line under strict quality control. In terms of quality and safety, we have always met national safety standards, and safety has always been our main concern.
Our design and development team are from all over the world, so we listen carefully to customers' needs. Because of that, we have been recognized for providing excellent and considerate customer service.
If you plan to start a feed business, you can choose our feed production line. We are a truly customer-focused company that offers a full range of services to customers. We do offer personal services in addition to provide a high-quality feed production line. As long as you tell us your production requirements, our engineers will customize the feed production line that is most suitable for you.
Loyal has never stopped innovating. With years of production experience, we ensure that your needs can be perfectly met. All of our feed machines are manufactured to ISO 9001 standard. You can consult us at any time for any questions about the machine so that you have no concerns.
We provide customized services, installation guidance, training, and warranty services for you. Please feel free to contact us for any issues that arise later and we will take care of them.
Regardless of your need for feed production machinery, we can provide the best one for you because produce a wide range of machines. As a leading company in the food industry, we are very experienced and know well the needs of our customers, and you won't find another machinery manufacturer who knows you better than us.
Using professional equipment can be a great help to manufacturers both in terms of prospects and production quality. Through the efforts of Loyal's engineers, the versatile and intelligent feed equipment will definitely be a breakthrough in the feed industry.
As a professional feed manufacturer, we not only provide you with mechanical technical support but also with different formulas of different feeds for free to help you make more profits.
You can consult us any time if you have any questions about our equipment. Our price must be the most favorable among others. If you have any needs, please feel free to contact us!
Feed Production Line: Complete buying guide
Do you know what is feed production line? Do you want to start a feed food business? If you have a lot of questions about feed equipment and want to know every detail about feed equipment, then please read the following purchasing guide carefully.
1. What is Feed Production Line?
As the name suggests, a feed production line is a machinery specifically designed to produce feed. Feed Production Line can be used to produce food for different animals by adding different ingredients, including poultry and seafood.
Feed Production Line mostly uses meat meal, fish meal, bone meal, corn meal, soybean meal, grain flour, etc., as the main raw materials to provide animals with the required nutrients.
2. What is the function of feed?
The feed can make the animal grow fast and healthy, with good nutrient absorption, so that the poultry can grow healthier, and artificial feeding is an ideal means.
If you are a professional fish farmer, then you must be clear that artificial with pellet feed is the direction of development in modern fish farming. Most of them use artificial with pellet feed.
Benefits.
A: reduce water quality due to feed pollution and increase the factors of water quality deterioration.
b: to prevent water-soluble nutrients in the water dissipation, improve feed utilization, reduce the feed factor.
C: mixed with disease prevention drugs as additives to prevent disease.
3.Benefits of Feed Production Line
A. Feed Production Line can also produce different fish feed for tilapia, bream, ornamental fish, goldfish, shrimp, prawns, and other fish in various stages.
B. Feed Production Line can not only improve feed efficiency, but also importantly, farmers can see what cattle, sheep, and other animals eat so that they can avoid overfeeding and reduce feed waste.
C. This machine can use more raw materials, can use corn flour, wheat flour, low-temperature soybean meal, rice bran, wheat bran as raw materials.
D. The machine is highly productive and low consumption using steam and electricity design. High temperature and high pressure can kill salmonellosis and bacterial infection
4. If you want to start a feed business, what is the goal of your feed mill?
A feed mill is responsible for producing animal feed, including other animals such as livestock and poultry. The daily work of a feed mill is to develop quality feed formulas, then purchase quality ingredients, produce quality feed with superior performance equipment, and finally package it. In this process, we can provide quality feed to the farmers and increase the farmers' breeding profit, and the manufacturers can get a good profit from it.
5. What does feed production include?
The production of high-quality feed includes several links. And only by making the best improvements to the final quality of feed can it be further improved in all aspects. The most important production links include feed formulation, feed ingredients, feed production process, etc. If you have to engage in feed production, you should focus on these three aspects.
a. Feed formulation
Quality feed products, in addition to a scientific and reasonable formula, the formulator must also have a wealth of knowledge of raw material processing. They need to master the characteristics of the raw materials, understand the raw material market, be familiar with different animals, happy and familiar breeding methods, environmental conditions, and other factors that affect the breeding results.
b.Feed ingredients
The raw materials required for feed processing include soybeans, soybean meal, corn, fish meal, amino acids, hybrids, additives, whey powder, grease, meat meal, grains, sweet sorghum, and more than ten kinds of feed ingredients. Manufacturers have only high-quality raw materials to make full use of the nutrients and produce high-quality feed.
c.Feed production
The processing of feed includes several links. The main process flow is - receiving - raw materials of raw materials - mixing raw materials - -mixing - pelleting - pelleting - packaging.
6.Limitation of Feed Production Line
If you want to buy a feed manufacturing machine, you will definitely understand its performance and operation methods.
Each machine has many advantages and some limitations.
The more functions, the easier the operation, the bigger the machine, the manufacturing machine can bring you more profit at the same time, the price must not be low. The price of a good machine may be higher.
But we LOYAL guarantee that this must be the most cost-effective and best-priced machine on the market.
7.How Feed Production Line Works
The feed production line consists of a feed supply system, extrusion system, rotary cutting system, heating system, conveying system, control system, and packaging system, which adopts frequency conversion and a high degree of automation.
The material is heated through conveying, shearing, mixing, and barrel casing, and is cooked under the effect of high temperature and pressure, and then extruded out of the barrel.
8. How to Verify Quality of Feed Production Line
It is important to purchase a reliable feed machine that meets quality standards to ensure the durability and safety of the machine. It is critical to ensure the safety of the plant and workers.
The quality standards you need to look for include
International Standards Organization (ISO) certification to international manufacturing standards.
Current Good Manufacturing Practices (cGMP) will ensure that your machines meet current manufacturing practices.
It includes all the latest and most advanced technology.
CE ensures the safety of all electrical components of the feed line.
The Food and Drug Administration (FDA) ensures the high-quality hygiene and safety of the feed.
9. Industries using Feed Production Line
Feed production lines include pet food production lines, aqua feed production lines, pellet feed production lines, etc.
With the huge demand for food, fishery farming is developing rapidly, and the scale of various freshwater and marine farms is getting bigger. There are many varieties of fish feed sold in the market, but most of them have single nutrition and uneven quality, which cannot fully meet the daily growth needs of special fish and seafood.
If you start the feed business here, it is a good choice. We LOYAL adjust the proportion of raw materials in the formula to achieve the protein, vitamin, and fat content required by aquatic products.
10. How much Feed Production Line Cost
The price of the feed production line varies depending on different factors, generally ranging from tens of thousands to hundreds of thousands, the price is very reasonable. If you buy more prices will be more favorable, welcome to contact us to get a quote, we will give you a satisfactory answer.
11.Feed Production Line Maintenance Process
Effective routine maintenance can save time and cost, so that the use of Feed Production Line can be effectively extended to ensure a smooth production process.
When problems are found in the Feed Production Line, it should be checked and repaired in time to avoid bigger failures, which will be the most favorable way to reduce maintenance costs.
Manufacturers need to determine the frequency of routine maintenance, regular cleaning at the right time to ensure that the Feed Production Line is clean and hygienic, which is less likely to damage the equipment and allows the production of chocolate with higher quality.
If there is a problem with the parts of the Feed Production Line, they should be replaced in time. The original parts from the manufacturer are the most suitable and will help a lot to extend the service life of the equipment.
12. How to Troubleshoot Feed Production Line
(1) If the crusher has strong vibration, noise becomes very large, it may be: hammer blade arrangement may not be correct, you should read the operation guide carefully and reinstall the hammers according to the hammer arrangement diagram; or individual hammer blade stuck in the pin is not thrown away, should be dealt with on time; the last reason may be a serious lack of oil or wear caused by the crusher bearings, should be replaced or replenished oil on time.
(2) If there is too much dust in the feeding port, the lifting capacity of the crusher fan will be insufficient, and the screen and the suction pipe will be blocked. At this time, the machine should be shut down in time to remove the accumulated material in the upper and lower chambers of the crusher screen, unblock the suction tube, and readjust the feed rate of the crusher.
(3) If the pulverizer makes an abnormal noise, it may be caused by a large hard object mixed into the raw material and entering the pulverizer. Or the parts in the machine may fall off and run into the pulverizing room. If such a situation is discovered, the machine should be stopped immediately, and foreign objects should be removed.
(4) Of course, the finished product may also be too coarse with the material particles.
(5) Excessive dust in the operating area, loose seals on the interfaces of the feeding pipe, and the upper cover of the mixer, resulting in dust leakage and abnormal noise in the machine.
13.Types of Feed Production Line in the Market
There are many types of feeds available in the market, including three types:
1. Coarse and fine feeds. There are also coarse and fine feeds, generally high water content, vitamin-rich matter fine feed, and coarse feeds are mostly composed of hay and various crops, containing a large amount of cellulose, poor palatability. But it can stimulate the peristalsis and development of the digestive organs, easy to have a sense of satiety.
2. Energy feed. Energy feed is the main source of supplying livestock energy, high starch content, mainly wheat, corn, barley, and other cereals, high available energy value, high digestibility of organic material, good palatability.
3. Mineral feed. The mineral feed contains a large number of minerals available for feeding, such as Nanjing stone powder, salt, calcium bicarbonate, etc. The mineral feed has many advantages, wide sources of raw materials, easy to save, low price, low use. Still, it is an indispensable feed for cattle and sheep in the process of growth, reproduction, production, and maintenance of life.
14.Future of Feed Production Line
Feed is an essential item for farmers. With the development of the economy, the public's demand for food is increasing, the sales of livestock are rising, and the scope of breeding is getting bigger and bigger to meet the growing market demand. The required feed plant to provide manufacturers is also expanding, and Feed Production Line have been highly sought after by manufacturers.
Because of this, the feed industry has been a booming industry; a high-quality Feed Production Line can provide quality feed for the majority of farmers. At the same time, it also increases the farming profits of farmers, and manufacturers can also obtain huge profits from it.
If you want to start a feed business, it must be a decision you will not regret.
15. Reasons for choosing LOYAL.
The LOYAL Feed Production Line is made of food-grade stainless steel and internationally famous brands. The equipment has solid quality, wear and corrosion resistance, long service life, highly automated production method, and can process various animal feeds.
The feed produced with LOYAL Feed Production Line is always at the top level in the industry.
Of course, the feed industry is a hot industry today. And feed mills are the ideal place to make high profits. If you want to buy quality equipment to expand your market, please contact us, and we will help and serve you together!