Shandong Loyal Intelligent Machinery CO., LTD. is a professional food machinery manufacturer specializing in the production of puffed food machinery, baby food machinery, histone equipment, pet food machinery, fish food machine, etc.
We have all kinds of machines and devices for you, and we have been committed to our machines' research and development.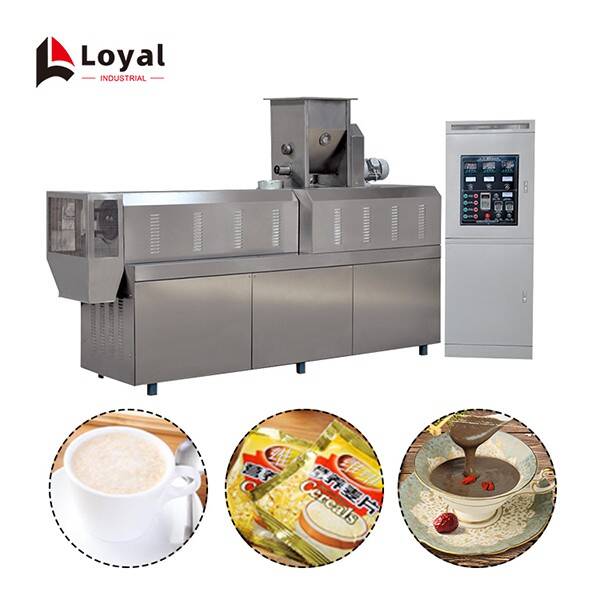 Detail Introduction
With years of experience in machinery manufacturing, we can develop and design superior and reliable equipment with high quality that meets different needs of customers, providing them with an excellent processing line.
We are a professional team. Our skilled designers, responsible and reliable salesmen, and first-class products, and cutting-edge technology help us gained long-term customers. A comprehensive manufacturing plan and sophisticated equipment help every single client grow faster in puffed food and related industry.
In terms of price, our product is also the most cost-efficient one. We consider saving costs for you while bringing high profits for you. At the same time, we provide the most thoughtful service, you don't need to worry about anything.
We own the whole baby food processing line, we have learned from overseas advanced technology and developed the whole set of machines for baby food.
We have changed the conventional steaming way of raw materials into pressing these grains under high temperature and pressure. Within 5 seconds, all of the grains will be extruded, with the help of the processing line, the starch in the raw grains denaturated is conducive to absorption with higher nutrition than the traditional process. The produced food is designed for babies.
Devices of baby food manufacturing machine
Mixer → screw conveyor → twin-screw extruder → air conveyor → dryer → cooling conveyor → air compressor → crushing machine
Mixer: used to mix all the ingredients and add a certain amount of water (dry powder mixer does not need to add water) to make the ingredients even.
Screw conveyor: used to convey materials to the extruder.
Twin-screw extruder: used for extrusion and molding, which is a very critical step.
Air conveyor: convey small-sized products to the dryer to be further processed.
Dryer: used to remove Dryer: used to remove the moisture of the product and make it dry.
Grinder: used to grind particles into powder and removes dust.
Ingredients for baby food products:
Rice, brown rice, millet, corn, white sesame, black sesame, black beans, soybeans, lotus seeds, yams, red beans, buckwheat, lily, red dates, etc.
More description:
Our baby food production line gains twin-screw extrusion technology developed by our company. The traditional baby food processing method has many disadvantages such as inefficiency, safety problem and small-scale production.
Twin-screw extrusion technology makes up all these deficiencies, which means it can not only deal with grain materials, such as buckwheat, oats, etc. but also produce more nutritious and healthy foods that are good for your body.
Our baby food machine is highly efficient that can process and produce a lot of baby food in a very short time. It always saves you plenty of working time and manpower and improves working efficiency.
All the parts of our baby food machinery are made of food-grade stainless steel, which is very advanced with high quality. Our principle is to make sure everything is in line with the food safety and health standards, especially the baby food produced by our machine is healthy and safe. Baby can go ahead and enjoy their yummy food, it is also beneficial to their growth.
We have obtained several certificates including CE, and we are the gold supplier of Alibaba. With a comprehensive manufacturing plan, Shandong Loyal Intelligent Machinery CO., LTD. provides reliable equipment and devices for clients in puffed food processing machinery and related industries.
We can provide just projects or a complete plant layout and production lines, which are customized to meet our customers' requirements. Everything we do is for their satisfaction which is our pursuit, we hope to have a long-term and friendly partnership with them.
At present, the sales of our baby food machinery and other devices are very good, and our products are deeply welcomed not only in China but also all over the world.
Our buyers are from all over the world, such as Brazil, Britain, Russia, Pakistan, etc, after using our equipment, they feel very satisfied, and decided to build long-term cooperation with us.
If any need, please feel free to contact us. We look forward to reaching a friendly agreement with you and provide you with the best equipment to achieve a win-win relationship.
Baby food Production line: complete using guidance
Baby food is the main daily food for infants, its nutrition, safety, etc are extremely need to be concerned as well as its production and processing procedure. Let's learn something about baby food and baby food production line processing learn about baby food and the technology of our baby food production line.
1. Baby food
Food is the paramount necessity of the people, and food safety is the primary concern, especially baby food. It is essential to prepare a balanced diet for the babies, fruits, vegetables, meat, etc, must be included. Do not feed your baby with only one type of food to avoid the cumulative effect of food additives and nutritional imbalance. Fruits for babies can be squeezed into juice, and vegetables, meat can be boiled into mashed ones, then easily feed your baby.
There are many healthy and nice foods for the baby, many are nutritious, affordable, easy to prepare, and delicious. So pay more attention when you choose baby food, and choose proper foods is important. A good diet must be balanced, which should include meat, fish, eggs, dairy products, fruits and vegetables, and grains, which are necessary for children's growth and development. Remember to properly prepare foods for your baby.
2. Best foods for the baby
(1) The best food for the baby who is under six months is breast milk or formula milk that is close to breast milk.
(2) For the baby above six months some supplementary food is necessary, such as rice noodles, egg yolks, vegetable porridge, fruit porridge, etc.
(3) For the baby above one year old, you can feed her or him some broth, then gradually feed the foods we eat.
You must follow some principles when you feed your baby.
(4) Pay attention to feed both coarse grain and fine grain, and do not stop feeding your baby milk while feeding vegetables and other food.
(5) Babies can't have any fried food and puffed food because it's very bad for their health.
(6) Try to make it various, grain, vegetables and meat, are all needed to ensure a balanced diet.
(7) When your baby is about one year old, you can make some snacks for her or him, such as fried bread or steamed cake.
3.National food safety standard for infants and young children
(1) Baby food should meet the requirements of the nutritional composition.
(2) Baby food should meet the food hygiene and quality requirements of production and operation.
(3) Baby food should have a sound inspection system and regulatory procedure.
(4) Baby food should not contain any pathogenic microorganisms, pollutants and heavy metals, pesticide and veterinary drug residues and other substance that is harmful to our health.
(5) Baby food should not contain many additives and preservatives that exceed our national standard. In addition, industrial materials are prohibited from being used in food production.
(6) Common sense and feeding experience tell us that the best complementary food for the baby is homemade food from natural ingredients because it does not contain any preservatives and additives. It is safe for the baby and meanwhile it provides the amount of nutrition for the baby.
4. How do you choose baby food?
Infancy is not only the key stage of growth and development but also the most vulnerable period. At this time, the baby's immune system is low and physically weak, if he or she eats unlicensed and unhealthy foods, the baby will suffer a lot from the food and it is very disadvantageous to his or her growth. Therefore, parents must pay extra attention to choose healthy and safe food for their babies.
In the beginning, just feed your baby breast milk, normally, when your baby grows into 4 months, he or she can eat some supplementary food. This time, as a parent, you must pay more attention to the food safety that you are feeding your baby every day. Dairy products are common foods for the baby, but you must check the quality of the product before feeding. It is recommended to buy well-known brands of dairy products that have no safety problems. And don't buy some fake, inferior, and cheap milk powder for the baby because of its " low price".
Food should be kept fresh because fresh food is safe and healthy and it won't lose much nutrition. The food placed for a long time will easily go bad and breed more bacteria. The baby's stomach is very vulnerable, eating spoiled food may cause diarrhea. So remember never feed your baby spoiled or expiry food.
When you select baby food you should check its production date as well as its ingredients ,nutritional ingredients, and their proportion in the product. A safety license plays an important role in choosing baby food, for imported food, you need to check whether there is a CIQ mark on the product. You batter buy the baby food made of pure veggies or fruits, which contains rich nutrition.
5. Introduction of the baby food production line:
The machinery of the production line uses rice, corn, beans, and other grains as ingredients to produce a variety of baby foods, such as rice flour, nutrition powder, and soybean powder after extruding, puffing, drying, crushing and mixing procedure. The line is very automatic and easy to operate, you just mix various grains, then it begins to work and process automatically without any power leaking. The whole procedure is energy-saving and hygienic, you can put more nutrients to get more healthy baby food.
Our machinery line owns many advantages, its advanced technology makes it more prominent in the industry. The processed food is full of nutrition. A balanced diet is good to your baby's growth and development, and it can be consumed for a long time and your baby will be stronger.
6、Benefits of Baby Food Production Line:
(1) The extruder adopts frequency conversion with a high degree of performing automation, so it's very stable.
(2) The screw is made from alloy steel with special treatment to make it endure much pressure, and it's very durable and long-lasting.
(3) The lubrication system of our twin-screw extruder ensures a longer transmission task.
(4) With an automatic temperature control system, you can check the temperature directly and it's also very accurate. Its self-cleaning function saves you time as you don't need to disassembly it.
(5) Compared with the traditional way of making baby food, the machinery of our twin screw extruding production line is simpler and more cost-effective.
(6) The production line combines mixing, cooking, curing, puking, sterilization, and packaging, there is no need a boiler, so the production process is more simple, efficient, and environmental.
(7) The host machine adopts domestic and efficient twin-screw extruding technology as it meets all the needs of different grain puffing processing, such as rice flour, cornflour, or its mixture.
7、Parts of Baby Food Production Line
The production line is composed of a mixer, screw conveyor, twin-screw extruder, air conveyor, oven, crusher, and packing machine. The extruder is equipped with: a special cylindrical bin; a hopper feeder that vibrates when transport grains to the two-screw extruder; extruding and cutting device; an individual electrical panel.
8、Support Equipment of Baby Food Production Line
According to the customers' product, we will arrange applicable line. As the production requirements vary from customer to customer , we ensure to make a proper and great processing program. Food manufacturers usually use highly automated production line configurations because of the economic growth and technology upgrading.
9、How Baby Food Production Line Works
Baby food machines are used to produce baby food and some other instant flour products. The ingredients are poured into the mixer, then the mixed grains are put into the extruder, and are squeezed into a certain shape, then they are dried in the dryer, and finally, the finished products will be well packaged.
10、Industries using Baby Food Production Line
The baby food machine is specially designed for the processing of baby food, nutritional powder, rice flour, sesame, and other foods. It can process various ingredients by just changing the temperature, humidity, and drying parameters. The ingredients can be various flours and starches, pure or mixture, such as rice, soy, corn, oats, millet, wheat, sorghum, banana, cassava, and potato. We do provide you some recipes, vitamins, minerals and other nutrients that can be added to meet different nutritional needs.
11、Types of Baby Food Production Line in the Market
Based on the production output and the raw-food materials, the product line can be divided into small, medium, large and other production lines. Customers' need is different, so there are certain differences in products , so the baby food production line is also different. But we can select the most permissible production line for you according to your actual need.
12、Baby Food Production Line Maintenance Process
The maintenance of mechanical equipment is an important part of properly using the machine. So you must pay more attention to the maintenance of equipment to reduce any malfunction, which is directly related to the safe operation, energy consumption, and durability. Just focus on cleaning, safety inspection, and conduct three times, before starting, during operation and after finishing work. Check the capability of the operating mechanism, operating parts, and protection devices, properly clean the whole machine and all assembly parts. One more thing is that lubrication must be in place,and tighten the loose parts, etc.
The classification and operation maintenance is based on the structure, usage and environmental conditions of the equipment. According to the wear law and aging law of parts, similar ones are gathered together. Then the parts are maintained before they get even worse and keep them clean, find and eliminate hidden safety issues, prevent them from damaging in the early time. So the equipment is still ok to work.
13、How to Verify The Quality of Baby Food Production Line
Our baby food production machine owns the most advanced machine parts through the joint efforts of our team. You don't need to worry about the quality of our machine, we are very reliable. It's very durable,and we have been committed to that the good product can stand the test of time, after trying our product you will find that it is worth the money.
14、The Validation Documents of Baby Food Production Line
We've got the CE, ISO9001 certificates. Our machine is very trustworthy as all parts in touch with the food are made of non-toxic materials that have fully met the QS certificate requirements. The food produced by our machine is in line with the national food safety and health standards, everything is safe and healthy ,ready to be eaten.
15、How much Does Baby Food Production Line Cost
As the specification, parameters, performance, and other parts of the equipment are different, so the price of the equipment is also different. Normally the price is ranging from tens of thousands to hundreds of thousands, you can contact us to get a quotation, we will provide you with the most reasonable price.
16、Future of Baby Food Production Line
Throughout the present social development, the number of infants and young children continues to grow. With more and more people have come to realize the importance of nutrition for their baby, the consumption habit has gradually changed from just buying milk power to buying balanced supplementary food. The baby food market shows a rapid trend of development .
The baby food industry is filled with business opportunities, particularly in the supplementary food market for babies. Companies should make full use of the current market opportunities, choose the most potential products and penetrate the market and strive to quickly grow into a leading company with its unique characteristics.
The development of the baby food industry has also driven the development of other related industries. The demand for baby food processing machinery is also increasing. In this case, engaging in the food industry and buy baby food production machines is a very good choice, it will bring you a lot of profits.
17. About SHANDONG LOYAL INTELLIGENT MACHINERY CO., LTD.
Shandong Loyal Intelligent Machinery CO., LTD. is a professional experienced supplier of food processing machinery. We possess all kinds of machines and production lines, such as baby food extruders, soybean meat production lines, industrial microwave ovens, pet food production. We also provide recipes, technical support, machine inspection services, etc. With rich experience and advanced technology, our machines enjoy a large market share ; and we have gained a high reputation among customers all over the world.
As seniority among the industry, we have had a steady development in the food machinery industry. Look forward, we have a powerful foreign trade team with strong ability and team spirit. We provide you with top-quality food processing machines. We have a group of skilled experts and excellent engineers to offer professional service, delivery, and installation support. We also provide OEM machines to customers according to their specific requirements. Trust us! and choose us!
18. Our advantages:
(1) Years of professional experience
Our employers are full of experience, and each of them acquires excellent technology
(2) High-quality machinery
We have a sophisticated production process and quality control system to provide customers with guaranteed high-quality products.
(3) Experienced team
We have years of professional experience in market development and a highly educated team.
(4) Extensive customer group
Our machines are sold all over the world. With excellent quality, reasonable price, and quality service we have won the trust of customers.
19. Our Services:
(1). Offer professional advice on market, equipment, process, materials, packaging, etc.
(2). Assist you in selecting equipment, designing process flow, and enhancing workshop layout.
(3). If necessary, assistance will be offered for your factory.
(4). Change materials according to your products, and carry out production on site.
(5).specialize in designing and manufacturing machines, the test will be conducted of the machines, relevant training will be offered as customers' requirement.
(6) Offer reasonable packaging and transportation plan, send technicians to install and debug the machine and train your workers.
(7) One-year warranty; give priority to supplying spare parts; design and process the same kind of spare parts of imported equipment.
The machinery of our baby food production line is developed by our company based on previous production experience after listening to customers' opinions and analyzing the market. The production line is fully automatic. It has been upgraded, with stable performance, easy to operate , high output, and short production time, it has overcome all the defects. If you have any needs, feel free to contact us at any time, we will provide complete assistance for you, look forward to cooperating with you.