7-55KW Power Nutritional Instant Porridge Processing Line/ Food Machineryfor Rice Powder
As a professional baby powder food machine manufacturer, our nutritional powder machines/nutritional powder production line design good manufacturing process . Baby food powder machinery can take rice flour, soybean flour, starch and others as raw materials,to make the instant nutrition rice powder for sales.
Specifications :
| | |
| --- | --- |
| Price | Contact Us |
| Brand Name | Loyal |
| Model Number | |
| Place of Origin | Shandong, China |
| Min.Order Quantity | 1 set |
| Payment Terms | L/C, D/P, T/T, Western Union, MoneyGram |
| Supply Ability | 20days / Baby Food Production Line |
| Delivery Detail | 20days--35days |
| Packaging Details | Wooden case or wooden pellets depended on clients' requirement |
| Certification: | CE, ISO9001, SGS, BV |
Detail Introduction :
The nutritional baby rice powder production line uses various grains such as rice, corn and beans as raw materials. After extrusion, drying, crushing and mixing, it can produce various nutritional powders, such as baby rice flour, sesame paste and soybean flour. The nutritional powder production line automatically completes the process from the start of powder feeding, with simple operation, no dust leakage, sanitation and energy saving. The nutrition powder machine can also be conveniently equipped with various raw materials and nutrients.
In order to meet the needs of the consumer market, the nutritional baby rice powder production line continues to innovate and improve. Our Baby rice powder machine uses advanced puffing equipment. This nutritional baby rice powder production line uses rice, corn, beans and various grains as raw materials. Through squeezing, swelling, drying, crushing and mixing, instant powders of different flavors are made, such as baby rice noodles, protein powders, date powders, etc. During the mechanical processing of baby food powder, and vitamins needed by children can be added. Instant rice noodles are popular because of their nutrition, ready-to-drink, and variety of flavors.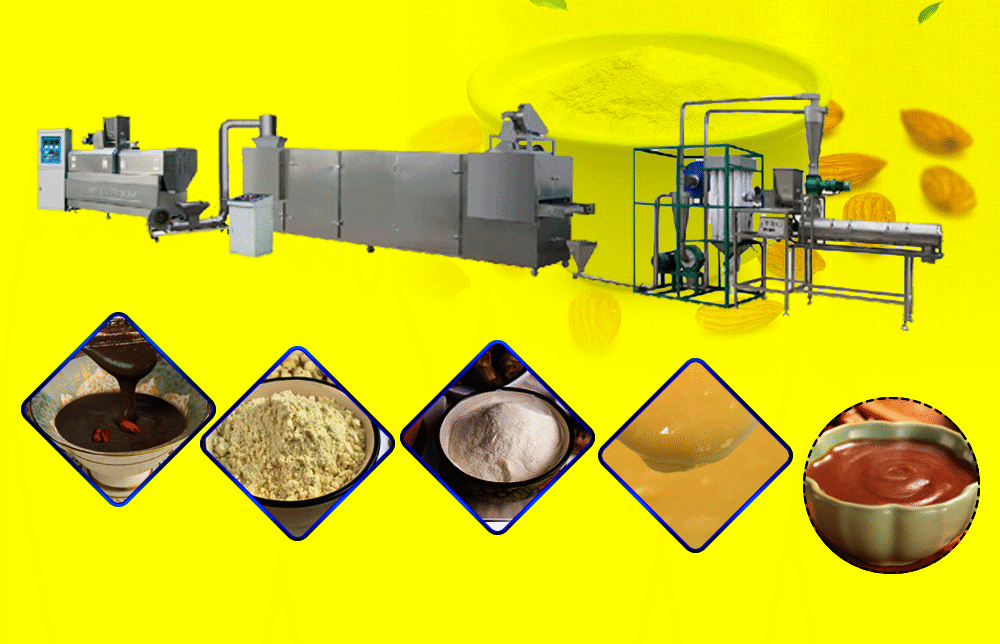 MAIN FLOW CHART OF 7-55KW POWER NUTRITIONAL INSTANT PORRIDGE PROCESSING LINE
1.Mixer 2.Screw Conveyor 3.Double Screw Extruder 4.Air Conveyor
5.Dryer 6.Milling Machine 7.Ribbon Mixer

| | |
| --- | --- |
| Machine Name | Baby Powder Machine |
| Mixer | Mix the raw material full mixing. |
| Screw conveyor | Conveying the raw material into the double screw extruder. |
| Twin-screw extruder | Extruded the material,make it become the puffing food. |
| Air Conveyor | Conveying the product. |
| Dryer | Baked the product, removing the surface's water. |
| Milling system | Ground into a powder. |
The nutritional powder making machine can use coal, gas, oil, electric heating and other heating methods to realize fully automatic industrial production. This production line is mainly used for the production of various nutritious rice noodles.
TECHNICAL PARAMETERS OF 7-55KW POWER NUTRITIONAL INSTANT PORRIDGE PROCESSING LINE/ FOOD MACHINERYFOR RICE POWDER
DIFFERENT MODEL OF NUTRITION POWER MACHINE FOR SALE
| | | | | |
| --- | --- | --- | --- | --- |
| Model | NBP65 | NBP70 | NBP85 | NBP95 |
| Installed Power | 55kw | 70kw | 120kw | 200kw |
| Power Consumption | 40kw | 50kw | 95kw | 180kw |
| Output | 100-150kg/h | 200-250kg/h | 500-700kg/h | 800-1000kg/h |
| Size (L*W*H) | 19000*1300*2200mm | 21000*1300*2200mm | 28500*3500*4300mm | 30000*1500*2600mm |
DETAILED MAIN EQUIPMENT PICTURE OF 7-55KW POWER NUTRITIONAL INSTANT PORRIDGE PROCESSING LINE
Nutritional baby powder machine is improved Nutritional baby rice powder food machine design to avoid the loss of nutritional elements in the rice which is made by the traditional rice processing. The final Nutrional powder always meet baby growing elements requirement,instant and easily absorbing. The raw material is put in the mixer then mixed ingredients are fed into twin screw extruder feeder. The extruders is fitted with: special feeder; vibratory doser with hopper to feed the extruding screw; extrusion mechanism and cutting; independent electric panel.
After the extrusion the product is conveyed till the continuous rotary drier through a pneumatic conveyor.The extruding technique makes it possible be strengthen the micronutrient in the rice and solidity it.Products for human consumption easy digestion and absorption,deep welcome by consumers.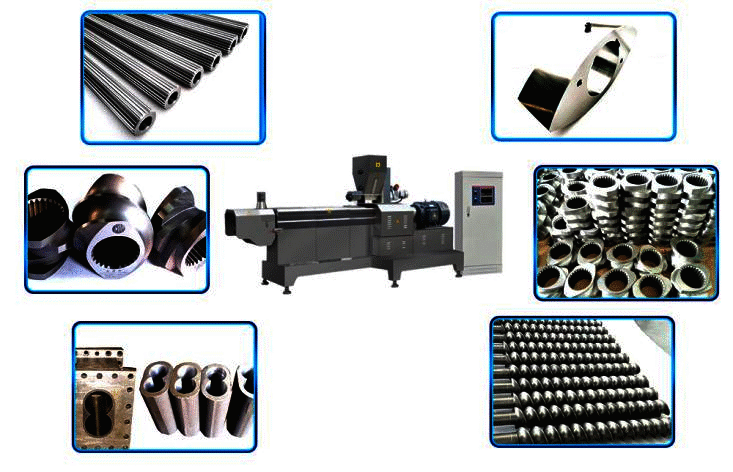 ADVANTAGES FOR 7-55KW POWER NUTRITIONAL INSTANT PORRIDGE PROCESSING LINE/ FOOD MACHINERYFOR RICE POWDER
1.Fully automatic.
2.High efficiency, hygiene, safety.From mixing material to package 2-3 workers are enough.
3.Without leak of powder dust .
4.More raw materials can be used in one production,Such as rice flour, corn flour, soybean flour, oats, buckwheat, etc., and various nutrients can be added at the same time
5.After expansion, nutrients are easily absorbed by human body.
6.Delicate taste, usage widely.
ADVANTAGES FOR FOOD MACHINERYFOR RICE POWDER
| | |
| --- | --- |
| 1 | Baby nutrition power processing line transforms the method from raw grain cooking into high-temperature and high -pressure method,and then is extruded fastly, It has characters of high automatic, easy operation. |
| 2 | Infant food machine making the rice powder food are used worldwide to nourish young children be in favor of the absorption. |
| 3 | Infant food machine enable precise cooking of raw materials allow manufacturers to process a wide range of recipes ensuring consistent quality and optimum food safety. |
| 4 | Precise control of all parameters to produce high quality products, Reduced production costs compared to traditional technologies (drum drying). |
| 5 | Compact design, reduced footprint. |
| 6 | Food safety and traceability. |
APPLICATIONS OF 7-55KW POWER NUTRITIONAL INSTANT PORRIDGE PROCESSING LINE/ FOOD MACHINERYFOR RICE POWDER
The baby rice powder machine is used to produce infant food and some other instant flour products to developed to meet the demands of food nutrition. Baby cereal machine take corn flour, rice flour, wheat flour,millet powder, black rice powder,buckwheat flour and other grains powder (broken rice and rice bran can be reused) as raw materials for twin screw extruder food processing. Food extruder manufacturers can also add additional nutrient components, such as vitamins, minerals etc.
After adjusting the barrel and screw structure of the twin-screw extruder, the nutritional baby powder production line can simultaneously produce diversified modified starch products, such as baby rice noodles, sesame paste and soybean powder. The nutritional powder production line produced by our company has stable performance, compact structure, simple operation, and realizes one-time and one-time fully automated production, which is well received by customers.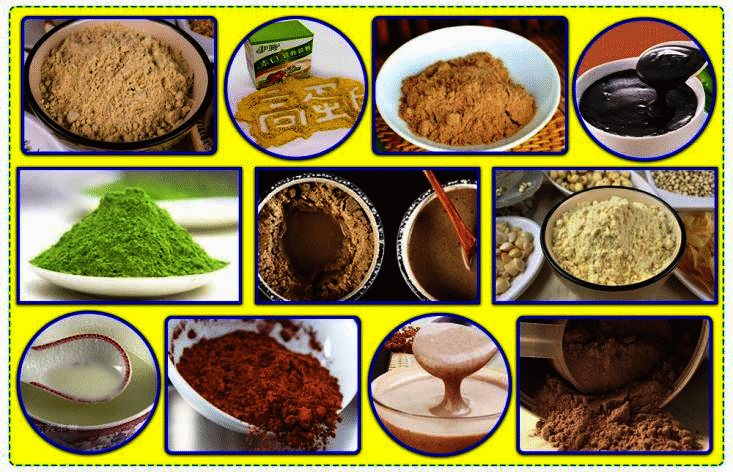 Whose Loyal?
We are a reliable factory located in the beautiful spring city of Jinan, China.
We have a complete management system ISO9001.
We are the largest food processing machinery manufacturer in Jinan, the main products: baby rice powder machinery,pet food machinery, snack fryer machinery, fruit and vegetable cleaning and processing machinery, biscuit machinery, instant noodle machinery, pasta machinery, etc. food processing machinery manufacturers!
More than 20 engineers have more than 8 years of work experience and have traveled to more than 50 countries and regions.
Provide 24-hour telephone mail service to provide you with timely and feasible solutions and better after-sales service.
Loyal service:
High-quality after-sales service
Engineer services for overseas machinery services
1.The distribution map requested by the buyer will be provided.
2.Process operation manual will be provided after delivery.
3.Provide 1 year complete warranty and lifetime maintenance services.
4.Free fragile spare parts will be sent out with the packing box.
5.The first installation can be completed by the equipped engineer.
1.Provide free consultation service before, during and after sale.
2.Free project planning and design services.
3.Free debugging of equipment until everything is normal.
4.Free equipment maintenance and personal operation training.
5.Provide free new production process and formula.