Loyal automatic biscuit production machine is designed for the production of biscuits and shortbread. It is fully automatic, which can process and produce all types of biscuits.
Its high-production efficiency makes it widely applied in all areas. In addition, the automatic machine can be equipped with a tunnel oven or hot-air rotary oven for mass production.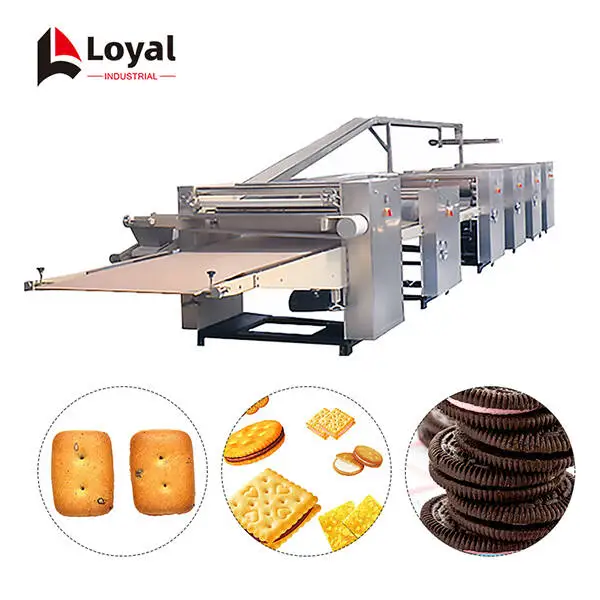 Detail Introduction
Shandong Loyal Intelligent Machinery Co., Ltd. is a food machinery manufacturer with many years of development experience. The company enjoys a very high reputation in the industry and has outstanding achievements in food machinery. Its biscuit production line is super cost-effective, thus it has been recognized by many well-known enterprises.
The company has committed to the research and development of food machinery; the biscuit production equipment was developed after combined of advanced technology at home and abroad and repeated experiments. Now the machinery of the production line has been exported to Singapore, Canada, Brazil, and Western Europe, and other countries and regions, promoting the development of the local economy.
The biscuit production machinery is fully automatic, which can process and make all types of biscuits. With high productivity and a wide range of applications, it has become trustworthy equipment for the majority of manufacturers.
Now biscuits have become the first choice of public snacks, almost every class of people favor biscuits, so the biscuit market is very promising. If you also want to get better development in the biscuit industry, the biscuit production line will be your most ideal choice.
Shandong Loyal has developed a sound service system, providing manufacturers with inexpensive yet high-quality biscuit equipment, meanwhile, it offers perfect after-sales service, so you don't need to worry about anything.
Biscuit Production Line
The basic production flow of biscuit production line: flour, other ingredients - > dough making - > piece pressing - > shape cutting - > baking - > oil spraying - > cooling - > finished product
First of all, we need to choose high-quality flour; then sieve the flour and crush the sugar; after that follow the recipe, add milk powder, shortening, sesame, flavoring essence, salt, and other ingredients.
Pour the mixed ingredients into the mixer and add an amount of water to be mixed evenly, then knead them into a dough. Next step, the dough will be put to the roller press and pressed into a certain shape. At this time, if you need to add some sesame, peanuts, or other materials, you can scatter the ingredient on the surface of the biscuits, and then cut them into fixed shapes. Biscuits of different shapes can be made by changing the mold.
After that, put the formed biscuits in a high-temperature oven, which allows them to be baked faster. Then spray some brown oil or rapeseed oil at about 40 degrees Celsius on the surface to make it golden and crispy, and become yummier.
The processed biscuits need to be cooled naturally through the cooling line and the moisture should be reduced to less than 3% and the temperature should be kept at about 30℃. After cooling , now package the biscuit, it will keep crispy and moisture-free even after a long time of preservation. Its self-time gets effectively extended.
Now the biscuit is finished, it's ready to get packaged with packaging equipment.
More description
The machinery of biscuit production lines from Shandong Loyal is very reliable with high quality. Our engineers have put a lot of effort to improve the performance of the equipment. On the basis of the advanced technology at home and abroad, our engineers had in-depth communication with numerous customers, and fully recognized the actual needs of customers, and got the most honest feedback. After constant reform and innovation, the final biscuit production equipment greatly meets the needs of manufacturers, helping many establish a stable market network.
Our equipment is made of 304 stainless steel, which means it's very reliable, durable, wear and corrosion resistant, and easy to clean. It provides consumers with high-quality biscuits. The equipment is highly automatic, the whole production line is composed of a variety of equipment, manufacturers can choose combined equipment or an individual one, it's very flexible.
We are the leading manufacturer because of the high efficiency and high quality of our equipment. One more important reason is that our engineers effectively control the production cost, so wet can provide customers with the lowest price. What we can promise is that compare to others machines, ours is the most trustworthy one, you will see not only the price is worth but also the production is high, which help you make the right decision.
After years of development, our company has formed its own culture and pattern. Now, our company not only develops for profit but also promotes the development of the food processing industry and the progress of science and technology. We know that we represent Chinese enterprises and the science and technology of China; we are trying to show the glory of our motherland to the world.
To achieve this great goal, we have hired engineers from well-known universities from both home and abroad who have many years of research and development experience and mastered the most advanced production technology. Meanwhile, we invest a lot of money in research and development every year. And we have attracted a lot of investment with our great success. Our biscuit production line developed by our company has reached the international leading level.
Our equipment has been sold in the domestic and overseas. We have obtained several international certificates, such as CE, ISO9001, etc. In addition, we also provide perfect service, our customer service will be 24h online, as long as you contact us, we will carefully answer all of your questions.
The biscuit industry has always been hot, and with the improvement of the mass economy, the demand for the biscuit continues to increase as well as its quality. As long as you can produce high-quality biscuits, you will gain a wider market.
If you also want to improve your production quality, welcome to contact us, we can provide a customized service for you. We will customize the best production line for you, and offer a sound after-sales service. We will solve all of your concerns, trust us , cooperating with us will bring you a larger market!
Complete Buying Guides for Biscuit Production Line
Do you think the biscuit industry is of great potential? Do you also want to make great profits in this industry? The biscuit production line will help you as much as it can.
1. What is the development prospect of the biscuit market?
With the development of the social economy and the improvement of people's living standards, on the one hand, the biscuit market has seen an increasing demand for biscuits; on the other hand, consumers long for diversified biscuits. Only by producing higher quality biscuits can manufacturers gain a higher reputation in the market, but in any case, there is no doubt that the biscuit market will grow larger and larger.
2. What are the ingredients of biscuits?
The main ingredient of biscuits is wheat flour, then sugar, oil, eggs, dairy products, peanuts, sesame, and other materials. Different cookies use different ingredients, but the production process is basically the same, so if you're a baking enthusiast, you can make delicious biscuits at home.
3. What is the biscuit production line ?
The biscuit production line is professional equipment for biscuit making, which can produce biscuits automatically. It is composed of a flour mixer, forming machine, electric oven, oil injector, cooling line, packaging machine, and other devices.
4.Industries using Biscuit Production Line
The biscuit production line is mainly used in the food processing industry. Factories can use this equipment to make various types of biscuits, such as crisp biscuits, semi-hard biscuits, baking soda biscuits, cookies, filled biscuits, and egg rolls, etc. Its application is very wide, and the biscuit produced by our machine is well acknowledged, so the demand for biscuits is growing.
5.Benefits of Biscuit Production Line
(1). The biscuit production line covers less construction area, so it saves a lot of site cost.
(2). High-temperature oven has a good heat preservation performance, so heating inside the oven makes the color, aroma, and taste of biscuits better than other heating way.
In the long run, it's more profitable and saves more energy.
(3). It can process and produce different kinds of biscuits; change the mold it can produce biscuits with all kinds of shapes.
(4). The equipment is inexpensive, with low investment you will get a high return.
(5). We will provide you with a whole growing plan for your factory, necessary training for operators, recipe supports and other perfect services.
(6). It is made of food-grade stainless steel,which is reliable, durable, and easy to clean.
(7). The machinery is highly automatic and with high production efficiency.
6.Support Equipment to buy with Biscuit Production Line
The biscuit production line is professional equipment for biscuit production and is composed of many different types of equipment, including a dough mixer, molding machine, baking oven, oil spraying machine, cooling machine, and packaging machine. To make the processing and production procedure more smooth, you may need to use some supporting equipment, such as a feeding machine, conveyor, turning machine, biscuit finishing machine, etc. So the production of biscuits will be more perfect, and highly automated.
7.Limitation of Biscuit Production Line
With the development of science and technology, biscuits production has already been automatic. Thanks to advanced production technology, a standard production process has been developed. However, nowadays, the public has increasingly high requirements for the quality of biscuits, which means that the biscuits production line has certain limitations. There will be a certain amount of waste during the production process that increases the production cost of manufacturers. To meet consumers' needs, they need to develop many new biscuits. But the current equipment cannot keep up with the factory production requirements, and can't produce the designed biscuits, which largely limits the development of the biscuit factory.
8.Parts of Biscuit Production Line
The whole production line is composed of a variety of equipment, manufacturers can choose combined equipment or an individual one, it's very flexible.
(1). Dough mixer: Mix all the ingredients evenly and knead them into a smooth dough.
(2). Forming machine: The dough will be rolled into a certain shape in this equipment, and the biscuit is preliminarily formed.
(3). Baking oven: Bake biscuits at high temperature and the biscuit is easily get done, meanwhile the biscuit is tastier.
(4). Oil spraying machine: spray a layer of oil mist on the surface of biscuits to make them more outstanding in color and flavor.
(5). Cooling machine: cool biscuits quickly. So the biscuit at regular temperature won't become soggy after packaging and have a longer shelf life.
(6). Packaging machine: fully automatic packaging, bag-making, and weighing are completed automatically. Makes it easy to seal the edge and make high-quality biscuits.
9.How Biscuit Production Line Works
The following is the specific workflow of our biscuit production line .
(1). Pretreat raw materials: pretreat raw materials such as flour, sugar, oil, dairy, egg products, leavening agent, and salt.
(2). Make the dough: mix the ingredients into different dough according to the recipe and biscuits' shape.
(3). Rolling: roll the dough into sheets of even thickness, flat shape, smooth surface, and fine texture, ready for forming.
(4). Molding: put the biscuit sheets in the molding machine, and mold them into different types of biscuits.
(5). Baking: different biscuits are baked in different ways; baking temperature and time play an important role in biscuit making, follow proper temperature and time as the size and type of the biscuit are different.
(6). Cooling: the temperature between the surface layer and the center of the baked biscuits is huge, high outside and low inside. And temperature distributes slowly, so to prevent the biscuit from contracting and rupturing, it must be cooled before packaging.
(7). Packaging: It's better to sell the biscuit after packaging, and its self-life also gets extended.
10.Biscuit Production Line Validation Documents
High-quality biscuit production equipment will obtain many certificates, common certificates are as follow:
(1). CE certification: this certification proves that the biscuit equipment will not endanger the safety of humans, animals, and goods, and has a relatively high safety standard.
(2). ISO9001 certification: This certificate is issued by the quality management system , showing that the biscuit production line has a high quality standard.
(3). FDA certification: This certificate indicates that the biscuit production equipment has a high standard of hygiene. Besides these certificates, there are some other certificates. Shandong Royal has obtained many certificates; it is a very reliable biscuit production manufacturer and has been recognized by many well-known enterprises.
11.How to Troubleshoot Biscuit Production Line
During the process of operation and production, there will be inevitable problems due to man mistakes and other external factors. Troubleshooting is so necessary, and master that technique will help manufacturers save a lot of maintenance costs.
(1). Shrinkage and deformation of biscuits: the conveyor belt is too tight in the process of calendering and conveying, and the belt can be adjusted.
(2).The cookie becomes soggy and not crisp after cooling: the smoke exhaust pipe in the back of the oven is blocked, and it's hard to exhaust, causing a big temperature difference in the furnace. You can just clear the smoke exhaust pipe.
(3).Unable to start the biscuit production equipment: Check whether the switch and power cord have a bad connection or other error .
(4). The reason that PLC can not be started: PLC external power supply failure; there is no rated power input; PLC power (power module) error.
(5). Sensor failure: check whether the indicator light is on; whether the wire is loose; finally check whether the sensor is damaged.
12.Biscuit Production Line Maintenance Process
During the long-term use of biscuit production machinery, there will inevitably be some parts wear, corrosion, deformation, etc., which will affect its accuracy, performance, and production efficiency. Proper operation and careful maintenance can reduce the damage of the equipment and prolong its service life. The proper operation must be adopted and avoid wrong conducting further aggravating the damage to it. Make sure to clean it after the completion of production and replace the worn parts in time. These methods will help you avoid greater loss in the process of accumulation.
It is better to replace the damaged parts with the original parts from the manufacturer to achieve better integration and prolong the service life of the device. Regularly add lubricating oil to the machine. Remember that regular maintenance and proper maintenance can effectively reduce the later maintenance cost.
13.How to Verify Quality of Biscuit Production Line
(1). Confirm the certificates obtained by the biscuit production line first, which means that the quality department has already approved whether the equipment meets the quality standards. A qualified product is a premise to start your business .
(2). Check whether the biscuit production machine has reached the standard, met the actual requirements and the predetermined requirements according to the technical agreement.
(3). Acceptance tests should be based on the biscuit equipment management standards. Including check its intact parts and clean appearance, and make a maintenance plan for your equipment.
14.Types of Biscuit Production Line in the Market
The biscuit production line is food machinery that has been welcomed by plenty of biscuit manufacturers. There are all types of biscuit production equipment in the market to be in line with all types of biscuits. Common ones are: automatic biscuit production lines semi-automatic biscuit production lines, crisp biscuit production lines, semi-hard biscuit production lines, and filled biscuit production lines, etc.
15.Future of Biscuit Production Line
Driven by the development of science and technology, biscuit production machines have achieved highly automatic. In modern industrialization, efficiency determines everything. And in the future, the development of biscuit equipment is of great potential. The development of any equipment is because of the increasing demand of customers. Consumers have very high-quality requirements for biscuits and want to make biscuits by themselves. And biscuit production equipment should develop towards 3D printing and artificial intelligence, only in this way can the ever-increasing demands of consumers be met.
Shandong Loyal Intelligent Machinery Co., Ltd has been walking on the path of innovation research and development, and has never been satisfied with this and stopped here. I believe that through our joint efforts, the biscuit production line will have greater progress!
16.How much Biscuit Production Line Cost
There are many kinds of biscuit production lines in the market. However, the price of the equipment also fluctuates due to the different production costs and performance of different equipment, Biscuit equipment price is between 3000 dollars and 50000 dollars, and the higher the price is, the superior quality and performance the equipment gets. Choose a perfect one based on your own actual production needs.
17.Why choose Shandong Loyal Intelligent Machinery Co., Ltd.?
Shandong Loyal is a food machinery manufacturer with many years of development experience. The company provides the most cost-effective biscuit production line for the majority of manufacturers. We not only guarantee the product quality but also provide the lowest price for the customers. And we have become a leading company in the industry thanks to its high reputation.
In addition, we also provide customers with a perfect one-stop service; we can customize the biscuit equipment for you according to your needs, and the mold can also be customized to help you produce unique biscuits in the market. Shandong Loyal will help you as much as possible in processing and production.
Now the biscuit market is absolutely hot, as biscuits have become the most popular snacks in our daily life. If you want to buy the most cost-efficient equipment, welcome to contact us at any time, we will help you to select the best equipment. At the same time, we also invite you to visit our factory because we speak with quality. Sincerely look forward to seeing you soon!