The LOYAL Soya Meat Making Machine uses advanced co-extrusion technology to simultaneously extrude products with different textures and flavors on the twin-screw main engine.
It is easier to operate by changing the mold and changing the production process. It can also replace molds and auxiliary equipment to produce nutrient powder, oatmeal porridge and various shapes of puffed snack foods.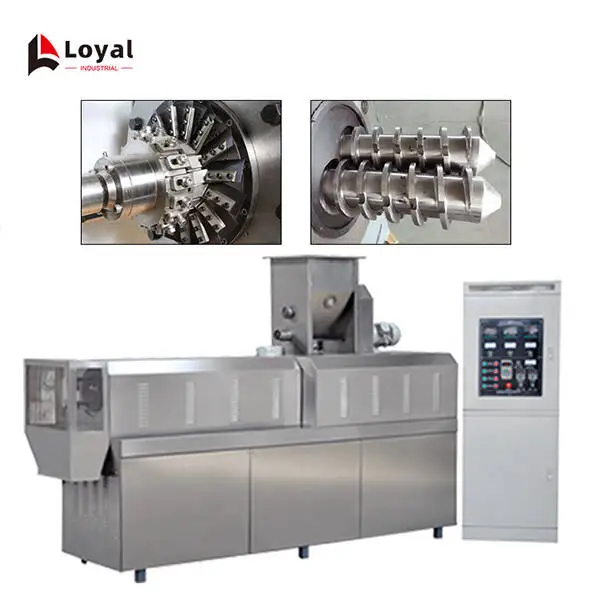 Detail Introduction
Shandong Loyal Intelligent Machinery Co., Ltd. is a specialist manufacturer of food and snack machinery with years of experience. We are one of the most respected and experienced suppliers of snack food equipment, machinery components, and services supplier in China. From humble beginnings, we have always been in the leading position of the manufacturer of food processing lines. Over the past years' development, we have become the market leader and operate a national and international-wide network serving large and small-scale companies in snack food machinery manufacturing industry with a favorable reputation among our customers.
Our vision is to be the largest and best manufacturer of snack food making machinery in China, with a group of experts and professionals dedicated to the food processing equipment industry and equipment installation. We are confident to state that our products can benefit our customers all over the world, and we insist on enhancing our product quality standards and customer services up to the most superior level.
Our company's soya meat making machine is the latest model with the most advanced technology on the market compared to the traditional ones. The machine is not considered to be costly while maintaining numerous advantages that can bring you considerable economic benefits in the long-term. Here in our company, we as well provide our valued customers with a wide variety of high-quality soya meat making machine.
Our machines have been accepted globally, and our company has received a favorable reputation since the release of the machinery on the market, and we are at all times well trusted by both our national and international clients from more than 80 countries. Our equipment is famous for its superior performance and user-friendly operations. At present, the soya meat production line has been commonly used and exported to all over the world, winning unanimous praise both domestically and intentionally.
List of Production Line Equipment
Mixer → spiral conveyor → twin-screw extruder → airflow conveyor → dryer →hoist→ flavoring drum and oil spraying machine → cooling machine → packaging machine
Main Parts
1. Mixer: The part in contact with the material is made of stainless steel, and the discharge hole is designed with a new handle opening. It makes the water-added raw materials and liquid additives fully mixed, has good sealing properties, and makes the materials evenly mixed.
2. Conveyor: The mixed material is conveyed to the feeder of the extruder in the stainless steel container without any leakage, dust or pollution, and the feed rate and speed are uniform and stable.
3. Extruder: The twin-screw extruder is composed of feeding, extrusion, cutting, heating, transmission, and control systems. The screws are made of alloy steel, with features like a forced lubrication system, automatic temperature control system, automatic speed control system, self-cleaning. Starch is modified by heating and pressing by using an extruder.
4. Cutter: It is made of SUS. It has two motors; one is to control the transmission of the product, the other is to control the cutting speed, and it also has two inverters.
5. Hoist: The hoist transports food from low to high according to the process.
6. Crusher: The crusher is to break thin slices into different shapes; it has different capacities and is made of SUS304 food grade.
7. Packing machine: Put the deformed soy protein into a plastic bag of the required weight and pack it
More Instructions
Our soybean meat processing line functions efficiently with superior performance and the most reliable quality. It is a piece of ideal and popular equipment for producing soybean meat, and the usage of the machine is rather broad in the food processing industry. Over the years of the production line development, it's been deeply supported and loved by the customers who have bought it.
The soybean meat produced by the soybean meat-making machine is nutritious, and there is almost no loss of nutrients during the production process. The original soybean nutrition is retained maximumly. Concerning the environment, there is barely any pollution caused during the whole production process. As a result, the product is 100% green, ideally healthy, and safe to consume with an unforgettably excellent taste.
The production line uses advanced co-extrusion technology to simultaneously extrude products with different textures and flavors on the twin-screw main engine. By changing the mold and changing the production process, the operation is more manageable. The mold and auxiliary equipment can also be changed to produce nutritional powder, Cereal porridge and various shapes of puffed snack foods.
The automatic soybean meat production line is at an exceptionally high level in China due to its wide range of raw materials, easy operation and maintenance, low energy consumption, and high output. Nevertheless, the production line has a small footprint, flexible configuration, easy operation, and strong adaptability, and is widely supported by our customers in the industry.
As a well-established food machinery manufacturer, our company is trustworthy in terms of the quality of equipment, corporate reputation, related services, machine prices or other aspects. All in all, You can trust us unconditionally, and we also have in-depth communication with you and serve you with the most sincere attitude.
Do not hesitate to get in touch with us at any time for any need you may have in this regard, our staff would like to answer any questions patiently. We also hope we can cooperate with you and achieve a win-win result together.
Soya Meat Making Machine: A Complete Buying Guide
Do you need a soya meat making machine? Are you interested in learning more about the soya meat production process and the soya meat production line? This guide will introduce the soy meat making machine to you in detail, take a look at it.
1. Soy meat and its production
Soy meat is a vegetarian food with a meat-like flavour and tissue texture, usually with vegetable protein (soy protein, peanut protein, wheat gluten, etc.) as the main raw material, its low fat content, unique taste, cold, roasted or stir-fried, tasty and delicious, long-term consumption can strengthen the body and beneficial to health.
Soy meat is made from high quality soybeans, and through the process of heating, extrusion and spraying, soy protein powder is made into lean slices of vegetable protein of different sizes and shapes, the protein content of which is much higher than that of general animal meat, and the texture, structure, colour and toughness are similar to animal meat.
Soybean vegetarian meat using soybean cake after oil extraction, the soybean cake with mechanical grinding into soybean flour, according to a certain ratio, the raw and auxiliary materials mixed evenly, the mix of raw materials into the puffing machine, pressurised heating so that the soybean flour dough cooked, extended pressure molding for artificial meat strip, the meat will be exposed to the sun until dry, can also be dried in electric ovens, etc.
2. Introduction to bean meat making machines
Soy meat making machine is a new type of puffing processing line developed based on rich experience and the needs of the food market. The line uses low temperature soybean meal, peanut meal and wheat gluten separated soybean as the main raw material to produce new food products with certain strength and toughness of tissue protein and fibrous protein.
The equipment required for the production of soya protein meat is relatively simple, the main equipment is an extrusion puffing machine, which can be used in common with the production of other products. The product is suitable for simple family production, low investment, quick results, is a good form of the majority of food processing plants to get rich. Small-scale production situation, the production workshop requirements are not high, less investment, high efficiency, you can also take the form of leasing production, on behalf of processing, etc., then basically do not need to invest too much.
3. Industries using Soya Meat Making Machine
This machine is multi-purpose and can produce a variety of food products by changing different moulds, such as: vegetarian steak, vegetarian chicken wings, vegetarian conch, vegetarian meat, vegetarian chicken, vegetarian meat, bean shrimp, bean sausage, shredded beans, bean flowers, tofu and many other products. The products produced by this automatic bean making machine can be fried, boiled, stewed, deep fried, cold cooked and can also be used as raw material for spicy food.
4. Benefits of Soya Meat Making Machine
(1) This machine adopts special reducer with stable performance.
(2) This bean meat processing machine adopts automatic temperature control device with meter display, heating or cooling is clear at a glance.
(3) The segmented combination screw is suitable for a wide range of raw materials, many products, high output, temperature and wear resistance and long service life.
(4) Feeding, rotary cutting and main drive adopt frequency conversion speed control system, with strong power, stable operation and energy saving.
(5) The screw of bean meat processing machine is made of alloy material by special technology, with long service life.
5. Limitation of Soya Meat Making Machine
Although the equipment has undergone a series of improvements, it is not yet in a very ideal state and still suffers from deficiencies in some areas. For example, during operation, if not used properly, it may cause some waste of energy resources, and if special care is not taken, there are also some safety hazards that can be life-threatening for staff.
In addition, as the parts used in this equipment are very advanced, compared to the previous equipment, the cost is higher, which requires more money and more investment, but its quality performance are very superior, and the economic benefits brought are higher.
6. How Soya Meat Making Machine Works
Soy meat processing equipment uses soya flour or peanut flour to break up spherical protein molecules to form chain-like protein molecules, which are ground, stirred, high temperature, high pressure and high shear to form a flaky fibrous structure. The product is nutritious and contains no cholesterol or animal fat, but has the appearance and taste of meat with earth-absorbing, water-absorbing and taste-absorbing qualities.
7. Parts of Soya Meat Making Machine
The bean meat production line consists of a mixer, screw conveyor, twin-screw extruder, airflow conveyor, dryer, elevator, seasoning drum oil sprayer, cooler and packaging machine, the main equipment works as follows:
(1) Mixer: raw materials are mixed evenly, fast and without leakage.
(2) Twin-screw extruder: the raw materials are extruded through a mould to make the shape and size required for the food.
(3) Drying machine: the expanded food passes through the "s" channel and is dried.
(4) Cooler: cooling the material by means of a fan to facilitate packing with a mesh belt.
(5) Packaging machine: manual bagging → automatic filling → automatic weighing → automatic bag feeding → automatic bag sewing or heat sealing.
8. Support Equipment to buy with Soya Meat Making Machine
You can buy a whole bean meat production line or its supporting equipment, such as oil presses, grinders, bean powder mixers, etc. We can provide you with the relevant equipment to meet all your needs, making it easier for you to produce with the equipment and improve your work efficiency.
9. Soya Meat Making Machine Maintenance Process
Bean meat processing machine is food processing equipment, for the sake of everyone's health, usually the equipment operation is completed, pay attention to clean up the equipment. The residue of the various corners of the mechanical enterprise cleared away, so as to avoid residue decay, threatening the physical and mental health of edible person. If we usually focus on its daily management maintenance, will correspondingly extend its service life, and will be more hygienic.
Equipment inspection is an effective means of timely mastering the technical condition of equipment and implementing equipment condition monitoring and maintenance, which is the basic work of maintenance.
10. How to Troubleshoot Soya Meat Making Machine
Equipment in the process of use may appear some faults, should be timely maintenance. The following is a brief description of some of the faults that often occur with the equipment and how they are repaired.
(1) If the switch does not work after starting, first check whether the power supply is installed properly, if there is no problem, then check whether the machine parts are damaged and repair in time, if the cause cannot be found, you can ask the maintenance personnel or contact the manufacturer.
(2) The processing speed may be slow because the triangle belt is loose. The user only needs to adjust the position of the machine a little, so that the belt is moderately tight and the nut is tightened.
(3) Sometimes the working part does not run, perhaps because of overload or loose wire, therefore, the user first cut off the power, clean up the material, and the wire can be tightened.
(4) In addition, if there is abnormal vibration or excessive noise when working, the user needs to check whether the placement is smooth, the equipment is placed smoothly to better ensure that its work is safe and stable.
(5) In addition, you should also consider whether the material is placed too much, you can not put too much material at once, you should evenly put the material into the equipment hopper, otherwise the machine can not run normally.
11. Types of Soya Meat Making Machine in the Market
Due to the different needs of customers, there are various types designed to produce bean meat processing equipment. The most used is the twin-screw making machine, fully automatic production line, which is easier to operate and has a more superior performance. In addition to this, there are also single-screw, semi-automatic types, which can also be divided by model into small, medium and large machines, so you can choose the right production line according to your needs.
12. How much Soya Meat Making Machine Cost
As for the price of the bean meat machine, it generally ranges from tens of thousands to hundreds of thousands. There are many factors that affect the price, with different models, differences in performance and the number of units. But all are very reasonable and the more you buy, the bigger the discount.
13. How to Verify Quality of Soya Meat Making Machine
You can check the quality of the equipment by looking at whether it is IOS certified, MIC certified, CE certified or other certifications. The more certifications it have, the better the quality of the machine and the more you can be assured of buying it. Our bean meat production equipment has passed many certifications and is very reliable in terms of quality and the products produced meet food safety and hygiene standards.
14. Soya Meat Making Machine Validation Documents
The main procedures for equipment validation are Pre-Qualification (DQ), Installation Qualification (IQ), Operational Qualification (OQ) and Performance Qualification (PQ). Each part of equipment validation is documented with plans, programmes, reports, recommendations and evaluations of the validation and the validation documentation is kept on file for easy traceability.
15. Future of Soya Meat Making Machine
Nowadays, people's quality of life has improved a lot and more and more people are becoming too fat. One of the most important reasons for this is the body's intake of animal fat. Vegetarians around the world also have a great demand for vegetarian food. It is well known that vegetarians do not eat meat, but the body needs protein to stay healthy and soya meat is a very suitable food.
Soy protein meat can be used with animal meat for stir-fry or stuffing, or with other mushrooms and vegetables to produce canned protein meat, or added to ham to produce soy protein ham, etc. Due to its high protein content and the presence of essential trace elements, it has a chewy feel when eaten with meat and is inexpensive and has good prospects for development.
The development of the vegetarian meat products industry has also led to the development of related industries, soy meat production line in this promotion is also developing better and better, and constantly improve, with many superior properties, and are special food machines that can produce products of various shapes to meet the needs of the market, and the prospects for development are considerable.
16. About Shandong Loyal Industrial Co.,Ltd.
Shandong Loyal Industrial Co.,Ltd. is a professional designer and manufacturer of food equipment such as pet food puffing machines, soybean puffed protein processing machines and baby food making machines. We have been engaged in the food machinery manufacturing industry for many years and have rich experience in production and enjoy a high reputation in the international market.
We have a group of experts and professionals dedicated to the food processing equipment industry and equipment installation, working closely with a number of research institutes and universities, and cooperating with world-renowned food processing machinery manufacturers. We have established a perfect technical support system to ensure the quality of our products, and our equipment is absolutely trustworthy.
At present, our products have been sold well in many countries or regions such as Europe, America, Australia, India, Malaysia, Indonesia, Philippines, Thailand, Middle East and Africa. We hope to establish good and long-term friendly business relationships with more customers around the world in the future.
The soya meat production line was developed by our company on the basis of European and American technology, and then developed and manufactured with a great deal of analysis of high level international technology and the needs of a healthy human diet. Our soya protein processor allows the use of defatted soya meal for the production of vegetarian meat with a high protein content and, more importantly, without any fat in the product, better satisfying the needs of consumers.
17. Why choose us
(1) Mainly producing food machinery, we have always produced machines in a rigorous and scientific manner.
(2) Experienced staff to answer your questions in professional and fluent English.
(3) We are committed to improving the professionalism of our team in order to provide a better service to our customers.
(4) We have exported thousands of economical, high quality products to customers all over the world and have gained valuable experience in technology, delivery, certification and after-sales service.
18. Our services
(1) We will supply spare parts at preferential prices for a long time.
(2) We can provide a plant layout in advance according to the size of the customer's plant.
(3) Our engineers can provide the basic recipe for production. And we will help our customers to produce quality food according to their detailed recipes.
(4) We will send two engineers to help you set up the production line and teach your workers how to operate the line until your workers are familiar with the line.
(5) Our engineers have the responsibility to teach your workers how to clean the extruder, how to change the screw, how to change the barrel, etc. We have the responsibility to always provide you with technical support.
Soy protein machine is the latest type of plant protein food processing line developed by our company independently according to the market demand and our national conditions. All machines adopt advanced design, rigorous production and strict inspection. Our factory integrates experiments, demonstrations and training, while welcoming customers from all over the world to visit and try out the machines. In addition, we can test the design, machinery and recipe according to the special requirements of our customers.
Soy protein production line is the best equipment for processing soy meat, some introduction to its processing process has also been made, if you have any needs in this regard, or any questions, you can always contact us, we sincerely welcome you and your team to visit our factory, if you can bring samples we would be grateful, we will let our technical staff try out the machine for you accordingly. We look forward to working with you.