800-2000kg/h Soyabean Badi Making Machine With Double Screw Extruder
As a professional soyabean badi food making machine manufacturer, our autocratically soya chunks food production line design good manufacturing process. Protino soybean badi machinery can take rice flour, soybean flour, and others as raw materials, to make the delicious soya chucks food for sales.
800-2000kg/h Soyabean Badi Making Machine With Double Screw Extruder Specifications :
| | |
| --- | --- |
| Price | Contact us |
| Brand Name | LOYAL |
| Place of Origin | Shandong China |
| Min.Order Quantity | 1 |
| Payment Terms | T/T,L/C,D/P |
| Supply Ability | 25 days /soya nuggets manufacturing plant |
| Delivery Detail | 20days--35days |
| Packaging Details | Wooden case or wooden pellets depended on clients' require |
| Warranty | 1 YEAR |
| Material: | Stainless Steel 304 |
| Certification | CE BV ISO 9001 |
| Trial Demonstration | Welcome You To Visit Us At Any Time For Machinery Demonstration |
| Automation | Fully Automatic |
| After-sales Service Provided | Engineers available to service machinery overseas |
800-2000kg/h Soyabean Badi Making Machine With Double Screw Extruder Detail Introduction :
The 800--2000kg/h soyabean badi making machine with double screw extruder adopts twin-screw extrusion technology, based on our company's years of experience in extrusion equipment production, combined with the research and development of advanced equipment at home and abroad. The main raw materials of the soybean meat production line are soybean meal, peanut meal, etc., which form a layered fibrous structure through technical processes such as stirring, extrusion, and drying. The fully automatic soya meat making machine produces high protein content, has the state and taste of meat, and has the characteristics of oil absorption, water absorption, and taste absorption. The product does not contain cholesterol and animal fat, and has a delicate taste. Industrial soya meat production machine can be widely used in meat products, fast food, quick-frozen food, and can also be made into various vegetarian snack foods and vegetarian dishes.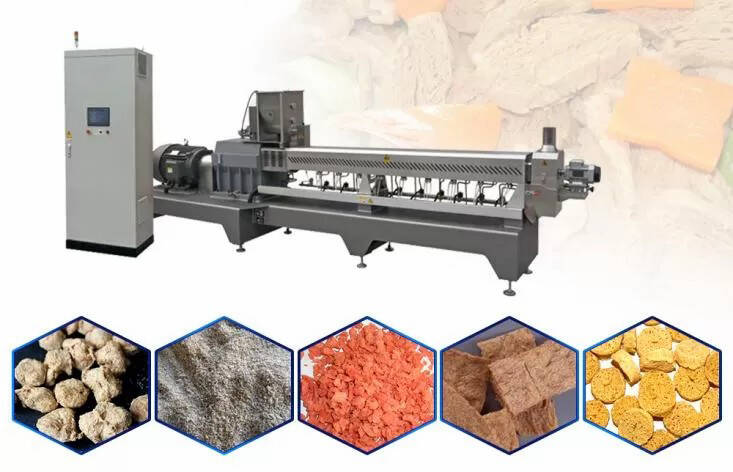 | | |
| --- | --- |
| Item | Automatic Soya Meat Making Machine |
| Raw material | De-fat soybean protein powder, soybean dregs,soybean meal. |
| Finished products | Textured soya protein,vegetarian soya meat,soya nugget. |
| Usage of Soybean Meat | Meat products, fast food, quick-frozen,food vegetarian snack foods and vegetarian dishes. |
MAIN FLOW CHART OF SOYA MEAT PRODUCTION LINE
1.Flour Mixer 2. Screw Conveyor 3. Twin Screw Extruder
4. Air Conveyor 5. Multi-layer Oven 6. Cooling Conveyor

| | |
| --- | --- |
| Flour Mixer | To mix defeated soya bean flour with water: the raw material adding to water and liquid chemical additive fully mixing in it.This part that touches mixer to material adopts the stainless steel material. The discharge hole adopts the new handle-opened design. It has the good seal so that the materials. |
| Screw Conveyor | The mixed materials can be conveyed through it to the extruder feeder without any leaking, dusting and pollution; feed quantity and speed is even and stable. |
| Twin Screw Extruder | To cook the soya bean powder and extrude in different shapes: the Twin Screw Extruder includes feeding, extruding, cutting, heating , transmission and controlling system. The screws are made of the alloy steel; The forced lubrication system; Auto-temperature control system; Auto-speed control system Self-cleaning. With the extruder, the starch is modified via heating and pressing. |
| Air Conveyor | Take the extruded products into oven or drying machine |
| Drying Machine | It is a continuous production of drying equipment, it can use multilayers stainless steel mesh belt to achieve the material 's feeding,transporting and discharging. It is used for continuous drying and cooling of agricultural products, medical herbs, pellets snacks, pastes, pet food or others. |
| Cooling Conveyor | The products coming out of the drying equipment are cooled on the cooling conveyor. |
TECHNICAL PARAMETER OF SOYA MEAT PRODUCTION LINEFOR SALE
| | | | |
| --- | --- | --- | --- |
| Model | Extruder Power | Output | Extruder Dimension |
| LY-65-TVP | 45 kw | 100~150kg/h | 3600x1000x2000mm |
| LY 65 | 45kw | 120~160kg/h | 3200×1000×1800mm |
| LY 75-TL | 140 kw | 200~300kg/h | 5200x1000x1900mm |
| LY 75-E | 125 kw | 400~500kg/h | 5900x1000x1900mm |
| LY 85-V | 110 kw | 300-400 kg/h | 5900x1000x1900mm |
| LY 100 | 160 kw | 1000kg/h | 5700*1300*2500mm |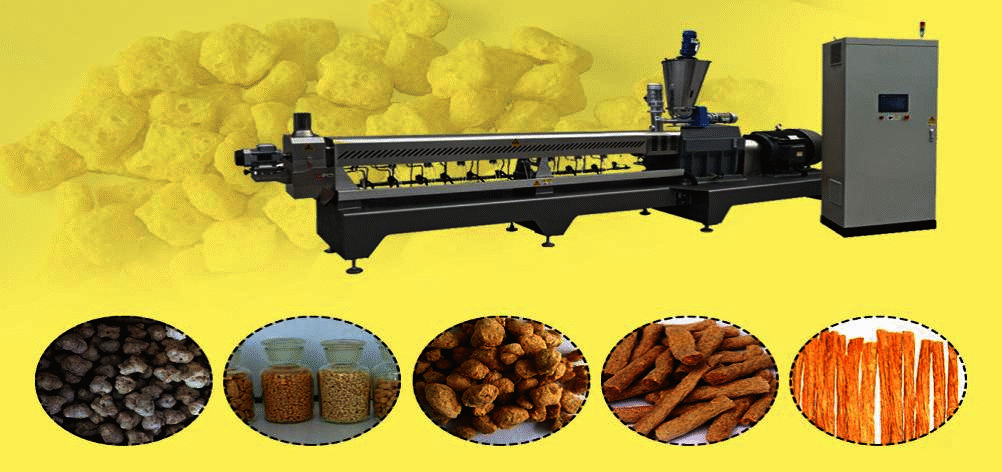 DETAILED MAIN EQUIPMENT PICTURE OF BEST SELLING SOYA MEAT PRODUCTION LINE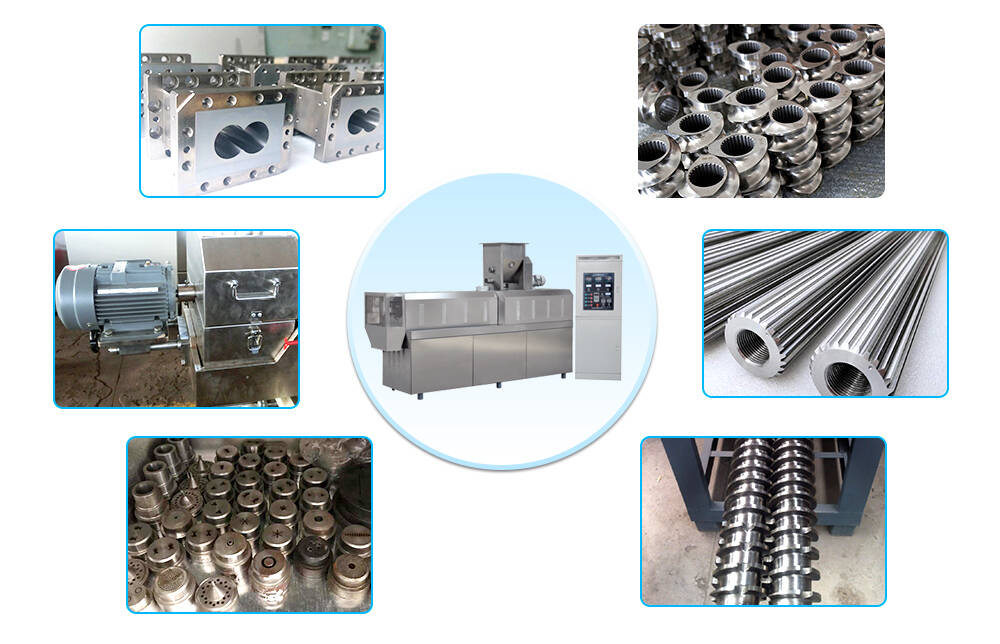 Advantages Of Double-Screw Extruder Technology
| | |
| --- | --- |
| Automatic type | Fully automatic. |
| Highly efficient | High efficiency, hygiene, safety.From mixing material to package 2-3 workers are enough. |
| Factory environment | Without leak of powder dust. |
| Raw material of finished powder | More raw materials can be used in one production,Such as rice flour, corn flour, soybean flour, oats, buckwheat, etc., and various nutrients can be added at the same time. |
| Finished powder | After expansion, nutrients are easily absorbed by human body. |
| Taste of finished powder | Delicate taste, usage widely. |
ADVANTAGES OF SOYA MEAT PRODUCTION LINE FOR SALE
The automatic soya meat production machine is designed based on advanced twin-screw extrusion technology. soya meat extruder has changed the traditional production process. The production process of a commercial soya meat machine is automated mixing, extrusion, and drying. In addition to soybean meal, the available raw materials can also be undefatted protein powder, etc.; soya badi making machine is tissue-shaped soya meat manufacture use soy protein isolate and soybean defatted soy flour as raw materials, The 800-2000kg/h Soyabean Badi Making Machine With Double Screw Extruder by milling, mixing, extruding, cutting and packing to get isolated protein, textured soya protein, vegetarian soya meat for sale. Soybean meat in various shapes can be produced to meet the different needs of customers.
Soya meat making machines are manufactured by us using superior high grade raw materials and latest technology, Our expert professionals aid us in providing highly efficient machines to our clients. All of these soya meat manufacturing project go through rigorous testing to ensure quality and fault free delivery of products. Our soya badi making machine with double screw extruders are highly appreciated by our customers for their robustness and long life.
FINISHED PRODUCTS PICTURES
The raw material of soya meat is defatted soybean meal, and the main components are protein (more than 50%) and carbohydrates. Soya meat does not contain cholesterol, has low sugar content, high digestibility, and is rich in a variety of amino acids necessary for the human body. It is an ideal complete protein. The soya meat production line is extruded by twin-screw, processed under short-term high temperature, high water content and high pressure to rearrange the protein molecules neatly. It has a same-directional structure and a meat-like porous structure, so it has excellent water retention and Chewy. Textured soya protein can be divided into flakes, chunks and granules in shape; it can be divided into primary colors and red in color, and it has a wide range of uses.