Shandong Loyal Industrial Co., Ltd. is a well-known food machinery manufacturer in the industry. Its frying system lines have been exported to Singapore, Canada, Brazil, India, and Japan with excellent quality, making outstanding contributions to the local economic development.
Shandong Loyal Industrial Co., Ltd. has produced frying equipment with very high-cost performance, which can fry many types of food. The food after frying is golden in color and crispy in taste, which is very recognized by the market.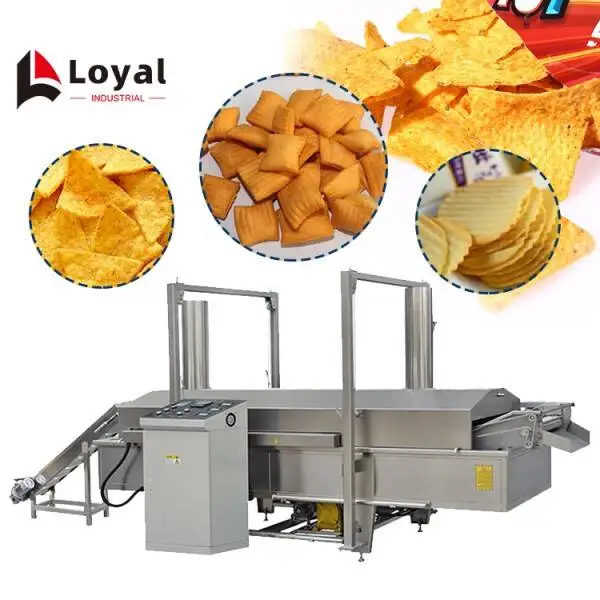 Detail Introduction
Nowadays, fried food has become one of the most popular types of food, with very high demand, both men and women, young and old like the taste of fried food, is the ideal choice for happiness. If you also think the industry is profitable and want to use a high-quality frying line to make your business smoother, the frying system production line will provide you with the greatest help.
As a professional food machinery manufacturer, we have the most cutting-edge market consultation. We will provide you with the most cost-effective deep fryer and provide you with a complete quote and perfect service. Welcome to contact us!
Deep-frying system line:
The process flow of deep-frying system line: deep-frying - oil dipping - oil stripping - flavoring - packaging.
When making fried food, the first step is choosing high-quality raw materials, then cleaning, cutting, and other steps to make the raw materials into a fixed form, such as potato chips, French fries, etc., and then waiting for deep frying.
The raw materials are transferred into the fryer for high-temperature frying, and the temperature of the frying process can be controlled automatically to ensure that the food is of high quality.
After frying, the food will be dipped in oil so that the food cooked can be more crispy. Then the food is transferred into the degreasing machine for degreasing so that the treated food will not be greasy to eat. Finally, the food will be transferred into the seasoning barrel for seasoning, adding different seasonings to modulate the food into different flavors.
Finally, use the packaging machine to complete the production.
More Description
Shandong Loyal Industrial Co., Ltd. is a food machinery manufacturer with many years of experience in R&D and production. After years of development, we have made outstanding achievements in the industry and become a leading company. The frying system line produced has gained unanimous recognition from the industry.
Shandong Loyal Industrial Co., Ltd.'s frying equipment uses electric energy as an energy source and is designed and manufactured according to thermodynamic principles and various food requirements. It can fry products of different specifications. The frying time, temperature, and residue scraping are automatically controlled. The frying process is simple and safe.
The frying system production line is made of food-grade stainless steel, with very reliable quality, durable and not easy to damage, can be used for a long time, and stainless steel in contact with food, will not cause pollution to the food, with a very high-quality standard of hygiene.
In addition, the frying equipment has a very high production efficiency, realizes a fully automated production and processing method, and can meet the manufacturers' mass production needs. The food is conveyed by the upper and lower conveyors, and the food is sandwiched between the two conveyor belts so that the food will not float during the whole frying process, so that the cooked food has a high-quality standard.
In order to enable more enterprises to use high-quality frying equipment to promote production, we have invested a lot of money in research and development, and finally effectively control the production cost of the equipment, making the entire production line compact structure, small footprint, the investment cost is only one-tenth of the large production line, very conducive to some small and medium-sized enterprises to use.
On this basis, we still keep on innovating, hiring engineers from famous universities at home and abroad to conduct R&D every year, bringing fresh vitality to our enterprise, and giving our veteran engineers very generous salaries to solve their worries so that they can devote themselves to R&D production.
We have attracted a lot of investment with our outstanding performance, so we have a firm financial backing, which also drives our frying equipment in the continuous progress. Today our frying system line has received many certifications such as CE and ISO9001, and the quality has been affirmed, but we are never satisfied with our immediate achievements. Our goal is to develop the most advanced frying system in the world!
During years of operation, we have formed a perfect service system, including pre-sales consultation, guidance for installation, training for use, after-sales maintenance and customized services, etc., so that you can enjoy the most pleasant shopping experience.
If you need a high-quality frying system line to improve your production quality, welcome to contact us. We are happy to communicate with domestic and foreign customers; we believe that inspiration often comes from mutual communication. We are always customer-oriented and committed to promoting the development of the food processing industry. Our goal is win-win cooperation, and we look forward to hearing from you!
Frying system line: complete buying guide.
Deep-fried food has always been one of the most popular food products. Are you interested in working in this industry? Frying System Line will be your most trustworthy choice!
Common questions about fried food and frying system line, the following will provide you with detailed answers.
1. fried food is healthy?
Fried food is not a kind of healthy food. Food will absorb a lot of fat during the frying process, which will make you consume a lot of oil during the eating process, which will eventually cause the oil to be converted into fat in your body, which will make your body gain weight. And high-temperature frying will also produce many carcinogenic substances, which is extremely detrimental to health, so fried food is not healthy.
But this does not mean that fried food can not be eaten. As long as you reasonably control the amount of consumption, avoid overeating, you can still enjoy fried food to bring you pleasure.
2. How to make homemade fried food?
1. Choose some ingredients you need to make, such as potatoes, chicken, etc., that will be cleaned and processed to make a suitable shape.
2. Pour oil in a pot, raise the oil temperature to 50% hot, then put the ingredients into it, fry to shape, and gently turn to cook the ingredients.
3. Take out the ingredients, raise the oil temperature further, and perform re-frying. Re-frying can make the food more crispy.
4. After the completion of re-frying, fish out of the oil control can be eaten.
3. What is the frying system line?
The Frying system line is professional equipment used to deep fry various ingredients, including chicken fillet, fish fillet, potato chips, French fries, sakima, and other foods, and is very widely used. The line uses heat as the main energy source. It has a fully automatic production method and automatic temperature control system, which can freely adjust the time and temperature of frying. The production is convenient and simple, and the food cooked has very high quality, which is widely used in canteens, schools, restaurants, and factories.
4.Benefits of Frying system line
1. Made of 304 stainless steel, durable and reliable quality.
2. Self-cleaning system, clean and hygienic, easy to clean.
3. Self-adjustable conveyor belt speed, control frying time and capacity.
4. The upper and lower conveyors can be adjusted to suit different heights of products.
5. Conveyor lifting system adopts chain lifting type, which is safe, stable, and convenient.
6. Fully automatic production method, high production efficiency, and stable quality.
7. Adopt advanced water-oil mixing technology, no oil smoke, no smell during frying, and the use time of oil is effectively extended.
8. Can process a variety of food, a wide range of uses.
9. After frying, the food is crispy, golden in color, with very high quality.
5. Limitation of Frying system line
Frying equipment has been widely used nowadays. Many kinds of foods we eat every day are made by this production line. Nevertheless, the frying system production line still has certain limitations.
1. Frying process in the oil at a high temperature makes the oil oxidation and deterioration speed up, viscosity increases, repeated use will become dark brown, can not achieve repeated effective use, the cost of oil is relatively high.
2. In the process of repeated frying, not only will the oil become dirty, but also generate carcinogenic substances such as nitrosopyridine alkane. The oil used for frying foods repeatedly at high temperatures for a long time will generate various forms of fat polymers with different toxicity, which brings great hidden dangers to consumers' health.
3. The oil used for a long time under high temperature will produce thermal oxidation inverse, generating peroxides of unsaturated fatty acids, which will cause the loss of food nutrition and reduce the quality of food.
6.Types of Frying system line in the Market
Frying production line is used to fry food professional production equipment, a wide variety of frying equipment on the market is very much. According to the place of use, it can be divided into the industrial fryer, commercial fryer, and household fryer, etc. According to the degree of automation, it can be divided into stand-alone series, semi-automatic series, and fully automatic series. Manufacturers can purchase them according to their needs.
7. How much Frying system line Cost
Different types of frying system prices vary. For example, the price of a fully automated frying line is naturally higher than a semi-automated frying line. In general, the price of equipment on the market today is about $500-$100000 between. For the buyer, you should not only look at the price when buying, although the price is a critical selection factor but not the only factor, and you should look at the cost performance.
Shandong Loyal Industrial Co., Ltd.'s frying system line has a very high-cost performance, our equipment is reliable in quality, superior in performance, and low in price. Although we cannot promise you that the price of our equipment must be the lowest, you can believe that our equipment must have the highest price-performance ratio.
8.Support equipment to buy with Frying system line
In addition to several major equipments, only some support equipment for the line can make the processing and production smoother, thus realizing fully automated production and further improving production efficiency.
1. Lifting conveyor: This conveyor can lift the material to the vibrating screen, and the front of the conveyor is equipped with a collecting hopper.
2. Vibrating feeder: this equipment can achieve quantitative feeding while screening out the debris, made of 304 stainless steel.
3. Conveying mesh belt: the material from the oil dipping machine is conveyed to the de-oiling machine, or the material from the de-oiling machine is conveyed to the seasoning cylinder, which plays a good transportation role.
4. Control system: The electrical system adopts the combination of centralized control and individual control, which is more convenient for operation.
9.Parts of Frying system line
The frying system line consists of an oil temperature automatic control system, automatic lifting system, heating system, mesh belt conveying system, automatic slag pumping system, mainly including the following equipment:
1. Fryer: double-layer mesh belt structure, equipped with a filter, easy to clean the pot, effectively ensure the quality of oil, extend the oil change cycle, save oil and improve the quality of products.
2. Oil dipping machine: single-layer mesh belt structure, with scrapers on the belt, easy to transport materials.
3. De-oiling machine: the use of the centrifugal de-oiling method, de-oiling the food taste clear and non-greasy.
4. Seasoning barrel: usually adopts the octagonal seasoning barrel, which can carry out seasoning processing.
5. Cooling conveyor: the food will be made to cool down so as not to burn the bags and not return to moisture after packaging.
6. Filter machine: automatically clean up the residue during the working process.
7. Oil storage tank: storage of frying oil, oil storage tank with heating device, can maintain the liquidity of the frying oil at low temperature, the tank is left with the slag removal port, oil outlet, and oil inlet.
10.How to Verify Quality of Frying system line
A quality frying system line can produce high-quality fried food with low cost and high efficiency, which is ideal for manufacturers to expand their market. Therefore, it is very important to verify the quality of frying equipment. You can verify from the following two aspects.
1. Check whether the appearance process and design of the equipment are reasonable and whether the internal process of the equipment is excellent. Good equipment should have the same appearance, proper detailing, low running loss, and no pollution to the food.
2. oil dumping device and heater. Some manufacturers' dumping machines are actually lower than 100 rpm, although they are set at 800 rpm, so they should be carefully verified.
3. Check whether the material of the equipment is food-grade stainless steel, food-grade stainless steel material is long-lasting, not easy to damage, and easy to clean, will not cause harm to food, more convenient to use.
11.Industries using Frying system line
Frying system line is widely used, nowadays it is widely used in the food processing industry and can be used to process and produce many types of food, including:
1. broad beans, green beans, peanuts, and other nuts
2. French fries, potato chips, and other puffed foods
3. Cat ears, sakima, sesame, and other noodle products
4. Meat products such as meat cubes, chicken legs
5. Yellowtail, scallops, and other aquatic products
6. Dried bean curd, bean curd, and other soy products
12.How to Troubleshoot Frying system line
Frying system line in the process of high-intensity use, there will be some inevitable failures, may be caused by improper operation, may also be caused by long-term wear and tear. The following are a few simple troubleshooting methods:
1. The indicator light is off: When the indicator light is off, the fryer usually can not continue to use, causing this problem is often the cause of the main air supply valve. You need to check the supply line for blockage. If the valve is open and not blocked, you may need to replace the thermopile, or if the problem is with the thermopile, contact a professional service person for repair.
2. Unstable thermostat: This can lead to inconsistent oil temperature, which greatly affects production quality and productivity. You need to recalibrate, replace or reconnect the internal thermostat.
3. Poor oil circulation: You just need to replace the oil filter.
4. Frying system line does not start properly: check if the power supply is connected, check if the switch is faulty, and finally check if there is a problem with the motor.
13.Frying system line Maintenance Process
Frying equipment needs reasonable maintenance when in use to ensure that the use time of the equipment is effectively extended, and the food produced has the highest quality.
1. After a day's work, carry out reasonable cleaning, remove some residues, etc., keep the equipment clean, and ensure that the equipment can run smoothly.
2. Thorough cleaning once every six months.
3. Conduct annual inspection once a year and replace worn out parts immediately without delay. Otherwise, minor problems will become big problems, which will lead to increased maintenance costs and cause great damage to the equipment.
14.Frying system line Validation Documents
Certification is the best way to test the frying system line; the more certificates obtained means that the equipment has passed more tests and the quality is more reliable; common certifications are CE certification, ISO9001 certification, FDA certification, etc.
15.Future of Frying system line
Nowadays, frying equipment is widely used to provide consumers with very rich and delicious food, can be said to be closely related to the life of the public, but also has a very high standard.
However, in the current technological advancement, the development speed of the deep fryer is far behind the demand of the general public. Consumers are now pursuing a healthy diet. High-temperature frying will cause the appearance of many harmful substances, which are extremely harmful to health.
Therefore, making some healthy food, reducing the harm of frying, and prolonging the service life of oil will be the future development direction of the frying system line.
16.How Frying system line Works
The frying system line uses advanced water-oil mixing technology, which completely changes the disadvantages of traditional frying methods. Not only can fry many kinds of food simultaneously but food and food do not string each other's taste.
During the frying process, the principle of different specific gravity of oil, water, and animal oil can be effectively used to make all the residues produced submerged in water and animal fat sink into the lower layer of vegetable oil. It solves the problems of traditional frying string taste, short time of oil use, and easy to produce carcinogenic substances.
The fried food is transported into the oil dipping machine, then into the de-oiling machine, and finally seasoned and cooled to become the final food.
17. Why choose Shandong Loyal Industrial Co., Ltd.'s frying system line?
Shandong Loyal Industrial Co., Ltd. is a leading food machinery manufacturer in the industry with rich experience in R&D and production.
The production line is made of food-grade stainless steel and components of famous international brands, and the quality is very reliable. It can be used for a long time, and the stainless steel material is also very easy to clean, so that the food produced has a high standard of hygiene, and it is easier to pass the food hygiene quality inspection.
In addition, after repeated experiments, our engineers finally succeeded in ensuring the quality of frying equipment on the basis of lower costs, which is very good news for many small and medium-sized enterprises, meaning that they can get the equipment at a lower price and thus have greater competitiveness in the market.
Now the fried food market is very hot, and fried food is also one of the most popular food. If you want to get a bigger market in the industry, welcome to contact us, many well-known enterprises are using our frying system production line, the cost performance of the equipment for all to see, I believe that our cooperation can make your business get more development!