Shandong Loyal Intelligent Machinery Co., Ltd. is a professional supplier engaged in food machinery manufacturing with many years of experience. We have been constantly exploring in food machinery manufacturing.
Everyone in our company is working hard for the development and manufacture of advanced high-performance equipment.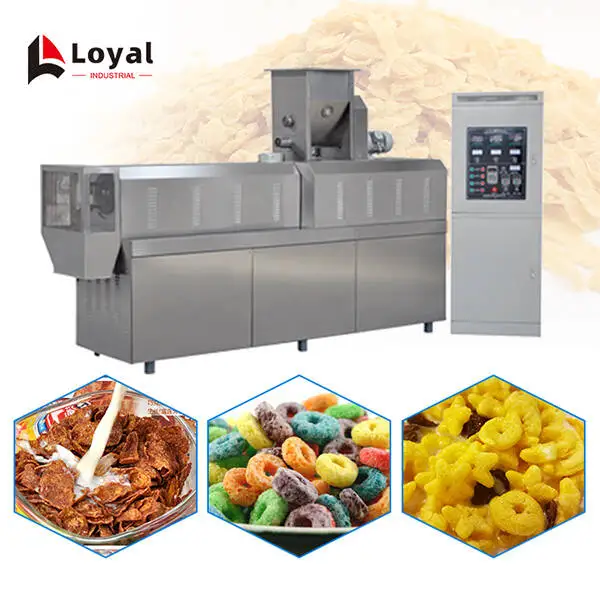 Detail Introduction
Our corn flake production line is developed and manufactured based on the combination of previous experience, listening to customers' opinions and analyzing the market, which is the result of our team's careful design and joint efforts. As soon as the line was launched, it was well-received by our customers and was well supported and trusted by them.
At present, the production line sells well. It not only has a broad market in China, but also popular in foreign countries. It has been sold to Brazil, Britain, Myanmar, Australia, Pakistan and many other countries, where it gets a very good response.
As a common food in people's daily life, corn flakes are very popular, nutritious and delicious. Consumers also use it as regular food. Its development prospects are very broad. Therefore, the corn flake production line is a very good choice for investment.
The corn flake production machine is newly made by Shandong Loyal Intelligent Machinery Co., Ltd.. After abandoning the shortcomings of the previous equipment, there are many new superior performances. It has characteristics of high quality, high efficiency, cost savings and high economic benefits.
The Production Process of Corn Flakes
Raw materials → screening → wetting → peeling, degerming → crushing → extrusion ripening→ cooling → pressing → baking → spraying → micro-baking → cooling → packaging.
Brief Introductions of the Manufacturing Process
We must use the peeled and degermed corn as raw materials. To make bubbles even in the later stages, crush the corn into fine particles of about sixty mesh. Mix the corn flour with steam in the modulator, and then cook and granulate in a puffing machine.
After the particles are cooled, they enter a new type of tablet press, which adopts water-cooled constant temperature. Thus adhesion can be effectively avoided. The patented multi-stage tablet pressing technology makes the tablets more uniform in shape and higher thickness uniformity.
After flaking, put them into the high-temperature airflow puffing furnace at 300℃-- 320℃. Within about 2 minutes, fully-puffed corn flakes with even bubbles will be made, whose color is attractive golden yellow.
To make various flavors of corn flakes, spray different flavors of materials evenly on the surface of the puffed corn flakes. Thus different flavors of corn flakes are made. Then put them into the microwave oven for sterilization and drying of the surface coating.
Finally, package the finished products. After the packaging is completed, it enters major supermarkets and is then purchased by consumers
More Instructions
Our corn flake production line is developed and designed with the latest technology, which is more time-saving and space-saving for production than the previous method of steaming. It greatly reduces working time and improves work efficiency.
The products processed by the production line are uniform in particle size. It's very beautiful and highly consistent in maturation. The food produced is nutritionally balanced, healthy and safe, which can meet the needs of consumers. People can eat with great confidence. It is beneficial to health.
If you buy our corn flake production machine, we can also provide you with a full set of related equipment. It helps save you more costs and brings you the maximum economic benefits. Therefore, you can reap the best benefits and get better development.
Perhaps, you are keen to know the price. You can rest assured that the price we offer will definitely make you satisfied. We offer lower price with the same quality while we offer higher quality with the same price. We will not only provide you with high-performance equipment, but also give you the most favorable price. We assure you of our high cost performance.
We enjoy a high reputation both at home and abroad. We are highly trusted and supported by our customers. You can certainly trust us unconditionally. Whether in terms of product quality or service or any other aspects, we are guaranteed.
If you buy our equipment, we will provide the best quality service, including pre-sale, sale and after-sale. In addition, there are a series of technical services, commissioning services, installation services, etc.. We take customer' satisfaction as our pursuit. All our work is committed to making you satisfied and ensuring you free from worries.
If you have a need in this area, do not hesitate to trust and choose us. You will be happy with the choice at this time. We are looking forward to working with you to achieve win-win cooperation.
A Corn flake Production Line: A Complete Buying Guide
I'm sure you've eaten cornflakes before. The market for cornflakes is growing rapidly. Do you want to engage in this industry and make profit from it? Or maybe you already have a corn flake processing plant and are in need of a corn flake production machine. If you are, take a look at the following. This guide will give you a detailed introduction to cornflakes and their production process.
1. Corn Flakes and its Development Prospect.
Corn flakes is the most common cereal snack food in the world. It takes the corn flour as its main raw material. By adding a mixture of sugar, various vitamins, mineral and a certain amount of water, the appropriate flakes are made after fully kneading, steaming and cooking, shaping, pressing and baking. The corn flakes currently produced in China are light corn flakes, sweet corn flakes and salted corn flakes.
Corn flakes as a daily food in life, is popular with consumers, young and old. Its development prospects are very broad. With the improvement of people's consumption level, the demand for cornflakes has also increased. Higher requirements in the production process has been put forward.
2. Brief Introduction of Corn Flake Production Line.
Cornflakes, which is a nutritious and convenient food, is produced by the corn flake production line. A prominent feature of cornflakes is that they are rich in complex carbohydrates and dietary fiber, such as vitamins and minerals. And they can also add cocoa and sugar, such as honey and maltose. They can be directly consumed after mixing with functional drinks such as coffee, milk and yogurt. Or you can eat them as sweet and crunchy snacks.
The breakfast corn flake production line is a fully automatic production line developed and produced by combining advanced European technology.. The line takes corn, wheat, oats and other kinds of cereals as raw materials. It realizes steaming and maturing, granulating by twin-screw extruder. Then through the process of pressing, baking and spraying, it can make crunchy ready-to-eat breakfast corn flakes with original, sweet and salty flavors. The line can also produce various shapes of breakfast cereals.
3. Benefits of Corn Flakes Production Line
(1) Adopt turbine and worm gear to adjust the gap of pressure roller, the adjustment effect is accurate and balanced.
(2) High hardness of alloy plating on the surface of the press roll, which greatly improves the service life.
(3) Equipped with adjustable scraper and oiling system for press rolls to prevent products from sticking to the press rolls.
(4) The tablet press can supply cold water and has a water cooling tube to prevent the press roll from overheating and affecting the product characteristics.
(5) High temperature oven (can be called through oven) inlet and outlet shields adopt openable structure, easy to maintain and clean.
(6) The box body adopts double-layer aluminosilicate insulation board, and the pipe adopts aluminosilicate insulation layer.
(7) Group hot air blower will blow high temperature hot air to the materials from its up to down, baking evenly. Each group of hot air blower has independent air outlet and return air duct for higher thermal efficiency.
4. Limitation of Corn Flakes Production Line
No equipment is perfect. Since there are advantages, there will certainly be some shortcomings. Although the corn flake production line has been improved to a large extent, but it still needs to be improved in some aspects. For example, there are some energy waste or raw material waste in the production process, which will increase the cost.
In addition, with the improvement of people's consumption level, higher demands are also placed on the quality of corn flakes. The corn flake production line should also make improvements to ensure that the produced cornflakes meet the food hygiene and safety standards. Meanwhile, it should be more rationalized to make different kinds of food products so as to meet the different needs of consumers.
5. How Corn Flakes Production Line Works
After years of production and practice, the production process of cornflakes has been greatly improved. The degree of automation is getting higher and higher. Advanced industrial equipment and assembly lines have formed the following modern corn flake production process.
Mixing ingredients → twin-screw extrusion maturation → cutting and forming → pre-drying → pressing → high temperature baking → corn flakes
(1) Ingredients. The ingredients of cornflakes are very important. Make sure that the seasoning has a good taste. Especially the requirements of corn raw materials directly related to the ability to make high-quality cornflakes products. Besides, pay attention to the proportion and content of various nutrients.
(2) Extrusion ripening molding. The process of corn flakes extrusion ripening molding is the key to producing high quality corn flakes. In the process, the corn must be fully cooked without any puffing. Only in this way can we make dense, hard and crisp corn flakes with outstanding flavor.
(3) Cutting. Cut the materials extruded by the twin-screw extrusion maturation machine into uniform size of granular materials, which is translucent.
(4) Pre-drying. Cut molding materials into the dryer for pre-drying. The surface is dried to form a certain tension, no longer adhering to each other, which is conducive to the smooth conduct of pressing.
(5) Pressing. The pressing process is also the key to the production of corn flakes. The requirements of the tablet press are very high. The surface of the roll must have a high degree of finish, and the roll must be constant temperature.
(6) High-temperature roasting. Whether the corn flakes products have a hard and crisp, dense structure, outstanding corn-specific flavor, roasting process is critical.
(7) After the baked corn flake is cooled, the corn flake product is prepared. There are a number of post-processing corn flakes, coated with sugar or chocolate, mostly according to market demand.
6. Parts of Corn Flakes Production Line
(1) Mixing machine. Mix corn flour or corn dregs with nutrition additive and a certain proportion of water.
(2) Feeder. Feeding the mixed material to the hopper of the Puffing Machine.
(3) Extruder. Raw material enters the hopper. In the pressure system, small spherical particles are produced.
(4) Vibrating screen. The particles are dispersed to avoid overlapping and pressing together after entering the tablet press.
(5) Air conveyor. Conveying particles to the tablet press.
(6) Tablet press. The small ball-like particles are pressed into thin slices, that is, corn flakes.
(7) Air blower. Deliver corn flakes to the oven.
(8) Multi-layer oven. Ovens are mostly electric ovens. The temperature between 0-200 degrees self-regulated through the control cabinet. The internal bag is made of stainless steel double mesh. Baking time can be adjusted according to the speed to remove moisture.
(9) Seasoning line. There are octagonal cylinder, cylinder, lifting single cylinder, double cylinder seasoning line. According to the output and product nature configuration, there are oil spraying, sugar spraying and coating equipment.
(10) Packaging machine. Convey the finished particles to the crushing unit.
7. Support Equipment to Buy with Corn Flakes Production Line
Basically, our corn flake production line can achieve the production of cornflakes. But you also need to buy some supporting equipment. We will provide related supporting equipment according to different needs of customers. Thus we can help you better complete the processing of products.
8. How to Verify Quality of Corn Flakes Production Line
The quality of your machinery is a very important issue. You need to pay close attention to quality standards and check for ISO, CE, BV certification, which determines the quality of your food machinery, its length of service life and the health and safety of the food produced. The current Good Manufacturing Practices (cGMP) will ensure that your machine meets current production specifications.
9. Corn Flakes Production Line Validation Documents
After the verification of the device, there will be some verification files of the machine, such as IQ authentication file, OQ verification file, FAT file, etc.. Each of these files has their own use. If these are available, it means that the device is very secure and reliable, so you can buy it with confidence.
10. Industries using Corn Flakes Production Line
The corn flake production line is mainly used in food processing industry. It not only can make corn flakes, but also can make other cereals, breakfast cereals, etc.. By adjusting the molds in the filling, it can make various shapes of snacks, such as balls, tubes, sticks, rings, stars, wheels, flowers, hearts, etc.. There are many varieties, flexible configurations and a wide range of raw materials.
11. Types of Corn Flakes Production Line in the Market
Due to the different needs of customers, there are many kinds of corn flake processing equipment on the market. They are semi-automatic, fully automatic, small, medium, large, etc., . The production line can also be customized according to the needs of customers, which will always meet the needs of customers.
12. How much Corn Flakes Production Line Cost
Many factors affect the price. As the type, performance and cost of the corn flake making machine are different, there is also a certain difference in price. Generally speaking, its price ranges from tens of thousands to hundreds of thousands. If you buy our equipment, we will provide you with the most favorable and reasonable price. The more you buy, the higher the discount you have.
13. Corn Flakes Production Line Maintenance Process
Any equipment should pay attention to its daily care and maintenance. In the use of the corn flake making machine, the first thing you should pay attention to is its daily cleaning. Before using, check whether the equipment parts are normal. Ensure that it will not appear damage, so that the work goes smoothly. While using, we should pay attention to observe the working condition of the various parts of the equipment to avoid the emergency, such as damage to the machine, wear and tear of the parts, and poor product quality. After using, the machine should be timely added to the lubricant. Regular and proper maintenance can effectively reduce the cost of maintenance and extend the service life of the machine.
14. How to Troubleshoot Corn Flakes Production Line
Some faults may occur when the corn flake production line is in use. You can deal with the problems by following these steps.
(1) Formulate relevant equipment management system according to specific equipment performance. It is made by the equipment power department and issued to the workshop for implementation, so that the equipment management can be followed by rules.
(2) The equipment documentation record forms are made by the equipment department. The operation is recorded by the workshop lead shift leader, including point inspection records, monthly inspection records, quarterly inspection records and other forms.
(3) Strengthen supervision. Set up an inspection team by the equipment department and production department to inspect the workshop from time to time every day.
(4) According to the detailed instructions of each equipment, maintain and clean the equipment on time to ensure the maximum utilization of the equipment.
(5) The production department and the equipment department will make the relevant equipment inspection instructions and issue it to the workshop shift leader, who will be responsible for observing and implementing it to increase the staff's awareness of equipment maintenance.
15. Future of the Corn Flakes Production Line
Corn flakes are long lasting, portable, and can be eaten directly or processed into other foods. It is very popular and has a broad development market. As the equipment for making corn flakes, the corn flake production line also has a broad development prospect.
Under the impetus of science and technology, corn flake making machine has been greatly improved. Overcoming the drawbacks of previous processing methods, it has more superior performance and can produce higher quality products. It is a very good choice to invest in this area. This is a new development opportunity. The future will have a broader market.
16. More information about Shandong Loyal Intelligent Machinery Co., Ltd.
Shandong Loyal Intelligent Machinery Co., Ltd. is a professional manufacturer of food machinery, with many years of manufacturing experience. The machines we produce have won the support and trust of our customers. The equipment are all very reliable. With superior performance and a variety of types, it can meet the different needs of our customers.
With the development of our company, our products have been exported to more than eighty countries such as the USA, Poland, Canada, Mexico and Brazil. We always try our best to meet the potential needs of our customers. The trend of economic globalization develops with irresistible force. Our company is willing to cooperate sincerely with enterprises all over the world to achieve a win-win situation.
17. Quality Control of Equipment
(1) Pre-design control of equipment
Based on the equipment test, technical personnel makes a reasonable design according to the actual situation and requirements of the customer's plant, electricity, location, etc..
(2) Standard for spare parts selection
After strictly screening the supply-side products, parts suppliers make the purchase. In the premise of ensuring quality, we manage to reduce the cost of manufacturing equipment. So customers can purchase cost-effective equipment. For the same variety of external parts, we ensure that there are always three suppliers to truly achieve the survival of the fittest.
(3) Production control
After receiving the order, the sales department will submit it to the technical department, which will issue the corresponding CAD drawings according to the order. According to the CAD drawing, the production department will arrange relevant department to purchase, produce and process.
18. Our Services
(1) To provide you with consultation on the market, equipment, process, raw accessories, packaging, etc.
(2) Assist you in equipment selection, processing design, plant optimization layout. We will come to you if needed.
(3) We can design the compensation plan for raw material changes, make on-site demonstration, and provide all kinds of basic formulas.
(4) We can carry out special design and manufacturing and application tests according to your needs, and provide targeted training.
(5) Design reasonable packaging and transportation scheme for you. Send technical personnel to your plant for installation and commissioning, and training personnel.
If you need to buy a corn flake making machine or have other needs, feel free to contact us! we hope our products and services can help you achieve your personal career goals. We would like to become your long-term partners and heartfelt friends with our sincerity and enthusiasm. Welcome to visit our factory!