Shandong Loyal Industrial Co.,Ltd. is a professional manufacturer of food extrusion machinery. As a leading manufacturer, we are constantly improving our machines and upgrading our technology to meet the requirements of all our customers. We sell and market our machines to many countries around the world.
This bread crumbs production line of ours overcomes the drawbacks of the previous production technology and is designed and manufactured with the latest technology. Through the careful research and development of our technicians and the joint efforts of our team members, it can meet the different needs of our customers and save costs while bringing higher economic benefits to our customers.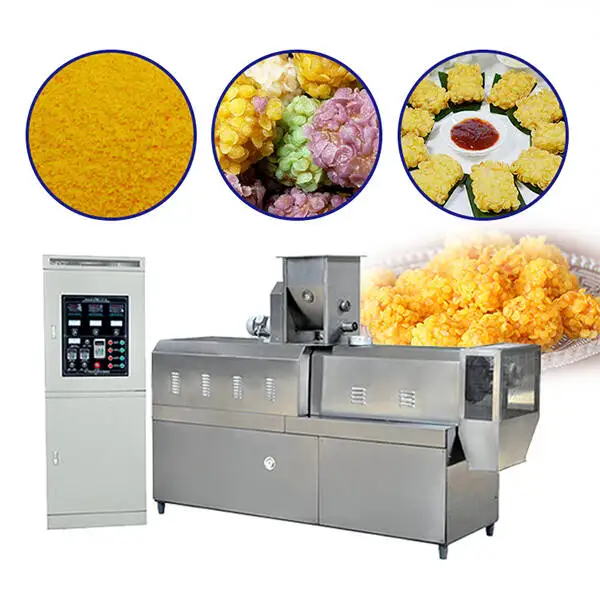 Detail Introduction
After years of research and exploration, the extrusion technology has been widely used in many fields. We can also provide a special bread crumbs production line according to the special requirements of customers, providing the free recipe, local installation, workshop design, machine inspection services. If there is any demand, we will meet.
We have exported our food machinery to more than eighty countries and regions such as South Africa, India, Malaysia, Indonesia, and Brazil. Some customers have become our agents in their regions, and we hope to establish long-term friendly business relationships with more customers from all over the world in the future.
If you have any need in this regard, feel free to contact us for more information about the crumb production line, we will answer you one by one and look forward to your visit.
Bread crumb production process.
Raw material preparation→flour mixing→extrusion puffing→cutting→bran beating→conveying→drying→conveying→screening→packing
1、Screening of flour: the purchased flour is sifted by a vibrating sieve to remove impurities and disperse the flour to facilitate the ingredients of the following process.
2、Mixing: Mixing flour, grease, sugar, yeast, additives, and coloring evenly and fermenting at one time.
3、Pressing: put the dough into the shaping machine, mainly to make the density of the dough as uniform as possible, to drive out the relatively large air bubbles in it, and also to change the structure of the dough, which is conducive to the stability and uniform quality of the fermentation later.
4, secondary fermentation: put the divided dough into the electrode car and put it into the fermentation room.
5、Maturation: push the electrode cart into the electrode curing cabinet for curing. When the current passes through the dough, since the direction of the current is the same, the filaments in the dough are arranged neatly. The breadcrumbs produced in this way are needle-like and spike-like, which fully meets the requirements of breadcrumbs.
6、Primary cooling: then cooling is carried out, and after cooling, crushing is carried out, and different meshes of bread crumbs are obtained by changing to different sieves.
7、Packaging: After the second cooling, the crumbs are tested and can be packaged after the testing is completed so that the crumb production process is completed and refrigerated storage is carried out.
More description.
The bread crumbs production line of Shandong Loyal Industrial Co.,Ltd. is a new type of high-efficiency equipment, which is highly automated, can greatly save manpower, and the operation is very simple, you can easily complete the production of crumbs with it.
The quality of the crumbs produced by the line is also outstanding, good taste, unique flavor. The main thing is healthy and safe, non-toxic and harmless to human health, people can eat with confidence, is suitable for both young and old, can meet the needs of the majority of consumers.
The machines of Shandong Loyal Industrial Co.,Ltd. have been exported to many countries in Asia, America, Africa, Europe, etc., and are well received at home and abroad. So far, there are not only direct customers but also some long-term cooperation agents.
Since the establishment of our company, we have been manufacturing our machines according to authorized standards. So far, we have obtained many certificates, including CE and ISO9001, and we are a gold supplier of Alibaba for many years with a very high reputation.
If you buy our bread crumbs production line, first of all, we will provide you with the right equipment according to your needs and give you a reasonable price, which can make you get higher economic benefits and help you develop better and no longer in this industry.
We welcome friends from all over the world to visit our factory. We can test our machines for you for free according to your requirements, no matter when you come, we will pick you up at the station or airport, our goal is to provide the best service for all customers.
Bread crumbs production line: a complete buying guide
Bread crumbs are not unfamiliar to everyone. Its market development prospects are very broad. I do not know if you are interested in investing in this area or buying bread crumbs processing and production equipment. This guide gives a detailed introduction to the relevant content of the bread crumbs production line. If you are interested, you can take a look. It will be of great help to you.
1、Bread crumbs and its role
Bread crumbs are used as a frying coating agent, also known as crispy crumbs, which are grain flour products with a shape similar to fish scales. They are used on the surface of fried foods. They have a crisp taste and a beautiful and innovative appearance. Crispy and delicious fried chicken cutlet, fried chicken leg, fried fresh milk, fried chocolate, fried chicken fillet, fried pork cutlet, and other foods will become more delicious if they are enriched with bread crumbs.
Its main roles are.
(1) As a fried food bun: breadcrumbs are usually fried in Western-style, also known as western frying. The ingredients are first coated with low-gluten flour and egg liquid, then covered with a layer of breadcrumbs. The fried food has a crispy texture and a beautiful golden yellow appearance.
(2) alleviate the food is fried scorched time: making fried food when a little carelessness is easy to fry beard, fried scorched, add bread crumbs can alleviate this phenomenon.
(3) Create the taste of food: when baking bread and cake, sprinkle a layer of bread crumbs on top of the finished food and then drizzle with olive oil or put a small piece of cream, which can add the taste of food.
2、Brief introduction of bread crumbs production line
Bread crumbs production line is a set of the fully automatic production line, from raw material mixing, conveying, extrusion curing, molding, drying, fully automatic production line. The bread crumbs production line is applicable to a wide range of raw materials, including flour, rice flour, cornflour, corn starch, soybean flour, etc. The bread crumb production line can produce various bread crumbs, including needles, granules, snowflakes, flakes, stars, or many other shapes.
The production line overcomes the shortcomings of the previous equipment. It is designed more reasonably, solving the difficult problems of the existing domestic equipment such as sticky material of pressure rollers, low output and forming rate of flakes and poor taste of products, etc. The scientific production process can retain the nutrients in grains intact. The whole production line is reasonably configured and highly automated, which can improve efficiency and reduce cost while producing nutritious and delicious bread crumbs and improve market competitiveness.
3、Difference between the bread crumbs production line and traditional production method
The bread crumbs production line has more advantages than traditional production methods in terms of the production process. The bread crumbs produced by the bread crumbs production line have more advantages in frying process performance. The bread crumbs production line uses flour as the basic raw material. After extrusion, puffing, and curing, the starch structure in the powdered raw material is denatured and gelatinized, which has a more homogenizing effect and is easier to digest and absorb.
Compared with traditional fermented bread crumbs, the final product has the advantages of high nutritional content, diverse taste, and easy absorption. Puffed bread crumbs can not only be used on the surface of meat products after being fried, but also can be made into bran and needle-shaped crumbs and sprinkled on the surface of puffed snack foods to enhance the taste, which is more versatile.
4、Benefits of Bread Crumbs Production Line
(1) In terms of process, the puffed bread crumbs production line has no serious pollution such as noise and dust.
(2) The thickness of raw materials and raw materials in the machine to move the speed and vibration range of change can be steplessly adjusted.
(3) It adopts a vibration motor, which is smooth in operation and convenient in maintenance. Low noise and long service life.
(4) Advanced machine parts, high performance of the equipment, energy-saving effect, can greatly improve the work efficiency.
(5) The puffed bread crumbs production line has a small floor area and is easy to operate, without extra labor, which can greatly reduce the labor cost of the user.
5、Limitation of Bread Crumbs Production Line
Bread crumbs production line has many advantages, but no equipment is perfect. It has some disadvantages in some aspects. For example, if you do not pay more attention to the design and production, there may be some hidden safety hazards, which threaten the safety of human life during use.
In addition, because the equipment is more advanced, the investment is large, so in terms of cost is a little higher than the traditional production method, but its production is of very high quality and the benefits it brings are higher. Although there are some defects in some aspects, its advantages are enough to make up for its shortcomings, with the progress of technology equipment will be better.
6、How Bread Crumbs Production Line Works
Bread crumbs production line uses cereal flour, rice flour, cornflour, corn starch, soybean flour, etc., as raw materials. The raw materials are ground and crushed, mixed, dried after extrusion by the extruder to produce bread crumbs, and then cooled and packed. Bread crumbs production line from raw material, puffing, smashing, drying, and finished products are all production lines.
7、Parts of Bread Crumbs Production Line
Mixing machine → screw feeding → puffing machine → cutting machine → elevator → wet mill → grading sieve → packing machine
(1) Mixing machine: add a certain amount of water to the raw material and mix it well.
(2) Feeding machine: The motor is used for power screw conveying, and the mixed raw materials are conveyed to the feeding hopper of the extruder to ensure convenient and fast feeding.
(3) puffing machine: there is a special control cabinet, in a high-pressure environment, the production of strip-shaped products
(4) Cutting machine: Cut long strips into short strips
(5) elevator: The product is delivered to the oven, and the height of the hoist is determined according to the oven.
(6) multi-layer oven: Ovens are mostly electric ovens. The temperature is adjusted between 0-200 degrees through the control cabinet. The inside is a stainless steel double-layer mesh bag. The baking time can be adjusted according to the speed, minus the moisture, and increase the shelf life.
(7) elevator: baked and transported to the wet mill
(8) Wet mill: crush the long products into bran
(9) Grade sieve: sieve out different products
(10) Packing machine: vertical packing machine and combined computer weighing and packing machine can be used.
8、Support Equipment to buy with Bread Crumbs Production Line
Bread crumbs production line consists of mixer, screw conveyor, twin-screw extruder, molding machine, elevator, crusher, screen, air conveyor, packaging machine equipment. You can buy a whole production line. In addition, we can also provide you with related supporting equipment according to your needs to ensure that the production process goes more smoothly and meets your needs.
9、Types of Bread Crumbs Production Line in the Market
There are several types of bread crumbs production line in the market. According to the model, it can be divided into small, medium, and large, semi-automatic production lines and fully automatic production lines according to the degree of automation, and single screw and twin screw production lines. Each kind of equipment has its own characteristics, and there is always one suitable for you.
10、Industries using Bread Crumbs Production Line
Bread crumbs production line is mainly used in the food processing industry, which is very widely used in this industry. It can produce not only various shapes and sizes of bread crumbs, such as Japanese long needle, American granular, snowflake, etc. but also other products such as nutritional crumbs. It can also produce other products such as nutritious rice flour, sesame paste, corn flakes, etc. The texture of the processed food is excellent, healthy, and delicious.
11、Bread Crumbs Production Line Maintenance Process
(1) Before use, you should pay attention to check the working condition of each part of the equipment, whether there is damage, and timely discharge the equipment failure to ensure the smooth production process.
(2) After using the equipment for a while, we should pay attention to the use of gears, sprockets, ratchets, and other parts, add lubricants on time, and pay attention to the right amount when adding them.
(3) After the equipment is usually used and operated, pay attention to the cleaning of the equipment and clean up all corners of the machine to avoid residual residue and rot after a long time.
12、How to Troubleshoot Bread Crumbs Production Line
(1) Before using the equipment, pay attention to check whether there is any air leakage or water leakage in the pipeline system, and solve it in time if there is any.
(2) Before the formal operation, perform a trial operation first, run it for a few minutes, and check whether each component can operate normally. If there is no malfunction, proceed to the formal use.
(3) When placing raw materials on the conveyor belt, pay attention not to put too much not to affect the processing effect, and the raw materials after use cannot be parked on the conveyor belt. They must be processed in time to avoid affecting subsequent work.
13、How much Bread Crumbs Production Line Cost
Because of the different types of bread crumbs production line, the machine parts used are also different, so the cost is also different, in terms of price, generally tens of thousands to hundreds of thousands of range, depending on the type and number of purchases. Good performance is naturally more expensive but is also very reasonable, and the more you buy, the greater the discount.
14、How to Verify Quality of Bread Crumbs Production Line
The quality of the bread crumbs production line can be inspected to see whether it has CE, SGS, ISO, or other certifications.
(1) CE mark is a safety conformity mark rather than a quality conformity mark. It is a safety certification mark regarded as a manufacturer's passport to open and enter the European market.
(2) ISO standard is indeed very comprehensive. It regulates all the processes in the enterprise, involving all employees from the top management to the lowest level in the enterprise.
(3) SGS certification refers to the service that SGS conducts conformity certification for targets according to standards, regulations, customer requirements, and other conditions. If relevant certification is to be carried out, inspection, testing, identification, certification, and other means must be passed.
15、Bread Crumbs Production Line Validation Documents
The current stage of equipment validation content:
(1) The equipment is inspected and evaluated in various links such as selection, design, manufacturing, installation, operation, and performance to verify whether the equipment meets the requirements of production and whether it meets the safety and effective function guarantee of the equipment.
(2) Each link of equipment verification is recorded, and there are plans, programs, reports, recommendations, and evaluations of verification, and verification documents are filed and kept for easy traceability.
(3) The main procedures of equipment validation: pre-validation (DQ), installation validation (IQ), operation validation (OQ), and performance validation (PQ).
16、Future of Bread Crumbs Production Line
Bread Crumbs is the coating layer on the surface of fried food, and the purpose is to make the fried food crispy outside and tender inside, reduce the loss of raw material moisture. With the improvement of people's living standards, the demand for meat steaks and fish steaks is increasing, and the use of breadcrumbs for production is also increasing. At the same time, the increase in exports of fried products to Japan and South Korea also provides opportunities for the development of the breadcrumb market.
The popularity of bread crumbs has driven the bread crumb machinery industry's development and put forward higher requirements for bread crumbs production line. With the development of science and technology, the bread crumbs production line has become more and more advanced and can meet the needs of food processing plants, and the development condition in the market is excellent. It is believed that the development of this production line will get better and better in the future.
17、About SHANDONG LOYAL INTELLIGENT MACHINERY CO.
SHANDONG LOYAL INTELLIGENT MACHINERY CO., LTD. is a professional food processing machinery supplier with many years of production experience. We have many kinds of machines and production lines, such as food extrusion machines, bean meat production lines, industrial microwave ovens, bread crumbs production line, pet food production lines, etc. We provide food processing machines with excellent quality, and we also offer recipes, technical support, and machine inspection services.
Our machines have been exported to many countries in Asia, America, Africa, Europe, etc. The machines are popular in all counties, so up to now, there are not only direct customers, but also some long-term cooperation agents. We have the most reasonable price combined with the best quality service, the equipment produced is trustworthy, you can always contact us to ask questions in this regard, we will be happy to serve you.
18、Our services.
(1) Pre-sales service:
1. Provide free consultation on the equipment.
2. Provide a standard device and flow chart.
3. According to customers' special requirements, provide reasonable solutions and free design to help select equipment.
(2) In-sale service:
1. Help customers design the plant, provide professional advice, and provide free engineering drawings of the plant layout.
2. Welcome to visit our factory or domestic customer's factory.
3. Check the machine before leaving the factory.
(3) After-sales service:
1. Overseas installation and commissioning of equipment.
2. Training for first-line operators.
3. Provide the basic formula.
4. Operation/service/maintenance manuals: provided in English.
5. We will provide 1-2 engineers to install and teach at the customer's factory.
Our bread crumbs production line can produce flake crumb, granule crumb, Japanese pin crumb, snow crumb, bread crumb and many other shapes of products, also can produce other food products, nearly meet all kinds of market demand. Our crumb production line is reasonably designed, stable. The automation degree has reached an advanced level, and the operation is very simple. It can save your time, save costs, will bring you good economic benefits. It will bring you good economic benefits.
If you have this need, don't hesitate, trust us, choose us, and after using our equipment, we guarantee that you will have no regrets about your choice today. We look forward to your friendly cooperation. Contact us as soon as possible.