Loyal fully automatic biscuit production line is specially designed for the production of biscuit and shortbread. It is the leading production equipment for biscuit manufacturing.
Loyal's large biscuit production line produces biscuits in a variety of flavors and shapes, including crispy, tough, soda, cookie, sandwich, alphabet, Oreo, caramel, jam-filled, animal, and more . All of these can be customized biscuit maker according to customer's needs for taste and shape.
After the biscuit production equipment is sold, we will have professional engineers to train the employees of the biscuit manufacturer.
Loyal is responsible for the commissioning and installation of the machines in the customer's biscuit production plant, and will also provide the best technical formula support.
Loyal Biscuit Lines has a capacity from 100 to 2000 kg/h, from small biscuit line to large production equipment, which can be planned and designed according to the customer's biscuit project!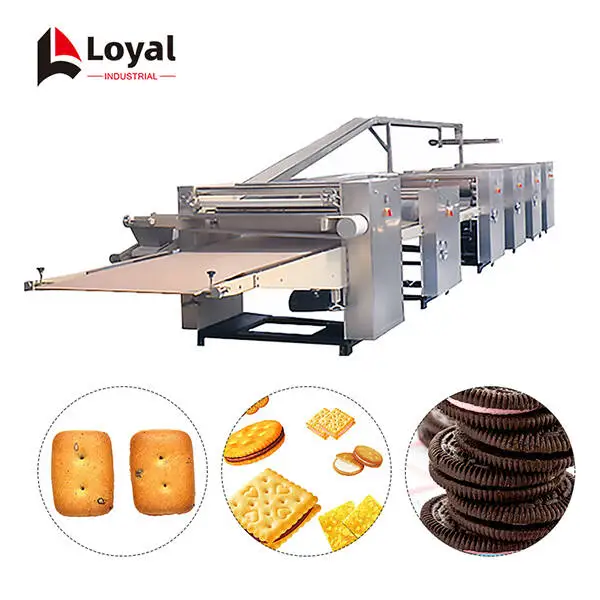 Biscuit Production Line Recommend Products
Biscuit Production Line Detail Introduction
Loyal multi-functional automatic biscuit production line is developed by our company for many years.
The automatic biscuit production line is novel in design, compact in structure and high in automation. It is composed of molding machine, sugar sprinkler, tunnel furnace, oil sprayer, oil drainer, cooling conveying and finishing machine, etc.
All the mechatronics of each equipment are automatically completed, and the thickness of the biscuit can be adjusted arbitrarily.
Put the mixed dough into the machine and roll it into biscuits of various shapes and weights.
After baking, oil spraying and cooling, it produces golden, delicious and crisp biscuit, and the biscuit pattern can be changed according to the customer's preference.
The biscuit equipment has various heating methods, including electricity, gas, heat transfer oil, etc., for customers to choose at will.
The industrial biscuit making machine is easy to operate and requires less investment, which is one of the ideal equipment for biscuit food processing plants to invest in!
Loyal provides customers with hundreds of molds and dozens of process biscuit formulas.
By changing the molds and process formulas, automatic biscuit making machine can produce finger biscuits, coarse grain biscuits, cream biscuits, ultra-thin biscuits, soda biscuits, animal-shaped biscuits, multivitamin biscuits, and vegetable biscuits.
The biscuit equipment can be customized according to customer needs. The latest automatic biscuit production line can produce most types of biscuit in the market.
According to the biscuit formula, process and molding method, it can be divided into tough biscuit production line, crisp biscuit production line and cookie production line.
What types of biscuits can be produced by the Loyal biscuit production line?
Looking at the global biscuit market, the biscuit category is extremely rich. In terms of biscuit production process, there are tough biscuit, hard biscuit, sandwich biscuit, soft biscuit, etc.; in terms of biscuit shape, there are not only round, square, stick, egg roll, etc. Shapes also appear.
Loya industrial biscuit equipment mainly produces the following types of biscuits:
Hard biscuits
~~ Use wheat flour, sugar and oil as the main raw materials, add bulking agents and other auxiliary materials, and are made by cold powder process, rolling, rolling printing or punching and baking. The structure presents a porous structure, and the taste of baked goods is loose. Such as cream biscuits, scallion biscuits, sesame biscuits, meringue biscuits, etc.
Mainly produced by Loyal Industrial Hard Biscuit Making Machine
Soft biscuits
~~Using wheat flour, sugar and oil as the main raw materials, adding bulking agents and other auxiliary materials, the shapes made by the cold powder process of powder mixing, rolling, rolling printing or punching and baking are mostly convex flowers. The structure presents a porous structure, and the taste of baked goods is loose. Such as cream biscuits, scallion biscuits, sesame biscuits, meringue biscuits, etc.
Production is done by Loyal 304 Stainless Steel Complete Biscuit Soft biscuits Production Line.
· Tough biscuits
~~Using wheat flour, sugar and oil as the main raw materials, adding bulking agents, improvers and other auxiliary materials, the graphics made by hot powder process, rolling, roll cutting or printing and baking are mostly concave flowers , The appearance is smooth, the surface is flat, there are pinholes, the section is layered, and the taste is crunchy. Such as milk cake, vanilla cake, egg cake, Mary cake, Boston cake and so on.
Tough biscuits biscuit production is done by Sandwich Biscuit Machine 220V/380V With Siemens Motor
· Crispy Snack Biscuits ~~ take wheat flour, sugar and oil as the main raw materials, add condiments and other auxiliary materials, and are made of crispy baked goods through powder mixing, molding and baking.
The cracker biscuit biscuit production equipment is Full automatic Soft & Hard Biscuit Production Line
· Cookie ~~ take wheat flour, sugar, dairy products as the main raw materials, add sparse agent and other auxiliary materials, knead the dough, use one of the methods of extrusion, extrusion, wire cutting, etc. to form, bake The prepared crispy baked food with three-dimensional patterns or regular ripples on the surface and high oil content.
The cookie production facility is the Loyal Automatic Cookie Biscuit Production Line
· Sandwich biscuits ~~ sandwich baked goods with various sandwich materials added between two biscuits with sugar, oil or jam as the main raw material.
The main production equipment for sandwich biscuits is Loyal Automatic Sandwich Biscuit Production Line
· Loyal Industry Multi-function Automatic Biscuit Production Line output range: 70-1200kg/h
The heating methods of the oven are(please choose one according to your own situation):
Electric Tunnel Oven, Gas Tunnel Oven, Heat Transfer Oil Tunnel Oven, Diesel Tunnel Oven
Shandong loyal industrial co., ltd. Is a full-automatic soft / hard / soda biscuit production line manufacturer with many years of development experience.
The loyal cookie and biscuit production lines enjoys a very high reputation in the industry , loyal automatic biscuit making machine is super cost-effective, thus it has been recognized by many well-known biscuit enterprises.
The has committed to the automatic line for soft and hard biscuit production research and development of food machinery;
The complete biscuit production line - reading bakery systems was developed after combined of advanced technology at home and abroad and repeated experiments. Now the full-automatic soft / hard / soda / bear biscuit production line of the production line has been exported to singapore, canada, brazil, and western europe, and other countries and regions, promoting the development of the local economy.
The multifunctional biscuit automatic processing plant is fully automatic, which can process and make all types of biscuits.
Loyal small capacity biscuit production line with high productivity and a wide range of applications, it has become trustworthy equipment for the majority of manufacturers.
Now automatic 100kg to 1500kg biscuit production line have become the first choice of biscuit manufacturer in food market, almost every class of people favor biscuits, so the biscuit market is very promising.
If you also want to get better biscuit project development in the industry, the automatic biscuit making machine will be your most ideal choice.
About Loyal One Stop Biscuit Production Solutions
In addition to supplying Bakery Biscuit Making Machine, Loyal can also provide you with a one-stop biscuit production process solution according to biscuit manufacturer needs, from the dough mixer in the front section, the filling and forming machine in the middle section, and the packaging machine in the rear section, etc.To planning biscuit production solutions.
Furthermore, Loyal can provide you with a biscuit processing plant recipe consultation service. Whether the biscuits are soft, crispy or firm, they can help you produce the perfect hand-made taste in the biscuit workshop.
How do I get a solution proposal in Loyal Biscuit Technical Team?
Contact Loyal's professional biscuit process consultants, who will evaluate your biscuit project and the existing biscuit factory planning status to arrange further contacts, gain an in-depth understanding of the biscuit manufacturing situation you may encounter.
Recommend suitable biscuit equipment solutions for you in fully automatic biscuit production line and small scale biscuit manufacturing unit.
If you have any questions about biscuit equipment and production, please contact us for further negotiation
Making Biscuits - Biscuits From Scratch With Flow Chart
biscuit manufacturing process flow chart as follow:

Biscuit Manufacturing Process Flow Chart
The Fully Automatic biscuit production line includes 1 dough mixer, 1 molding head, a 10-meter oven (5 sections), a 2-meter cooling line, 1 distribution box, 2 machine-belt molds, and a total length of 16 meters. The total power is 35KW, the volume is 10 cubic meters, and the weight is about 1 ton. The output is 50 to 60 kg per hour.
Pretreatment Of Raw Materials - Dough Preparation - Rolling Dough Sheet - Pressing Into Cake Base - Baking - Oil Spraying – Cooling
Complete Buying Guides for Biscuit Production Line
There are various types of biscuits on the market, and the forms of biscuit making machine are also different. Therefore, it is particularly important for biscuit manufacturers to choose a automatic biscuit making machine that is suitable for their own products. Then, in the face of biscuit equipment, how to buy their own suitable? Do you think the biscuit industry is of great potential?
Do you also want to make great profits in biscuit process industry?
Carefully read the following biscuit equipment guide, can help you choose a more suitable equipment!
1. What is the development prospect of the biscuit market?
The consumption objects of snack foods such as biscuits are gradually expanding to more people, and the market is further subdivided. Young and fashionable youth groups will become the mainstream of snack food consumption. Among this consumer group, consumers between the ages of 28 and 38 are more interested in snack foods. consumption is the highest.
The biscuit industry is developing rapidly, and some companies have entered the biscuit market successively, occupying most of the high-end biscuit market share, and having strong market advantages; on the other hand, new biscuit companies have sprung up and developed rapidly, and a number of annual output have emerged. A rookie with a strong biscuit enterprise with more than tens of thousands of tons.
2. What are the ingredients of biscuits?
Biscuits are made from wheat flour as the main raw material, with (or without) sugar, oil and other raw materials, and are made from flour (or pulp), forming, baking and other processes. Snack food for leisure or office can also be used as storage food for travel, sailing and mountaineering, and it is also a backup food for soldiers during war.
The main raw material of biscuits is wheat flour, and then add sugar, oil, eggs, dairy and other auxiliary materials. According to different recipes and production processes, sweet biscuits can be divided into two categories: tough biscuits and crispy biscuits. Another way of dividing the biscuits can be divided into soda biscuits, sandwich biscuits, whole-wheat digestive biscuits and nutritionally fortified biscuits. Downstream sales channels include supermarkets, restaurants, convenience stores, vending machines and e-commerce platforms.
3. What is the biscuit production line?
Biscuit production first involved the invention of machines to reduce the need for labor. The first was the mixer to stir and form the dough, followed by the mechanical oven for continuous baking. In the future, it was mainly the mechanized transportation of dough and biscuits in the factory, followed by the packaging.
The fully automatic multi-functional biscuit production line is composed of biscuit forming machine, tunnel type hot air circulation electric oven, oil injection machine, turning machine, cooling line, biscuit finishing machine, biscuit sandwich machine, packaging table, etc. The whole line is controlled by CPU module, driven by a back-mounted motor, with a compact structure and a high degree of automation. All mechatronics such as baking, oil injection and cooling are automatically completed.
4.The Development History Of Automatic Biscuit Making Machine For Business:
It is controversial as to who established the first cookie factory using continuous operation and integral machinery. It was probably Jonathan Dodgson Carr who established the cookie factory in Reading, west of London, in 1846 after inventing the cutting and forming machine in about 1831, imitating the principle of printing at that time.
Thanks to this enterprise, English cookies became famous in most countries of the world. The cookies were mostly packaged in 401b, 281b or 51b (about 18kg, 12kg or 2.5kg) white iron tins or white iron lined boxes, which solved the problem of keeping the product fresh.
By 1870, a considerable amount of British cookies were still being imported worldwide. Machinery was also imported from England, which played a large role in the growth of the early cookie industry.
Some of the earliest cookies took the form of various fermented thin cookies, such as cream crackers and soda crackers, and Alexander Grant produced digestive aid cookies in 1892. 400 types of cookies.
Soon after the mechanization of simple cookies, the mechanization of decoration and secondary processing was also achieved, and the first chocolate-coated cookies were produced in 1903. The processing of frosted cookies and cream sandwiches was also mechanized around the beginning of the 20th century. A high degree of mechanization was first achieved in the United States with the use of the Salerno model, a stencil-type buttercream sandwich machine.
Cookie production was the first to be mechanized in the food industry, and there were successive advances in cookie production due to the reduction of the required labor force and the acceleration of the production process. The first reduction in labor was in dough preparation and dough handling, and it was only in the last 30-40 years that the number of people used in packaging was reduced to a smaller number.

5.Benefits of Loyal cookie Production Line
1、Loyal automatic cookie production line has a large output, which can guarantee the market demand.
Unlike manual operation of each cookie equipment, the working hours are limited, manual operation mistakes are inevitable, and sometimes the supply of cookie output will not be timely.
2、The cookie process technology in the production and manufacturing workshop is advanced, stable and reliable, and can be kept basically unchanged for a longer period of time.
The automatic cookie production line operates or controls the process automatically according to the prescribed procedures or instructions without any intervention, and its goal is "stable, accurate and fast".
3、Improve labor productivity, stabilize and improve product quality.
The automatic cookies manufacturing machines is executed according to the standard, and the defective rate is low.
4、Improve labor conditions.
In a large number of production operations, workers are easily fatigued and even injured at work in biscuit workshop.
The use of multi-functional automatic cookie production line will reduce the occurrence of such situations.
Automatic cookie production line can not only liberate people from heavy physical labor, part of mental labor and poor and dangerous working environment, but also expand the function of human organs, greatly improve labor productivity and enhance human's ability to understand and transform the world.
5、Full-automatic cookie equipment to reduce the production area.
According to the need, set the production line installation area on it, the product is operating on the production line, will not occupy the extra location.
6、small cookie making machine reduce production cost and shorten production cycle.
It can produce more cookies per unit of time, ensure balanced production and have significant economic benefits.
7、Loyal automatic multifunctional industrial cookie making machine is widely used in various industries.
As the volume of industrial cookie machine can be customized and the degree of automation can be customized,
Loyal industrial cookie machine is widely used in industry, agriculture, military, scientific research, transportation, commerce, medicine, service and family.
6.Support Equipment to buy with Biscuit Production Line
Cookie biscuit equipment selection as far as possible based on the international market price, if the domestic equipment can not meet the process requirements, production requirements, quality requirements and other circumstances, you can consider considering the purchase of Loyal cookie biscuit equipment; equipment configuration should be balanced and reasonable, consider the overall economy of the entire cookie biscuit production line configuration, requiring cookie equipment configuration and articulation compact, balanced, coordinated, improve labor productivity.
Loyal biscuit production line to improve the technical and economic value in the cookie market, if you choose a small investment, low cost, high profit, economic and reasonable choice of equipment options. loyal is your best choice!
7.Limitation of Biscuit Production Line
1. Fully automatic biscuit production line Plant - the biscuit production line needs to be arranged according to the length of the plant. And purchase auxiliary equipment according to the size of the plant,
2. The biscuit equipment needs to be maintained frequently if it is used for a long time.
The daily maintenance of the biscuit machine is the basic work of the maintenance of the biscuit machine, and it must be institutionalized and standardized.
3. For the regular maintenance of the biscuit machine, work quotas and material consumption quotas should be formulated and assessed according to the quotas. The regular maintenance work of the biscuit machine should be included in the assessment content of the workshop contract responsibility system.
4. The regular inspection of biscuit equipment is a planned preventive inspection. In addition to the human senses, the inspection means must also have certain inspection tools and instruments, which are carried out according to the regular inspection card. Regular inspection is also called regular inspection. . The precision inspection of the biscuit forming machine should also be carried out to determine the pros and cons of the actual accuracy of the biscuit machine.

8.Parts of Biscuit Cookies Production Line
The whole cookies production line is composed of a variety of equipment, manufacturers can choose combined equipment or an individual one, it's very flexible.
(1). Cookies Dough mixer: Mix all the ingredients evenly and knead them into a smooth dough.
(2). Cookies Forming machine: The dough will be rolled into a certain shape in this equipment, and the biscuit is preliminarily formed.
(3). CookiesBaking oven: Bake biscuits at high temperature and the biscuit is easily get done, meanwhile the biscuit is tastier.
(4). Oil spraying machine: spray a layer of oil mist on the surface of biscuits to make them more outstanding in color and flavor.
(5). Cookies Cooling machine: cool biscuits quickly. So the biscuit at regular temperature won't become soggy after packaging and have a longer shelf life.
(6). Cookies Packaging machine: fully automatic packaging, bag-making, and weighing are completed automatically. Makes it easy to seal the edge and make high-quality biscuits.
9.How Loyal Biscuit Production Line Works
The following is the specific workflow of our biscuit production line .
(1). Pretreat raw materials: pretreat raw materials such as flour, sugar, oil, dairy, egg products, leavening agent, and salt.
(2). Make the dough: mix the ingredients into different dough according to the recipe and biscuits' shape.
(3). Rolling: roll the dough into sheets of even thickness, flat shape, smooth surface, and fine texture, ready for forming.
(4). Biscuit Molding: put the biscuit sheets in the molding machine, and mold them into different types of biscuits.
(5). Biscuit Baking: different biscuits are baked in different ways; baking temperature and time play an important role in biscuit making, follow proper temperature and time as the size and type of the biscuit are different.
(6). Biscuit Cooling: the temperature between the surface layer and the center of the baked biscuits is huge, high outside and low inside. And temperature distributes slowly, so to prevent the biscuit from contracting and rupturing, it must be cooled before packaging.
(7). Biscuit Packaging: It's better to sell the biscuit after packaging, and its self-life also gets extended.

10.Biscuit Production Line Validation Documents
High-quality biscuit production equipment will obtain many certificates, common certificates are as follow:
(1). CE certification: this certification proves that the biscuit equipment will not endanger the safety of humans, animals, and goods, and has a relatively high safety standard.
(2). ISO9001 certification: This certificate is issued by the quality management system , showing that the biscuit production line has a high quality standard.
(3). FDA certification: This certificate indicates that the biscuit production equipment has a high standard of hygiene. Besides these certificates, there are some other certificates. Shandong Royal has obtained many certificates; it is a very reliable biscuit production manufacturer and has been recognized by many well-known enterprises.
11.How to Troubleshoot Biscuit Production Line
During the process of operation and production, there will be inevitable problems due to man mistakes and other external factors. Troubleshooting is so necessary, and master that technique will help manufacturers save a lot of maintenance costs.
(1). Shrinkage and deformation of biscuits: the conveyor belt is too tight in the process of calendering and conveying, and the belt can be adjusted.
(2).The cookie becomes soggy and not crisp after cooling: the smoke exhaust pipe in the back of the oven is blocked, and it's hard to exhaust, causing a big temperature difference in the furnace. You can just clear the smoke exhaust pipe.
(3).Unable to start the biscuit production equipment: Check whether the switch and power cord have a bad connection or other error .
(4). The reason that PLC can not be started: PLC external power supply failure; there is no rated power input; PLC power (power module) error.
(5). Sensor failure: check whether the indicator light is on; whether the wire is loose; finally check whether the sensor is damaged.

12.Biscuit Production Line Maintenance Process
During the long-term use of biscuit production machinery, there will inevitably be some parts wear, corrosion, deformation, etc., which will affect its accuracy, performance, and production efficiency. Proper operation and careful maintenance can reduce the damage of the equipment and prolong its service life. The proper operation must be adopted and avoid wrong conducting further aggravating the damage to it. Make sure to clean it after the completion of production and replace the worn parts in time. These methods will help you avoid greater loss in the process of accumulation.
It is better to replace the damaged parts with the original parts from the biscuit equipment manufacturer to achieve better integration and prolong the service life of the device. Regularly add lubricating oil to the machine. Remember that regular maintenance and proper maintenance can effectively reduce the later maintenance cost.
13.How to Verify Quality of Biscuit Production Line
(1). Confirm the certificates obtained by the biscuit production line first, which means that the quality department has already approved whether the equipment meets the quality standards. A qualified product is a premise to start your business .
(2). Check whether the biscuit production machine has reached the standard, met the actual requirements and the predetermined requirements according to the technical agreement.
(3). Acceptance tests should be based on the biscuit equipment management standards. Including check its intact parts and clean appearance, and make a maintenance plan for your equipment.
14.Types of Biscuit Production Line in the Market
The biscuit production line is food machinery that has been welcomed by plenty of biscuit manufacturers. There are all types of biscuit production equipment in the market to be in line with all types of biscuits. Common ones are: automatic biscuit production lines semi-automatic biscuit production lines, crisp biscuit production lines, semi-hard biscuit production lines, and filled biscuit production lines, etc.
15.Future of Biscuit Production Line
Driven by the development of science and technology, biscuit production machines have achieved highly automatic. In modern industrialization, efficiency determines everything. And in the future, the development of biscuit equipment is of great potential. The development of any equipment is because of the increasing demand of customers. Consumers have very high-quality requirements for biscuits and want to make biscuits by themselves. And biscuit production equipment should develop towards 3D printing and artificial intelligence, only in this way can the ever-increasing demands of consumers be met.
Shandong Loyal Intelligent Machinery Co., Ltd has been walking on the path of innovation research and development, and has never been satisfied with this and stopped here. I believe that through our joint efforts, the biscuit production line will have greater progress!
16.How much Biscuit Production Line Cost
There are many kinds of biscuit production lines in the market. However, the price of the equipment also fluctuates due to the different production costs and performance of different equipment, Biscuit equipment price is between 3000 dollars and 50000 dollars, and the higher the price is, the superior quality and performance the equipment gets. Choose a perfect one based on your own actual production needs.
17.Why choose Shandong Loyal Intelligent Machinery Co., Ltd.?
Shandong Loyal is a biscuitequipment manufacturer with many years of development experience. The company provides the most cost-effective biscuit production line for the majority of manufacturers. We not only guarantee the product quality but also provide the lowest price for the customers. And we have become a leading company in the industry thanks to its high reputation.
In addition, we also provide customers with a perfect one-stop service in biscuit plant project; we can customize the biscuit equipment for you according to your needs, and the mold can also be customized to help you produce unique biscuits in the market.
Shandong Loyal will help you as much as possible in biscuit process and production in your biscuit plant.
Now the biscuit market is absolutely hot, as biscuits have become the most popular snacks in our daily life. If you want to buy the most cost-efficient biscuit equipment, welcome to contact us at any time, we will help you to select the best equipment. At the same time, we also invite you to visit our factory because we speak with quality. Sincerely look forward to seeing you soon!